Veteran Information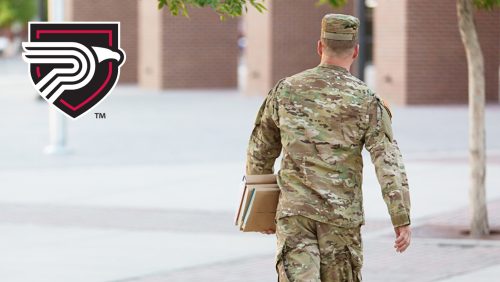 Polk State College salutes our troops and supports their quest for higher education.
Credits for Military Experience
Polk State offers maximum credit for basic training and military experience using the credit-granting guidelines recommended by the American Council on Education. See acenet.edu for more information.
Priority Registration
Veterans who declare their military service on their Polk State application are given priority registration, giving them an extra week to select classes and build schedules that meet their needs.
Polk State College Veterans Application Process:
1) Complete and submit an application for admission at polk.edu.
For complete information and a checklist to follow, use the Admission Steps.
2) Choose a program of study:
Meet with an advisor to assist in your selection of an approved program of study.
3) Submit official transcripts (high school, postsecondary, and/or military):
All veterans must submit official transcripts from previous colleges/universities attended and must have an education plan prepared by an advisor.
4) First-time and continuing students may apply for GI Bill® educational benefits at the U.S. Department of Veterans Affairs (VA) website.¹
Students may apply for VA Educational Benefits at the Veterans Online Application System (VONAPP) or request an Application for Education Benefits form from the VA representative. It's faster if you apply for benefits online at va.gov* (*Please note: this website performs better in Chrome).
When you receive the "Certificate of Eligibility" letter from the VA, submit the letter to the VA representative to finalize your paperwork for VA benefits.
5) Complete and submit the following documents to the Student Financial Services/Veterans Services office on your campus:
Veterans Certification Request form (see an academic advisor for assistance)
DD214
VA Certificate of Eligibility
6) Apply for Financial Aid (if needed):
Contact Us:
Phone – 863.297.1010 Ext. 5364
Fax – 863.298.6850
Email – veterans@polk.edu
¹GI Bill® is a registered trademark of the U.S. Department of Veterans Affairs (VA). More information about education benefits offered by VA is available at the official U.S. government Web site at www.benefits.va.gov/gibill.
Department of Defense Complaint Procedure
The Department of Defense maintains the Postsecondary Education Complaint System which is a centralized online reporting system for service members and their families to use in reporting problems with education institutions.
Students can submit a complaint if they believe their school is failing to follow the Principles of Excellence through the centralized online reporting system accessed via the Department of Defense website. Examples of education-related issues may include but are not limited to, misrepresentation or deceptive actions with regards to private or institutional loans, high-pressure recruitment tactics, false representations about degree programs, and misleading statements regarding accreditation.
The complaint system is part of the President's Executive Order establishing Principles of Excellence for educational institutions serving Service Members, Veterans, Spouses, and other family members; designed to empower beneficiaries to report experiences related to misleading or unfair acts or practices by educational institutions serving veterans, service members, and their families.
Military-connected students using Tuition Assistance (TA) or Military Spouse Career Advancement Accounts (MyCAA) Scholarships can submit feedback at www.militaryonesource.mil/voluntary-education/complaint.  Once a complaint is received, agency staff will contact both the student submitting the complaint as well as the referenced school, working with both parties to fully understand the issue raised and seek resolution.