Career Pathways

Earn FREE college credit with Polk State College while attending high school.
(A partnership between Polk State College and the Polk County School Board.)
As a student in a Polk County Career Academy, Ridge Technical College, or Traviss Technical College, you may receive free college credit if you choose to attend Polk State College, through a partnership between Polk State College and the Polk County School Board. Your credits may be applied to certificates and associate in science (AS) degrees at Polk State College provided you meet the requirements outlined in the partnership agreements.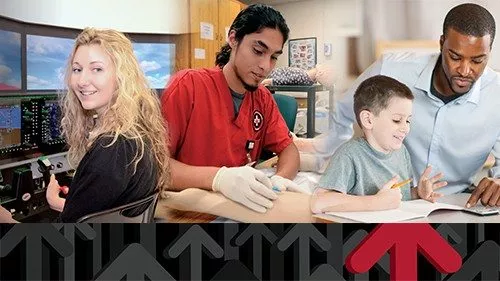 It's Free! You pay no tuition for credits you receive through the partnership.
Click on the related link you're interested in to see which Polk County high school programs offer you free college credit while in high school for the following programs:
Aerospace Administration, Accounting Technology, Aviation Maintenance, Business Administration, Business Operational Management, Computer Systems & Business Analysis, Computer Networking, Digital Media Technology, Electrical Distribution Technology, Engineering Technology, Pilot Science, Supply Chain Management
Early Childhood Education, Elementary Education 
Cardiovascular Technology, Diagnostic Medical Sonography, Medical Coding Specialist, Nursing, Radiography  
Criminal Justice Technology, Emergency Medical Services, Fire Science Technology
The Career Pathways for Public Service Initiative is part of the greater Civic Literacy Excellence Initiative launched by Governor Ron DeSantis in July 2021. The goal of the initiative is to create Civics Career Academies in local high schools to create a pathway for students to work in the public sector.
Students who participate in the Academies will have the opportunity to earn an industry certification in Project Management and earn credit toward their A.S. degree at Polk State College. The four courses in the Academies are:
Public Service Leadership – Learn how leadership is practiced and experienced in the public sector.
Public Service Careers and Communication – Discover the broad range of careers in the public service and nonprofit sectors. The course will align with the Florida Civics and Debate Initiative to incorporate the communication and debate skills needed to advocate within government and non-profit organizations.
Public Service Experiential Learning and Project Management – Complete an industry certification through Certiport called PMI Project Management Ready™.
Public Service Research – Address public sector issues by completing a research project that will culminate in a substantive research paper and presentation of findings to a stakeholder audience.
What is the difference between AA and AS degrees?
AA – The Associate in Arts prepares you to continue toward a bachelor's degree at four-year colleges, such as Polk State College, or transfer to other state colleges and public universities. The majority of your courses are general education credits.
AS – The Associate in Science prepares you to enter a specialized career field. Many credits also transfer in part or in whole to Polk State College or other state colleges and public universities. The majority of your courses are technical education credits.
Why an AS Degree? Did you know:
One-third of Polk State College students enter with the goal of attaining an AS degree that allows them to begin their career in two years or less.
Numerous high-skills, high-wage careers in healthcare, business, and information technology are open to AS graduates.
Graduates of these programs often enter the professional workforce with higher entry salaries than people with four-year degrees!
Certificate programs are also available in select program areas. Generally, these programs can be completed in one year or less. They provide rapid entry into the workforce, and the credits can be applied to an AS degree in the same field.
Continue your path and get your bachelor's at Polk State College.
Once you have completed your Polk State AS Degree, not only will you have the technical skills to get a job, you can continue at Polk State, full or part-time, to complete a Bachelor of Applied Science degree. The BAS degree provides individuals the opportunity to build upon the foundational skills attained through their associate degree program by completing upper-division coursework in management and leadership practices.
Aerospace Administration, BS
Criminal Justice, BS
Early Childhood Education, BS
Elementary Education, BS
Professional Pilot Science, BS
RN to BSN
Supervision & Management, BAS with concentrations available in:

Business Administration
Healthcare Administration
Public Administration
Business Information Technology
For more information, visit polk.edu/bachelor or email bachelor@polk.edu.
______________________________________________________________________________________________________
To receive credit:
Enroll in one of the Career & Technical Education or Career Academy Programs at your school.
Complete the curriculum of your program with a 3.0 GPA or better.
Complete high school with an overall GPA of 2.0 or better.
Successfully complete the end-of-course assessment required for each articulated course.
Present to Polk State College Admission and Registrar's office a copy of the letter of congratulations from the Polk County School Board. This letter lists earned credits and can be obtained from the Polk County School Board Workforce office by calling 863.519.8707 or emailing workforceeducation@polk-fl.net. Click HERE to see a sample of this letter.
The original letter (copies not accepted) can be submitted in person to:
Polk State College
Admission and Registrar's Office
Attn: Transcript Evaluation
999 Avenue H NE
Winter Haven, FL 33881
Enroll in Polk State College, in the certificate or Associate in Science degree program that correlates with your high school program within three years of graduating from high school.
Earn at least three (3) college credits at Polk State College and your credits will then be applied to your Associate in Science or certificate program as applicable.
Note: Polk State College cannot guarantee the transfer of Career Pathway credits to other institutions. Each institution has its own policies about credit earned through Career Pathways credit by examination. Articulated credits will count toward your Polk State degree or certificate, but may not transfer to a four-year university if you do not first graduate from Polk State. Application to Polk State is FREE.
Need help figuring out the right career for you? Visit floridashines.org.