Polk State student utilizes career assessment, STEM programs to land geomatics internship in Ohio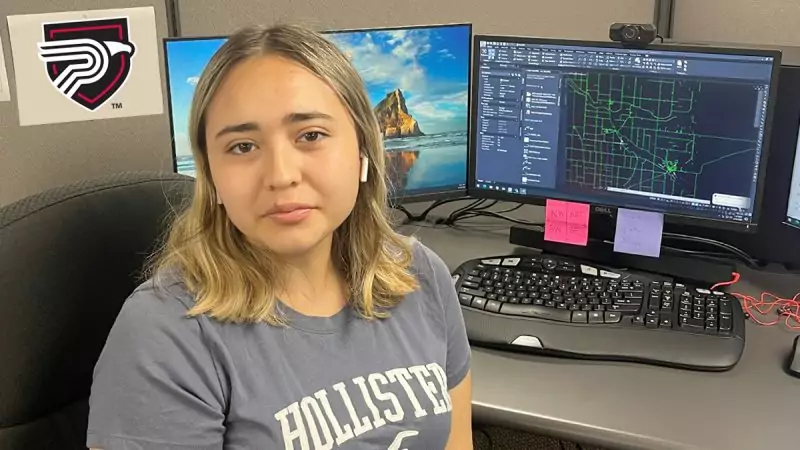 When Selia Nunez began studying at Polk State College, she envisioned a career in a physical therapy office. Now, she might have her sights set on the ocean, thanks to a career assessment and a national program offered at Polk State.
Nunez is spending her summer interning with SAM, Inc. in Columbus, Ohio. SAM is an acronym for Surveying And Mapping. According to its website, SAM is the "largest geospatial and construction services firm" and can "handle projects from coast to coast with unparalleled speed and responsiveness."
"I started going to Polk State, because I wanted to be a physical therapist assistant," Nunez said. "I realized it wasn't the career for me. I went to an advisor in Career Services and decided that I'm more of a STEM student."
Becoming a STEM student
Jeannette Grullon, the Director of Advising and Career Services, played a pivotal role in her decision to switch career paths. After meeting with Grullon, Nunez took the "Focus 2 Career" career assessment.
"For the majority of students who are leaning towards a specific career direction, it usually takes them in that direction, but it also shows them all the opportunities in that field," Grullon said. "This is where the field of geomatics came into the picture for Selia."
The Focus 2 Career assessment was first offered in August 2021. Grullon said the assessment takes about 45 minute and provides students with highly reliable results directing them to fields of study that are most suitable for them.
"The career assessment is very accurate," Grullon said. "It gives them information about their characteristics. Then it matches them to certain career paths."
Since choosing the new career path, Nunez has joined Polk State's STEM Club. The STEM Club meets weekly and introduces students to research and internship opportunities. It currently has about 70 members and has served nearly 400 students since its inception in 2017.
"She was sort of on the fence, not knowing what exactly she wanted to do," John Fynn, Program Manager for STEM, said of Nunez. "A lot of students won't ask questions. She was always looking for her next move."
Nunez is also a member of the Louis Stokes Alliance for Minority Participation (LSAMP), which assists minority students entering STEM fields.
"The main goal is to develop these students academically, professionally and socially," Fynn said. "One of the things we do is help students get internships that will help their careers. A lot of students are doing very well in these programs."
According to Fynn, about 80% of Polk State students participating in the LSAMP program are minorities. Polk State is also part of the Central Florida STEM Alliance, along with Valencia College, College of Central Florida, and Pasco-Hernando State College.
Geomatics
Nunez is studying to become a geomatic engineer. Geomatic engineers use technology to better understand and monitor the earth. They are often responsible for creating mapping systems such as Global Positioning System (GPS), topographical and thematic maps, and data collection using satellite imaging. Fynn said many working in geomatics are nearing retirement age and there is a need for younger people to enter the field.
"It's a low-key field that not many know about," Fynn said. "Geomatics is becoming a lot more technology centric. A lot of geomatics companies are looking for younger people to take over."
Nunez began her internship at SAM, Inc. in May. She was tasked with updating old property deeds where boundaries were often signified by a monument such as a tree or pole. As she moves into the field, she's excited to do more hands-on learning – a reason Nunez wanted to go into geomatics in the first place.
"I didn't know what this was until a couple months ago," Nunez said. "People in civil (engineering) are often in offices; this was more hands-on. SAM has great technology and I'm excited to get to work with it."
Nunez will begin her fourth semester at Polk State in August and expects to complete her Associate in Arts degree in the spring of 2023. Her goal is to transfer to the University of Florida to study geomatics. Polk State College works directly with the University of Florida/IFAS CALS at Plant City for students interested in geomatics among other fields of study.
Nunez said she ultimately wants to work in hydro-geomatics. Hydro-geomatics involves water and is wide ranging. Examples include seafloor mapping, habitat mapping, search and recovery, and oil and gas leak detection.
"Everyone is willing to help because there are so few people in this career," she said. "There's a lot of opportunity out there."
Other STEM opportunities at Polk State
Polk State students with grade-point averages of at least 2.75 are eligible for the TURNPIKE STEM Scholarship Program. The program is in collaboration with the University of South Florida (USF).
Students who receive an Associate in Arts degree from Polk State and transfer to USF to earn a bachelor's degree in Engineering or Computer Science/Technology Information are eligible for scholarships up to $10,000. As many as 25 students will be selected each year by faculty members in mathematics and science.
For incoming freshman, Polk State will hold its annual Summer STEM Institute in July. Those who participate in the week-long program will be tasked with completing a project at the end. The project is aligned with the United Nations' Sustainable Development Goals.