Office of Disability Services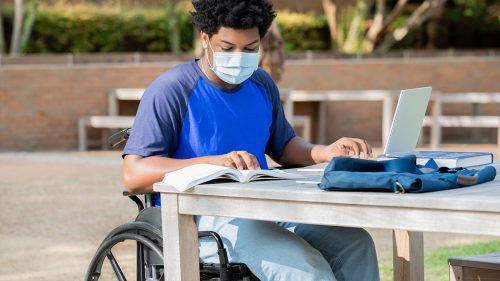 Welcome to the Office of Disability Services at Polk State College
The Office of Disability Services (ODS) is the department designated by the College to provide access to college classes, programs, and activities for individuals with disabilities.
Mission
The ODS leads the campus in the creation of inclusive learning and working environments and facilitates access, discourse, and involvement through innovative services, programs, and partnerships. Polk State College believes that students with disabilities are an integral part of diversity and welcomes them to our campus. The ODS will serve as the campus leader in providing a college environment that is accessible, usable, equitable, sustainable, and inclusive of all students, faculty, and staff. We will provide this through partnership with and collaboration between students, faculty, and administration in order to provide students with an educational environment that is barrier-free. However, if students encounter any academic or physical barriers on campus, the Office of Disability Services staff is available to partner with students in finding good solutions or to implement reasonable accommodations.
Purpose
The ODS is here to determine and ensure that reasonable and appropriate accommodations are in place for qualified students with disabilities. We strive to assist students to be self-advocates, ensure compliance with the ADAAA and Section 504 of the Rehabilitation Act, and help students with disabilities accomplish their goals while at Polk State.
Confidentiality
The information that students share with the Office of Disability Services remains confidential with the following exceptions:
A student signs a release of information which authorizes that information to be shared amongst professors or other appropriate college personnel
There is a risk of imminent harm to self or others
Contacts
To Receive Accommodations at any Campus or Center:
Kimberly Pearsall
Director, Disability & Counseling Services (Serving Lakeland, Airside, and Center for Public Safety)
LTB 1273
Voice: 863.669.2309
Fax: 863.297.1006
kpearsall@polk.edu
Additional Contacts:
Dionne Formey
ADA Coordinator, Disability Services
Office – WAD-159
Office number – 863.292.3759
Fax – 863.297.1060
dformey@polk.edu
Employees and Applicants Seeking Reasonable Accommodations
Polk State College is committed to working with and providing reasonable accommodations to applicants and employees with disabilities. If you feel you require reasonable accommodation to apply for a position with Polk State, please call 863.297.1070 or e-mail Careers@polk.edu and let us know the nature of your request, along with your contact information.  Reasonable accommodations are considered on a case-by-case basis.  Please note that only those inquiries concerning a request for reasonable accommodations will receive a response.
Employees and students who believe they have been a victim of discrimination or sexual harassment should contact:
Lonnie Thompson
Chief of Institutional Compliance & Engagement
Title IX Coordinator
999 Avenue H, NE
Winter Haven, FL  33881
WAD  227
863.297.1000, ext. 5378
lthompson@polk.edu