Graduation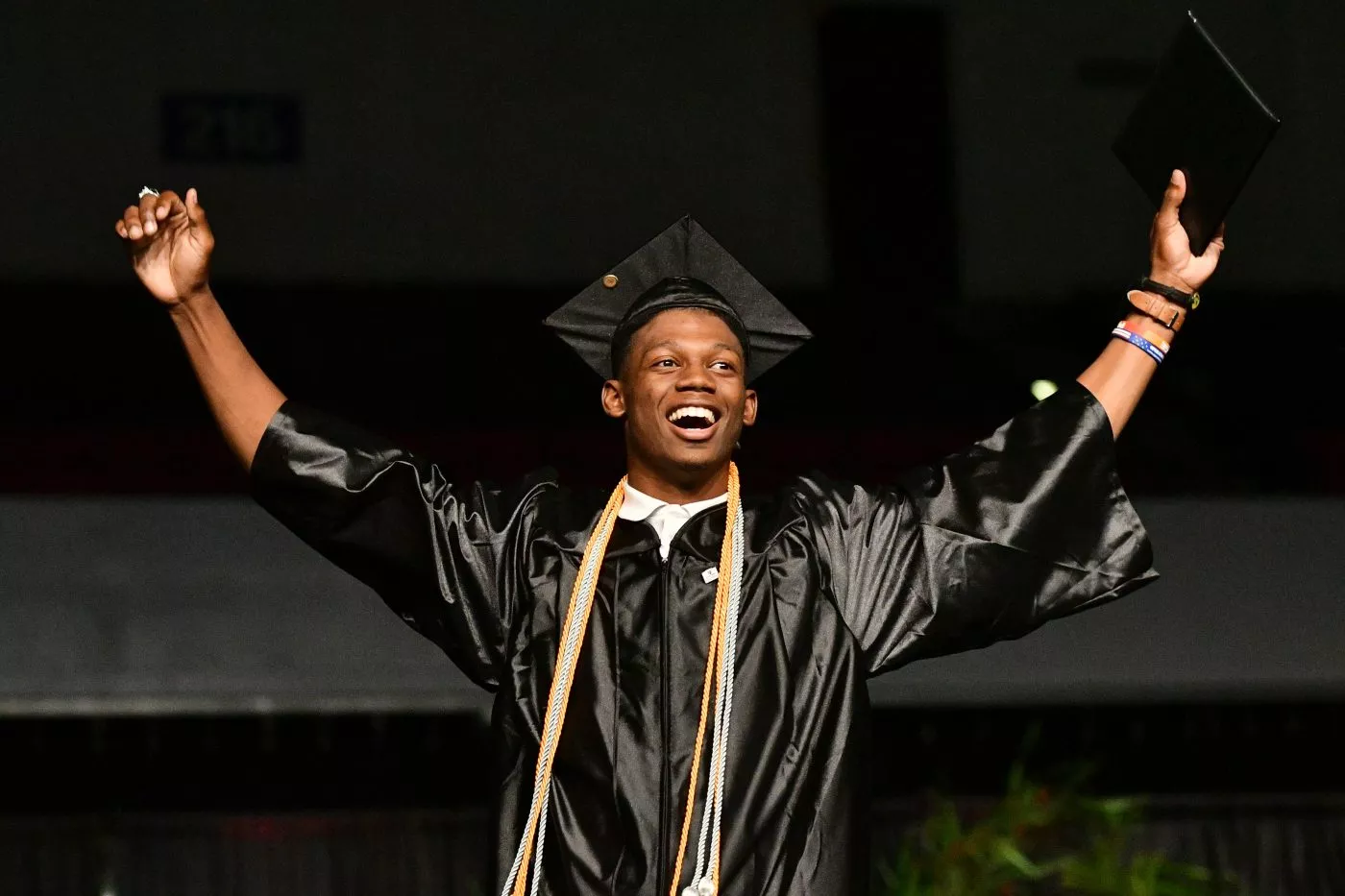 Polk State College is excited to celebrate its 2020 and spring 2021 graduates in May with commencement ceremonies at the RP Funding Center in Lakeland.
Commencement ceremonies are tentatively scheduled for Thursday, May 6, at the RP Funding Center in Lakeland at 701 W. Lime St. and will take place as long as health and safety guidelines permit. Graduates should continue to monitor their Polk State emails for specific details to come in April about dates, times, and tickets for their guests to attend graduation.
Spring 2021 graduates should submit their graduation applications through Passport under "Advising" between January 13 and April 2. More information about graduation and the application is available online at www.polk.edu/academics/graduation. They should also monitor their Polk State emails for forthcoming information about their in-person commencement ceremony.
Polk State thanks all graduates and their families for their patience and understanding during this unprecedented time. The College looks forward to celebrating its graduates in May in a safe and healthy environment.
Graduation details
Graduation application deadline
Friday, April 2, 2021, 5 p.m.

Spring 2021 graduates must submit a graduation application. Spring 2020, summer 2020, and fall 2020 graduates who plan to participate in commencement in May 2021 do not need to submit a graduation application.

Ceremony information
May 6, 2021
RP Funding Center, 701 W. Lime St., LakelandTime(s) will be provided at a later date.
Academic Honors
Academic Honors are based on grade-point average (GPA) and described in the College catalog under "Regulations." Honors cords are given to students based on the term preceding the graduation term. If a student earns academic honors after the Registrar has certified the final GPA, the transcript will reflect that.
Honors Program Distinction
Students who graduate from the Honors Program will have a note on their transcripts and an Honors seal that will be displayed on their diplomas based on their final GPAs.
Graduation posting and diplomas
It takes up to 30 days for graduation status to post to student records. Each student record is carefully reviewed to ensure requirements have been met. Students should contact an advisor by emailing registrar@polk.edu or calling 863.297.1000 with questions about whether or not they have met all requirements to graduate.

Diplomas are printed after all requirements for the semester have been completed and all graduates have been validated. Students should ensure their addresses are accurate when submitting their graduation applications because they will be used to deliver diplomas. Diplomas are mailed approximately six to eight weeks after the end of each semester – spring, summer, and fall.

Certificates are printed after each cohort completion and will be delivered to addresses the College has on record for those students within six to eight weeks of completion.

Account holds
Students should check their Passport accounts for account holds and obligations including library fines, tickets received on campus, and other fees. Students will not receive their transcripts or diplomas until all holds are resolved.
Fees
There are no graduation fees.
Frequently asked questions