Graduation
Graduation billboards
Spring 2020 graduates who submitted their photos and names to news@polk.edu by May 8 will see themselves on Polk State's billboards.



Find and download your billboard here!:
HAVEN/LKLD magazines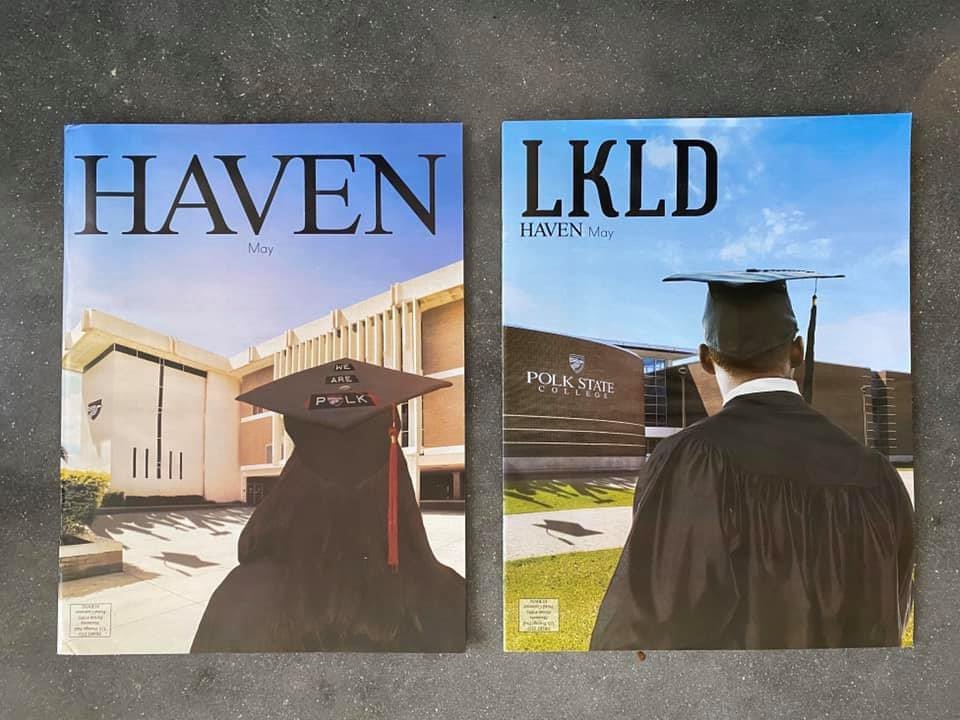 The May 2020 issues of HAVEN and LKLD magazines are dedicated to the Polk State Spring 2020 Graduating Class! Each graduate will receive a copy in the mail and they are also available in newsstands across Polk County. Read more here: havenmagazines.com.
Important graduation information
Graduation application deadline:
Students are encouraged to submit their graduation applications by the previously published Friday, March 27, 2020, deadline. However, applications will be accepted through Tuesday, May 5, at 5 p.m.

It is important that students complete the graduation application despite the cancellation of the 2020 Spring Commencement Ceremony. The application officially notifies the College of a student's intent to graduate. This will allow students who meet all graduation requirements to receive their diplomas or certificates by mail. The application process begins by applying online through PASSPORT under Advising. Applications open each term beginning the day after the add/drop deadline.

Graduation posting:
It takes up to 30 days to post your graduation status on your records. Each student record is carefully reviewed to ensure he or she has met the requirements. We highly recommend that you contact an advisor at registrar@polk.edu if you have questions about whether or not you have met all the requirements to graduate.
Diplomas:
Diplomas are printed after all requirements for a term have been completed and all the graduates are validated. The address on your Graduation Application will be used. Be sure it is accurate! Diplomas are mailed approximately six to eight weeks after the end of each semester – spring, summer, and fall.
Fees:
There are no graduation fees.
Account hold:
Check PASSPORT for obligations such as library fines, tickets you received on campus, and other fees. You will not receive your transcript or diploma until all holds are resolved.
Graduating with Academic Honors:
Academic Honors are based on grade-point average (GPA) and described in the College catalog under "Regulations." Honor cords are given to students based on the term preceding the graduation term. If you earn academic honors after the Registrar has certified your final GPA, your transcript will reflect that.
Graduating with Honors Program Distinction:
The College is proud of Honors Program students and graduates. If you graduate from the Honors Program, a note will be on your transcript and an Honors seal will be displayed on your diploma based on your final GPA.
Frequently asked questions