Graduation
Polk State College will hold commencement ceremonies this academic year and invites the graduates of 2020 and spring 2021 to participate on May 6, 2021. The College will host a virtual celebration on December 10, 2020, for fall 2020 graduates.
The in-person fall commencement ceremony that was scheduled for Thursday, December 10, 2020, will not occur. This decision comes with the health and safety of students, families, and employees at the forefront. Given the ongoing uncertainty presented by the COVID-19 public health emergency, the College determined that it is in the best interest of community health to avoid hosting such a large public gathering.
The College explored several alternatives and determined that it would be best to host a virtual graduation celebration on December 10 at 6:30 p.m., and a series of drive-thru events to allow students to pick up diploma covers, honors cords, and alumni items the week prior to the virtual celebration. Students are asked to monitor their College emails and polk.edu for additional information as it becomes available.
The cancellation of the December in-person ceremony will not impact students graduating and receiving their certificates or diplomas by mail if they meet all graduation requirements.
It is important that eligible students complete the graduation application, which officially notifies the College of a student's intent to graduate. Students may submit their graduation applications through Passport under "Advising." The application's deadline is Friday, October 30, at 5 p.m.
Please see more information below. The College thanks students for their continued understanding cooperation during this unprecedented time. Please direct questions and concerns to graduation@polk.edu.
Graduation Details
Graduation application deadline
Friday, October 30, 2020, 5 p.m.
Ceremony information
Virtual Commencement Celebration
Thursday, December 10, 6:30 p.m.
More information will be provided via polk.edu, College email, and social media closer to the virtual event.
Academic Honors
Academic Honors are based on grade-point average (GPA) and described in the College catalog under "Regulations." Honors cords are given to students based on the term preceding the graduation term. If a student earns academic honors after the Registrar has certified the final GPA, the transcript will reflect that.
Honors Program Distinction
Students who graduate from the Honors Program will have a note on their transcripts and an Honors seal that will be displayed on their diplomas based on their final GPAs.
Graduation posting and diplomas
It takes up to 30 days for graduation status to post to student records. Each student record is carefully reviewed to ensure requirements have been met. Students should contact an advisor by emailing registrar@polk.edu or calling 863.297.1000 with questions about whether or not they have met all requirements to graduate.
Diplomas are printed after all requirements for the semester have been completed and all graduates have been validated. Students should ensure their addresses are accurate when submitting their graduation applications because they will be used to deliver diplomas. Diplomas are mailed approximately six to eight weeks after the end of each semester – spring, summer, and fall.
Certificates are printed after each cohort completion and will be delivered to addresses the College has on record for those students within six to eight weeks of completion.
Account holds
Students should check their Passport accounts for account holds and obligations including library fines, tickets received on campus, and other fees. Students will not receive their transcripts or diplomas until all holds are resolved.
Fees
There are no graduation fees.
Graduation billboards



Find and download your billboard here!:
HAVEN/LKLD magazines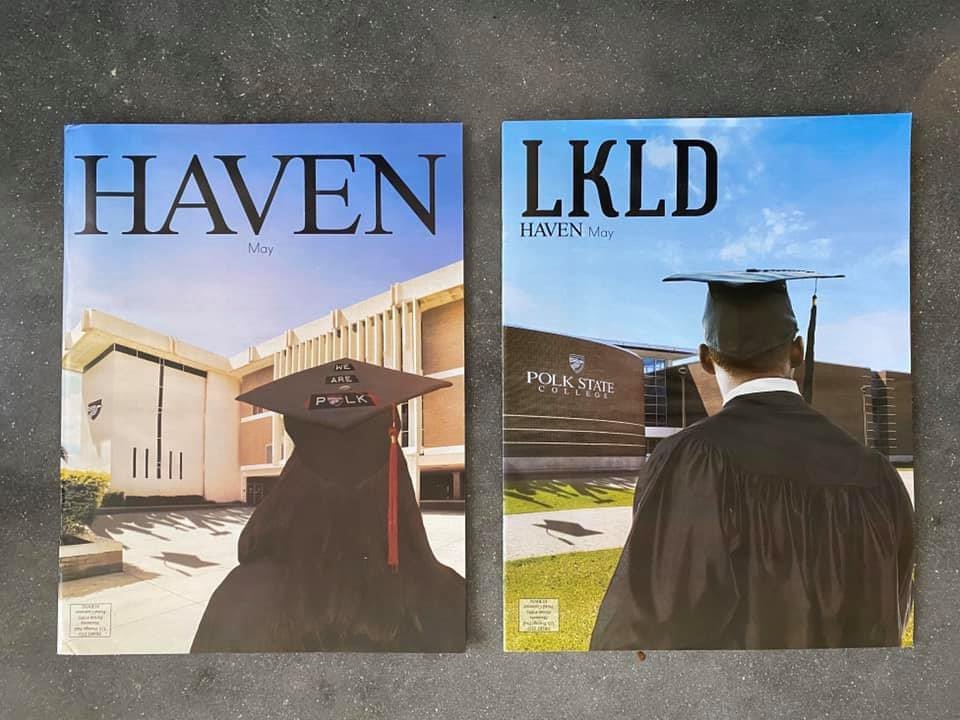 The May 2020 issues of HAVEN and LKLD magazines are dedicated to the Polk State Spring 2020 Graduating Class! Each graduate will receive a copy in the mail and they are also available in newsstands across Polk County. Read more here: havenmagazines.com.
Frequently asked questions