Digital Media Lab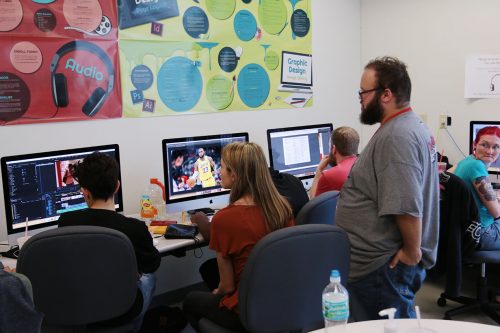 The Digital Media ( DM) department maintains a media lab for use by students currently enrolled and in good standing in one of our program offerings and need to use specialized computers, software, video, audio, lighting, and multimedia equipment and resources to complete course projects or receive personalized instruction or course assistance.
Ashley Bramwell runs the lab and oversees several lab assistants eager to help students enrolled in one of our digital media courses.
LAB HOURS:
Mondays 9 AM – 6 PM
Tuesdays 9 AM – 6 PM
Wednesdays 9 AM – 6 PM
Thursdays 9 AM – 6 PM
Fridays 9 AM – 4 PM
Closed Saturdays, Sundays, federal holidays, and all dates when the college is closed
INSTRUCTIONAL SUPPORT
If you are a digital media student currently taking digital media courses, we are happy to help you with the following projects that are directly related to our courses:
Adobe Premiere (video projects)
Adobe Audition (audio projects)
Adobe After-Effects (multimedia projects)
Adobe Photoshop (bitmap-based projects)
Adobe Illustrator (vector-based projects)
Adobe InDesign (page layout projects)
Visual Web Design (WordPress projects)
Job preparation projects
Photography projects
General digital media projects
If you need help with general education courses or other courses taught outside our department, please contact your professor or visit the TLCC for additional academic support.
Our resources are limited to students currently enrolled and in good standing in the Digital Media program.
CONTACT INFORMATION
The Digital Media Lab is located on the Lakeland campus in the Digital Media Technology department in the LTB building.
Enter LTB 1307 classroom and walk toward the second door (directly ahead) to enter the lab. You may enter the lab even if classes are being held in LTB1307 at the time of entry. Please be quiet as you enter. You may also call or email the lab at:
Casey Chung
Interim Program Specialist
DIGITAL MEDIA TECHNOLOGY
Polk State College
3425 Winter Lake Rd, Lakeland, FL 33803
Phone: 863.669.4987
Email: cchung@polk.edu
If you have additional questions or concerns, please contact:
Dr. Gregory K. Johnson
Director & Professor of Digital Media
DIGITAL MEDIA TECHNOLOGY
Polk State College
3425 Winter Lake Rd
Lakeland, FL 33803
863.669.2839
gjohnson@polk.edu
LAB SERVICES
The lab provides the following:
Assistance with course projects and assignments
Personalized instruction
Collaboration with assistants and students to complete complex projects
Equipment loan program to complete course projects
Tutorials on using the digital media tools, software and equipment
Access to an audio recording sound room
Access to a photo studio
Access to a TV production studio & green screen
Access to digital media equipment
EQUIPMENT LOAN PROGRAM
Students who are actively enrolled in the Digital Media program, and in good standing, are allowed to borrow select equipment for 24 hours. The loan period may be extended for advanced students for certain equipment when supplies are readily available. Most borrowed equipment may be used on or off-campus. Some equipment may only be used with the assistance and supervision of a lab assistant. Others require on-campus use only. Equipment available for lending include (but are not limited to):
DSLR & mirrorless cameras / camcorders
Lens & filters
Tripods & dollies
Lights for video / photography
Audio recorders & microphones
Headphones & slates
Drawing tablets
Other equipment required for course completion
Students (18 years or older) who wish to borrow equipment will sign a contract. If a student is less than 18 years old, parental signature and consent are required before the said student is allowed to participate in the loan program. We expect students to return borrowed items in the same condition in which items were lent (except for normal wear and tear). If borrowed equipment or parts thereof is damaged, destroyed, or missing for any reason while "checked out," the person(s) who borrowed the equipment bears full responsibility for its replacement within 30 days of the loss or damage. No exceptions.
Please note that equipment may not always be available, and we reserve the right to limit the use of departmental equipment under certain conditions. Please see the lab coordinator for details.
LAB STAFF
Casey Chung – Interim Program Specialist