Congressman Soto honors Polk State's Gregory Johnson for Caribbean Heritage Month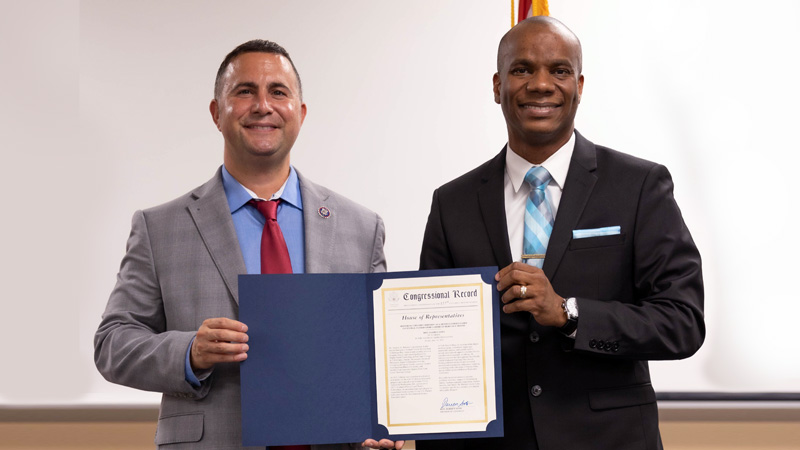 Congressman Darren Soto recognized Gregory Johnson, Program Director and Professor of Digital Media Technology at Polk State College, on June 27 in honor of Caribbean Heritage Month. Johnson's biography will be read into the Congressional Record on the U.S. House of Representatives floor and entered into the U.S. Library of Congress.
Johnson was celebrated alongside five other honorees for their heritage, accomplishments, and service to the community. Johnson is a member of the Polk State's tenured faculty and holds a Ph.D. in Education with a concentration in Instructional Technology from the University of Central Florida.
"We had the opportunity to recognize incredible Central Florida leaders for Caribbean Heritage Month. From education to healthcare, business to community activism, and more, these honorees have enriched our community with culture, wisdom, and hard work," Congressman Soto shared.
Johnson first served as an instructional technologist designing online curriculum for Polk State College and the University of South Florida in 2009 before assuming the role of Department Coordinator for the College's Digital Media Program. He collaborated with colleagues, administrators, and stakeholders to redesign the program to become the Digital Media Technology program to better meet the needs of students and employers in a world where digital media and technology are advancing rapidly.
Johnson received the Polk State Endowed Teaching Chair Award in 2016, the Distinguished New Faculty Award at the International Conference on College Teaching and Learning in 2013, the Dean's Fellowship as a graduate student at UCF in 2007 and 2009, and the Provost Fellowship in 2006. He has also published numerous papers in peer-reviewed journals and has made presentations at conferences and professional gatherings internationally.
"Dr. Johnson is an esteemed member of our Polk State College community and a well-deserving honoree of this recognition," Polk State President Angela Garcia Falconetti said. "We are incredibly proud of his work, his support of students, and the knowledge he provides to our College."