Coordinator: Wyatt Dube
Maintenance Instructor: Bill Barros
Industrial maintenance technicians PROGRAM
With advancing technology, the era of the single-craft technician is over. Technicians are now expected to master multiple skill sets (e.g., mechanics, electronics, automation, and instrumentation) in order to better maintain today's highly technical production processes. Maintenance technicians are integral in any industry that utilizes machinery to provide a service or create a product. Polk State College has a Multi-Craft Technician Program that teaches the skills necessary for work in a multitude of industries such as distribution warehouses, automobile assembly plants, food and beverage packaging facilities, and petroleum refineries. Throughout the program, students are provided an opportunity to earn credentialing in:
Mechanical Systems
Maintenance Operations
Hydraulics Systems
Pneumatic Systems
Electrical Systems
Electrical Control Systems
Maintenance Piping
Process Control Systems
Programmable Logic Controllers (PLC)
Ammonia Refrigeration
Next Class
October 10 , 2017- June 8, 2018
Tuesdays, Thursdays, Fridays
8:00 am – 5:00 pm
Earns articulated credit in the following Engineering Technology courses:
ETM1010C, ETI1420C, ETI1110C, ETI1701C, ETI1402C
For more information, contact Wyatt Dube.
LINKS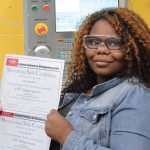 CareerSource Workforce Innovation and Opportunity Act (WIOA) Funding Page
Sallie Mae Vocational Training Loan Website
Workforce Grants Page

Computer numeric control (CNC) MACHINIST PROGRAM
This certification program validates that an individual has the information and skills to successfully setup and operate a computer numerical control (CNC) milling center, maintain quality and safety standards, keep records, and maintain equipment and supplies. This course is aligned to six National Institute for Metalworking (NIMS) certificates, with competencies including:
Industrial Safety and Personal Protective Equipment (PPE)
Lock-Out/Tag-Out Processes
Job and Process Planning
Hand-Tool Usage
Maintenance of Safe Operations with Machine Tools
Blueprint Reading and Geometric Dimensioning and Tolerancing (GD&T)
Introduction to Metrology
Shop-Based Mathematics
Basic Manual Machine-Tool Operations
Saw Operations
Rough-Cutting and Blanking of Materials
Identification of CNC Mill and Lathe Tools for Machining
Setup and Maintenance of Tool Holders and Inserts for CNC Processes
Identification and Usage of Machine Components
Inspection of Basic Components
Machine Setup and First-Part Proving Procedures
Maintenance of Part Specifications through Measurements and Offsets
Documentation through Production Logs or Statistical Process Control (SPC)
Implementation and Review of Improvement Processes
G and M Codes for Programming for the Lathe and Mill
G-Code Creation and Required NIMS Parts for Machines
Next CNC Classes Offerings:
Fall 2017
August 21 – December 12, 2017
Monday – Friday, 8:00 am – 5:00 pm
Spring 2018
January 8 – May 3, 2018
Monday – Friday, 8:00 am – 5:00 pm
Choose the track you want to follow:
Track 1:  8- week CNC Operator $3,780.00
Students will be certified CNC Operators upon completion of this track
Track 2:  8-week CNC Programming $3,670.00
Students will be certified CNC Programmers upon completion of this track
Next class offering:

Summer 2018 (dates TBA)
Monday – Friday
8:00 am – 5:00 pm
Fee: $4,815.00

This certification program validates that an individual has the information and skills to successfully complete process planning; basic manual milling and turning machine applications; and machine setups, operations, and inspection techniques; as well as integrate the necessary safety standards. This course is aligned to four National Institute for Metalworking Skills (NIMS) certificates, with competencies including:

Industrial Safety
Blueprint Interpretation
Applied Mathematics
Cutting-Tool Assembly
Cutting-Tool Selection
Cutting-Tool Sharpening
Geometrical Dimensioning and Tolerances
Precision Measurements
Introduction to Metrology
Materials Identification and Tool Selection
Successful Machining Techniques
Tolerance Inspection
Machine Maintenance
Machining Applications
Material Preparation
Metallurgical Introduction
Digital Readout (DRO) Introduction and Uses