Polk State Masters of Machining: CNC grad fast tracks her success by learning a trade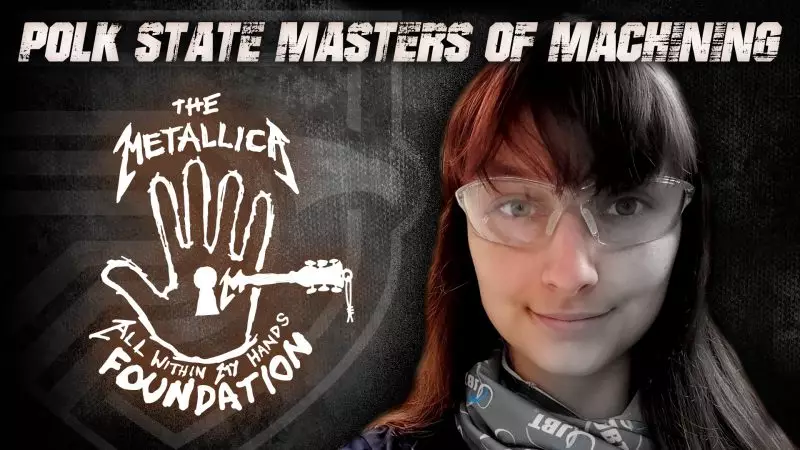 For Darah Greenwald, college never seemed financially in reach and after one semester of taking general education courses, she realized that the traditional college route was not for her. Instead, she fast tracked her success to an in-demand, high-wage career through Polk State Corporate College's Computer Numeric Control (CNC) Machining Program.
In four months, she acquired the skills to operate and program state-of-the-art, industry-standard machinery that are valuable to more than a hundred employers and machine shops in Polk County alone. With this knowledge and six National Institute for Metalworking Skills (NIMS) certifications, Greenwald secured employment before completing the program and assumed her position as a machinist for JBT in Lakeland immediately after graduation.
"I was a student working full-time in fast food. There was no way I was going to do years of that," Greenwald said of the start of her college journey. "In four months, I went from not knowing anything about being a machinist to having a high-paying job in the field. I'm making money doing something I enjoy and learning new skill sets every day that I can take with me anywhere."
"Machinists are needed across the globe," she added.
In Polk County, machinists of all types are in high demand, with a 5.9 percent projected growth rate over the next five years.
Through a grant from All Within My Hands as part of the Metallica Scholars Initiative, students like Greenwald will receive scholarships for the training they need to become highly-skilled machinists qualified to fulfill the industry demand.
In partnership with the American Association of Community Colleges, the initiative provides direct support to Polk State Corporate College's CNC Machining Program, including scholarships for unemployed and underemployed individuals to complete the short-term training courses, and funds for them to take the exams for six NIMS certifications.
"I recommend anyone looking for a rewarding career to try it out. It's the best thing I ever did," Greenwald said. "Learning a trade is incredibly valuable and I wish I would have known that sooner."
She grew up in a single-parent home and a college education was not feasible for Greenwald, who needed to become financially independent quickly after graduating from high school, she said. Unsure of what to do at first, Greenwald enrolled in general education courses at another college.
"It only took one semester of classes for me to realize it was not going to work for me," she said. "I wasn't prepared for years of school and needed to find a career as soon as possible."
She learned of the grant-funded CNC Machining training opportunity at Polk State Corporate College and enrolled in January 2018, although she "knew nothing about the parts I'm making now."
"Polk State provided me with everything I needed to get a job and everything I learned helps me every day in my career," she said.
Greenwald completed both the operator and programming tracks in 16 weeks and was immediately employed upon graduation like many completers of the program, which boasts a 94 percent job-placement rate and a nearly 98 percent pass rate on all NIMS certification exams.
In her position with international company JBT, she operates and programs machinery that produces parts that are critical for distributors of juices and beverages.
"Before I became a machinist, I had no idea how much of a role humans play in the process," Greenwald said. "I thought everything was automated and done by the machines, but the machines need people to operate and program them. It has given me more appreciation for everything I buy, knowing that a human has touched it and has helped to create it."
That sense of fulfillment in being part of the production process is one of Greenwald's favorite parts of the job.
"My job as a machinist has given me a sense of livelihood," she said.
As for what's next for Greenwald, she is learning new skills every day.
"I'm really happy with how far I have come in such a short period of time and I am happy with where I'm at," Greenwald said. "I'm not really sure what's next for me because I jumped into this to get me out of the situation I was in and it worked out so great."
But the doors of opportunity are open for Greenwald and graduates of Polk State's CNC Machining Program, which prepares students for higher level training opportunities as well as the College's Associate in Science in Engineering Technology Program. Students may articulate up to four credit hours from the CNC Machining Program to the AS in Engineering Technology.
"Try it out," Greenwald shared for anyone looking for a training and career opportunity. "It can change your life."
Individuals who are interested in the program should contact Coordinator Jamie Rowan at jrowan@polk.edu or 863.837.5954.
About Polk State College
Located in Winter Haven, Florida, and established in 1964, Polk State College is a multi-campus institution serving more than 16,000 students with Bachelor of Applied Science, Bachelor of Science, Associate in Arts, and Associate in Science degrees, as well as 12,000 students in the Polk State Corporate College with a wide range of certificate and workforce training options. The College also operates three charter high schools.
Polk State's advantages include small class sizes; hands-on learning; dedicated faculty; day and night classes; online options; affordable tuition; excellent financial aid; and a diverse community and vibrant student life, including fine arts opportunities, clubs, and intercollegiate athletics. Visit www.polk.edu for more.
About All Within My Hands
AWMH is a non-profit, philanthropic organization created by the members and management of Metallica dedicated to creating sustainable communities by supporting workforce education, the fight against hunger, and other critical local services. 100% of donations go directly to local organizations that the Foundation supports. Please visit: AllWithinMyHands.org for more information.
About American Association of Community Colleges
As the voice of the nation's community colleges, the American Association of Community Colleges (AACC), delivers educational and economic opportunity for nearly 12 million diverse students in search of the American Dream. Uniquely dedicated to access and success for all students, AACC's more than 1,000 member colleges provide an on-ramp to degree attainment, skilled careers and family-supporting wages. Located in Washington, D.C., AACC advocates for these not-for-profit, public-serving institutions to ensure they have the resources and support they need to deliver on the mission of increasing economic mobility for all.