Polk State Introduces New High-Tech Career Training Program for Computer Numerically Controlled (CNC) Machinists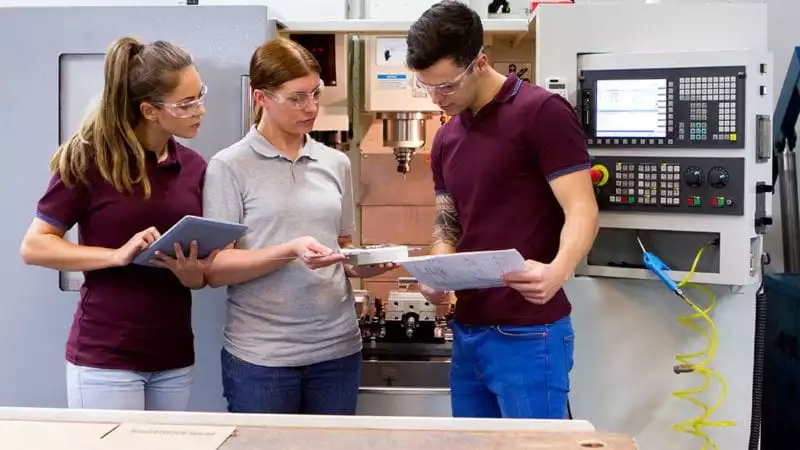 This fall, Polk State will introduce its newest high-tech career training for Computer Numerically Controlled (CNC) Machinists. This four-month program is designed to jump start careers, enabling individuals to secure jobs in one of the 107 CNC machine shops located in the Polk County area.
Computer numerically controlled (CNC) machinery precision-cuts, grinds, or drills materials. Machinists are technicians who make adjustments to machines to control the speed, the material fed, and the path of the cut, as well as make sure the machines are set up properly, working efficiently, and producing a high-quality product.
Machinists create a variety of products using this technology: motorcycle helmets, airplane parts, NASA systems, and much more. They are able to examine parts, complete a project plan, and create the solution to get customers and employers back on track. Local employers include companies such as JCMI, JBT Food Tech, Key Safety Systems, and many others.
"JBT Lakeland designs and manufactures a wide variety of commercial food processing equipment for various food applications," said Mark Jackson, new product development technician for JBT Food Tech. "Job security for skilled trades in today's work force has never been better.  With more companies relocating their manufacturing operations back to the United States, the long term outlook has never been better."
According to Samantha Schapers, Project Manager for Mid-State Machine and Fabricating Corporation, "Machinists' salaries and benefits range locally from $14-$30 per hour." Salary ranges increase based on proper training and the certifications that Polk State provides.
"Polk State has recognized the struggle of an industry with lots of demand, but with a limited pool of available, highly trained employees," said Schapers. "Mining, chemical, power, and general manufacturing industries always need repair parts and emergency work," she said, indicating that the demand is constant.
"A career machinist can enjoy a very good quality of life," said Jackson. "Some experienced machinists can easily make a salary that is on par with engineers and other professions."
Polk State offers two tracks of the CNC program; combined, these tracks provide all of the necessary training and credentials to assume employment quickly. The certificates offered through the program validate that an individual has the information and skills to successfully setup and operate a CNC milling center, maintain quality and safety standards, keep records, and maintain equipment and supplies. The program is aligned to six National Institute for Metalworking (NIMS) certificates.
The program is hands-on and requires students to perform tasks on state-of-the-art, industry-standard equipment to ensure overall competency. Students receive information from industry experts and employers who participate in on-site presentations throughout the program to encourage students and gauge talent. As well, those who complete the program have their résumés shared with members of the regional manufacturing organization and other partnering employers.
The next cohort of the program runs from August 21 through December 13, 2017. Classes are held Monday through Friday from 8:00 a.m. to 5:00 p.m. Session 2 is scheduled for January 8 through May 3, 2018.
Though there is a fee for the program, grants are available through Career Source Polk, and loans are available through the Sallie Mae Vocational Training Website. Limited space is available, as these programs fill quickly. Interested parties are encouraged to contact Program Coordinator Wyatt Dube at 863.297.1000 Ext. 4670 or wdube@polk.edu to receive up-to-date information on space availability.