"If You Can Dream It, You Can Print It": Polk State Now Offering Classes in 3D Modeling and Printing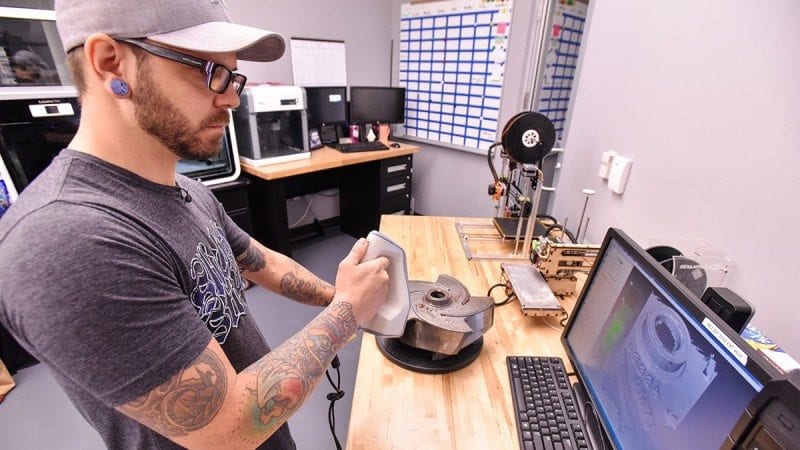 Polk State College is now offering a series of classes in 3D modeling and printing that will allow students to earn an industry-recognized credential.
"Thanks to the Polk County Board of County Commissioners, we have this amazing 3D printing lab," said Chris Knapik, a program manager at the Polk State Corporate College.
"We have the ability to print virtually any three-dimensional object you can imagine. But Polk State College isn't in the business of just making 'stuff.' We're in the business of building the county's workforce. Through the 3D printing classes, students are going to print the 'stuff' in their heads, but they're also going to gain a credential that can lead to employment in this exciting, cutting-edge field."
Late last year, the Polk County Board of County Commissioners granted more than $250,000 to Polk State College for the creation of a 3D printing lab that would support local economic development. With the money, the College purchased four commercial-grade printers and a high-resolution 3D scanner.
The equipment is housed at Polk State's 3D Printing Center, located within the Polk State Clear Springs Advanced Technology Center in Bartow.
So far in its brief history, the 3D Printing Center has been used by entrepreneurs in need of a convenient, inexpensive option for rapid prototype production. Businesses owners curious to see how the technology might apply to their operations have come through for tours, as have students in the College's TALON Robotics summer program.
With the new slate of classes, however, the 3D printing lab is evolving from experimentation to formal education, from curiosity to certification.
"We're giving the public the opportunity to learn about 3D printing from conception to final product," said Charles Nixon, print shop supervisor.
The College's 3D modeling and printing classes include:
Introduction to 3D Modeling with Inventor 2014 software
Introduction to 3D Modeling with SolidWorks 2014 software
Up & Running with 3D Printers
During the introductory classes, students will complete self-paced online tutorials to learn the Inventor or SolidWorks computer-aided design software. Nixon will be on-site to provide one-on-one assistance. Each of the introductory classes lasts three weeks.
The Up & Running with 3D Printers class requires experience and training in 3D modeling — ideally obtained through Polk State's introductory classes. Up & Running combines online learning with six hours of hands-on experience using Polk State's 3D printing equipment. The Up & Running class lasts one week.
The cost for each of the above listed classes is $250. The cost to take one introductory class and Up & Running is $400.
For those intent on using their 3D knowhow for professional purposes, the College is also offering the Certified Solidworks Associate test. Students may take the exam for $100.
"The certification says you have a foundational knowledge of 3D modeling by SolidWorks," Knapik said.
Additional printing time can also be purchased.
Echoing Knapik, Nixon said the classes are more than just learning how to print 3D "stuff." They are a quick and cost-effective way to potentially start a career in fields that utilize 3D printing.
"You don't have to have a high-school diploma or a college degree. You can start you career just by walking through the door," he said.
Where might a student trained in 3D printing find work? Nixon has plenty of examples.
"Manufacturers, product designers, animation companies, video game designers, architects, medical equipment makers — they're all using 3D technology, and they're all paying really well," he said.
Knapik and Nixon provided data from Indeed.com that showed the average salary of SolidWorks designers is $58,000.
Salaries are going to vary, of course, by employer, geographic location, and an individual's personal experience, but the point is, Nixon said, that with minimal education, students can begin careers in 3D printing.
Whether they do it professionally, or just for fun, students who learn 3D modeling and printing will find they are limited by only their imaginations. Nixon, for instance, is using 3D printing to make the parts he needs to build a 3D printer large enough to print a prosthetic leg for a wounded veteran.
"If you can dream it, you can print it," he said.
For more information on the College's 3D modeling and printing classes, including schedule options, contact Nixon at cnixon@polk.edu or 863.669.4971.