Student ID Card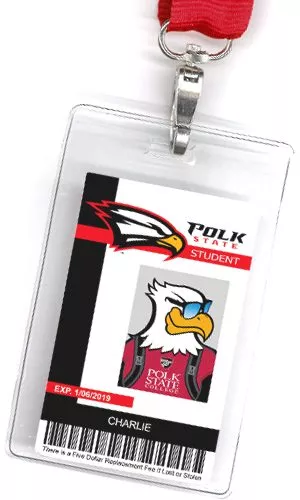 Every student is required to have a Polk State Student ID card.  Student ID cards are made in the TLCC, Student Services, and Student Activities and Leadership Office (SALO) on both the Lakeland and Winter Haven campuses and the JDA Center. You need your ID card for use of the library and the TLCC. Also, your ID card is required to claim prizes won at student events and for access to games, TV lounges on each campus, and discounts at movie theaters. Student ID cards are free, but a replacement ID is $5.00 if lost or stolen.
Schedule
STUDENT SERVICES
(Lakeland and Winter Haven)
Monday-Thursday   8 a.m. to 6 p.m.
Friday  8 a.m. to 4 p.m.
TLCC
(Lakeland and Winter Haven)
Monday-Thursday 5 p.m. to 9 p.m.
Friday 12 p.m. to 4 p.m.
Saturday 10 a.m to 1 p.m.
SALO
(Lakeland, Winter Haven, and JDA)*
Monday-Thursday  9 a.m. to 4 p.m.
Fridays by appointment
*Hours of operation may change because of student events on campus.  
Online Students
Students who take their classes online (at least 75% of your classes taken online) may request their Student ID card via email after they have registered for classes.  In the subject line put, "Student ID Card Request".  Email a copy of a photo ID (Driver's license, passport, etc.), a digital headshot (please, no hats or image filters), student ID number, and your mailing address to salo@polk.edu.  Note:  DO NOT include sensitive personal information (Social Security Number, etc.) in this email.   A SALO representative will contact you if additional information is needed.