Student ID Card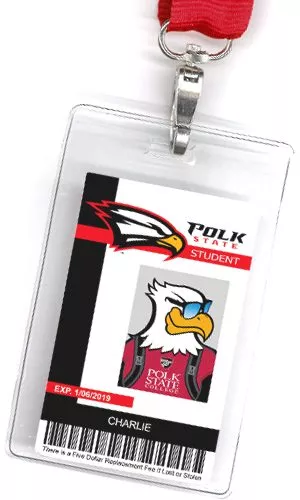 Every student is required to have a Polk State College Student ID Card.
Student IDs and badges are requested after a student is fully registered and paid for classes.
Online Student ID Cards Request
Students can request a student ID card via email.  It will be mailed within three business days.
Instructions for Requesting an Online Student ID Card by Email:
Type "Student ID Card Request" in the subject line of the email.
Include the following information in the email request:

First and last name
Student ID number
Mailing address

Attach a copy of a photo ID (e.g., driver's license; passport; military ID; or state, employer, or high school photo ID card) to verify identity.

Include a digital headshot with no sunglasses, hats, or filters.

Email all information to salo@polk.edu.
Note: Do NOT include sensitive personal information (e.g., Social Security Number) in this email. A SALO representative contacts the student by email if additional information is needed.
Health Science ID Card or Specialized Program ID Card Request
For this type of card, the student must email salo@polk.edu to set an appointment.
In-Person Student ID Card Request
The first Polk State College Student ID Card is provided for free. You do not need your ID card to start classes.
Bring a photo ID and a printout of class schedule. A student can use a mobile device to pull their class schedule on Passport.  The class schedule must display a zero-balance fee.
No hats or sunglasses are permitted for the Student ID Card photograph.
The Polk State College Student ID Card is issued immediately after a photograph is taken.
You may visit SALO to receive your Student ID Card. Our hours of operation as follow:

Monday through Thursday from 10:00 a.m.-4:00 p.m.
Friday via appointment only.  Call 863.297.1010 ex. 6182 or 6262.
Replacement Cards and Name Changes
A student may request a replacement card if:
The original Polk State College Student ID Card is lost or stolen. In this case, the student must pay a $5.00 replacement fee to the Cash Management Department and bring the receipt to the ID card location for a replacement.
To complete a name change, the student must go to the Admission and Registrar's Office to request a Vital Statistics Change Form. It takes24-48 hours for the name to change within the College's computer systems.

To be issued a new card, the student must provide a photo ID with the new name and the student's ID number.
There is no fee for a card issued with a name change. The new card is issued immediately after the photograph is taken.

An expired card is replaced at no charge if the student brings the expired Polk State College Student ID Card to campus. Without the expired card, the individual must pay the $5.00 replacement fee.
Note: All expired cards are shredded inside SALO.