Polk State Unveils Innovative Partnership with Polk Transit Authority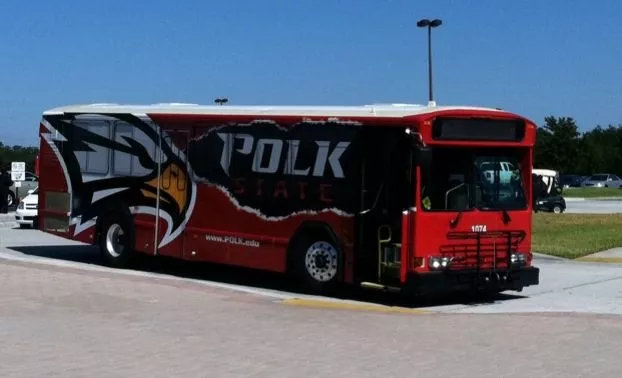 Polk State College on Monday announced an innovative partnership with the Polk Transit Authority — one that benefits more than 20,000 and has garnered national attention.
In a pair of events, Polk State College President Eileen Holden announced that effective immediately all College students and employees may ride for free on any bus route served by Lakeland Area Mass Transit or Winter Haven Area Transit, a program that has been hailed as the most important progress in Polk County public transportation in 30 years.
The three-year agreement puts no restrictions on Polk State students and employees. They may ride any route, at any time, for any purpose — all at no charge as long as they show their College-issued photo ID.
"Whether you are headed to one of the College's many campuses and centers around Polk County, venturing out to shop, visit museums, attend to healthcare needs, if you have a valid Polk State student or staff ID — you soar for free," Holden said to crowds of several hundred on both the Lakeland and Winter Haven campuses.
The agreement between the College and the Polk Transit Authority comes as gasoline hovers near $4 a gallon, putting increased financial strain on many Polk County residents. Also, the announcement comes just after Earth Day, perfect timing as the use of mass transit is one of the easiest ways people can help the environment.
Citrus Connection Executive Director Tom Phillips hailed the agreement as one that will improve not only individual lives but also the county as a whole. He gave the example of students using their gas savings to offset their tuition. With their financial burden eased, students can focus on graduating and entering the work force.
"Although we will likely never know the names of these Eagles, they will soar to new and previously unreachable heights because Dr. Holden and the Polk State team had the courage and forethought to lead us into a new era of public transportation in Polk County," he said.
Because of the agreement with the Polk Transit Authority, Polk State has received the national Best Workplaces for Commuters award.
The award is a program of the National Center for Transit Research at the University of South Florida. NCTR is funded by the Florida Department of Transportation and the U.S. Department of Transportation, and aims to make public transportation and alternative forms of transportation safe, effective, efficient, desirable, and secure.
Best Workplaces for Commuters recognizes organizations that take exemplary steps to offer transportation options to their employees, encouraging sustainable transportation innovation. Lakeland Mayor Gow Fields, also an alumnus of the College, was on hand to present the award to Holden. Also in attendance were County Commissioner Bob English, chairman of Lakeland Area Mass Transit, and Winter Haven City Commissioner Jamie Beckett, as well as Christine Diaz-Pagan of the Florida Department of Transportation.
Polk State's efforts have also earned it the Gold Level Partner Rating from the FDOT's District 1 Commuter Assistance Program.
Polk State's announcement complements its participation in Taking it to the Streets, a regional campaign spanning 12 counties in Central and Southwest Florida. Taking it to the Streets encourages people to rethink their driving habits and try things like walking, biking, carpooling or using mass transit, and offers resources such as information on bus routes and biking trails. The campaign is organized by Commuter Services, a Florida Department of Transportation program.