Louis Stokes Alliances for Minority Participation Program (LSAMP)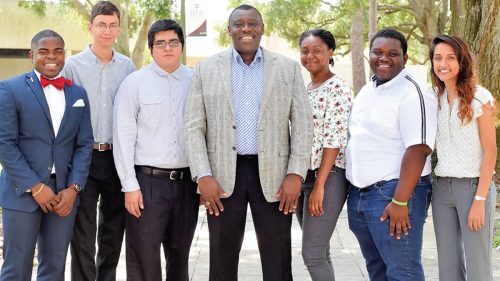 The Louis Stokes Alliances for Minority Participation (LSAMP) Program provides funding to university and college alliance-based programs that support and promote diversification of the nation's science, technology, engineering, and mathematics (STEM) workforce. The LSAMP Program focuses on increasing the number of STEM baccalaureate and graduate degrees awarded to underrepresented minorities and growing the number of minority individuals serving in STEM careers.
The Louis Stokes Alliances for Minority Participation is an ENGAGE Program; it is a committed Educational Network to GAin STEM Graduates and Enhance STEM education (ENGAGE) through increased educational opportunity and diversification of the workforce. ENGAGE creates a network between secondary education, community colleges, four-year institutions and graduate programs to offer viable pathways to STEM degree achievement.
Central Florida STEM Alliance (CFSA)
Polk State College is part of the Central Florida STEM Alliance (CSFA), a National Science Foundation (NSF) partnership under the Louis Stokes Alliances for Minority Participation Program (LSAMP). The goal of the CFSA is to broaden participation of underrepresented minorities in science, technology, engineering, and mathematics (STEM) education. The CFSA partners include Polk State College, Valencia College, and Lake Sumter State College.
Mission
Through collaboration, the CSFA expects to achieve the following outcomes:
Increase in the number of underrepresented minority (URM) students who choose STEM fields of study at each CFSA institution.
Improve the persistence and graduation rates of underrepresented minority STEM students at all CFSA institutions.
Encourage URM participants across all CFSA facilities to attain a grade point average of 2.75 or higher.
Encourage consistent participation of faculty and students in CFSA activities.
Increase the number of underrepresented minorities who earn associate degrees at CFSA institutions and transfer into STEM majors at the baccalaureate level.
Objectives
The CFSA has set forth the following objectives to guide alliance-wide activities in pursuit of its goal:
Community-based and student recruiting: Partners inform teachers, counselors, parents, and students in Central Florida about the LSAMP Program to increase awareness about STEM careers. This includes engaging current alliance students having interest and potential in STEM studies and increasing their awareness regarding STEM majors and careers. Partners also collaborate through community-based recruiting models within the alliance.
Bridge programs and transitions: Partners leverage and create initiatives that assist students in the transition from high school to college, and from community college to a baccalaureate-granting institution. The program connects students with peer mentors.
Faculty engagement and inclusive pedagogy: Partner institutions facilitate faculty collaboration and alliance peer groups to share inclusive pedagogy and mentoring practices that lead to greater student success.
Student research opportunities, mentoring, and training: Partners connect students with research opportunities such that they can earn a research certificate.
Mentor training: The program partners provide training and resources for mentors who supervise undergraduate research projects.
Project management, communication, and institutional integration: Organize and manage IINSPIRE-LSAMP team members and activities to achieve project goals. The alliance leverages institutional resources and partnerships and uses data to implement effective programs based on institution-specific needs.
Assessment and evaluation: Partner facilities track student participation and enrollment statistics, and use these data to assess alliance-wide and institutional outcomes. These results allow for evaluative guides to inform and improve practices.
Central Florida LSAMP Program activities draw upon available research and resources, focusing on each individual's transition from high school and community college to ensure that he or she has rigorous academic preparation, as well as the social support, research preparation, and financial support to complete a STEM degree and continue toward graduate school. Assessing and reviewing the obstacles that face various student groups during this transition period enables the alliance to identify strategies to increase the number of students on pathways toward STEM degrees. The CFSA student-experience model is defined by key learning and training activities that extend from program entry through associate-degree completion at a CFSA institution. Students participate in pre-matriculation programs, campus seminars and workshops, tutoring, mentoring, and alliance meetings. LSAMP Program personnel at each CFSA institution coordinate local programming. Central Florida alliance-based programming allows for collaborative regional enterprises and events. Key student-experience activities include STEM-related academic advising, career-specific professional development opportunities, and career advising. LSAMP Program personnel strive to connect key student activities to existing programs at Alliance institutions in order to leverage resources and expertise.
Central Florida LSAMP collaborates with number of partners. These partners have a commitment to broadening participation in STEM education and meeting state and national STEM workforce needs. Partners support the alliance by offering various opportunities and assistance, including participation in local and regional programs and events, support of K-12 outreach, internships, and financial support.