Fallfest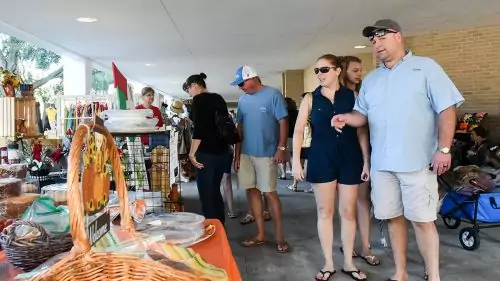 Crafts and Fun = Polk State's Annual FallFest
FallFest, the word conjures up a cool autumn day on Polk State College's Winter Haven campus, filled with happy families enjoying a variety of activities. Thousands trek to the campus each second Saturday in October to enjoy the event that features a craft show, the Kids Zone, music, police and EMS demonstrations, the Pumpkin Patch, food, the Haunted House, and … more.
Some northerners schedule visits to Central Florida this time of year just so they can take in FallFest. The 2023 annual Polk State College FallFest will be held on Saturday, Oct. 14 from 9 a.m. to 3 p.m.
Many visitors have their particular favorite FallFest events or discover new ones. And, FallFest wouldn't be FallFest without the hundreds of handmade crafts on display. The craft show is the foundation of Fallfest. The fall event has grown considerably in the years. From popular crafts to other exciting events, thousands enjoy the festival each year.
FallFest is a fundraiser with proceeds going to various student organizations and the Polk State College Foundation. The Polk State College Foundation supports the College's educational mission in many ways, including establishing scholarships and purchasing equipment for students. Fees from craft booths and other sales go to the Polk State College Foundation to benefit our deserving students.
Polk State College always strives to be a world-class college — whether it's in the classroom or in service to our community. The collaboration of Polk State's student and employee volunteers and participating groups make FallFest the pleasurable event that it is.
For further details about this free, rain-or-shine event, send an e-mail to fallfest@polk.edu.