Student Activities & Leadership Office (SALO)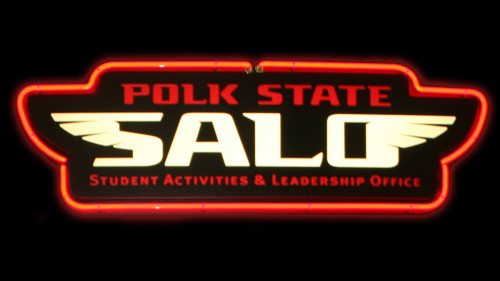 Through the Student Activities and Leadership Office (SALO), you may pick up a form with directions about how to start a new student organization, or you may obtain your Polk State Student ID, activities calendars, voter registration forms, student discount cards, intramurals, and student activities calendars. You may also reserve rooms to hold study group meetings and club/organization meetings. Our meetings are held on both the Winter Haven and Lakeland campuses. Please contact the Student Activities and Leadership Office for further information.
Student Activities offers opportunities in:
Student Involvement: Various Clubs and Organization
Student Activities and Event Planning
Community Service
Intramural Sports
Health and Wellness Education
Educational and Multicultural Workshops
Leadership Seminars and Retreats
Serving on College-Wide Committees
Want to know what is going on in Lakeland with Art,  Great Food, Concerts, and Discounts…try YLAKELAND.
YLakeland is a go-to resource that helps connect you with the community and assets that make Lakeland unique. Sure we love a good chain restaurant, who doesn't? But we live local and will keep you in the know on events, things to do, new businesses to call Lakeland home and much more. Check out YLakeland and get an insider's perspective on the amazing things our community has to offer.