Speech and Debate Team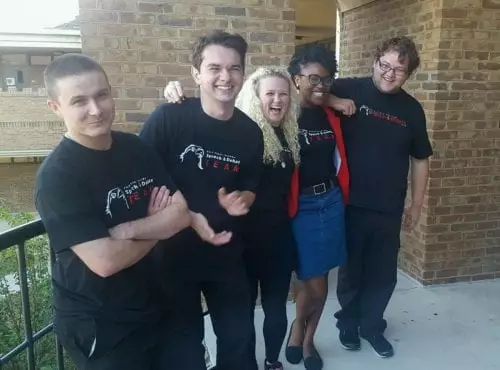 Want to travel?  Enjoy competition? Looking for a scholarship? Want to make new friends?  Interested in learning from academically minded and engaged students?  Then the Polk State Speech and Debate team is for you!  The team travels state-wide competing in multiple styles of debate and in individual events such as Poetry, Informative Speaking, and Dramatic Interpretation, to name a few. Active team members can also qualify for the new tuition scholarships!
The Florida Intercollegiate Forensics Association supports and directs Forensics activities in the state of Florida.  Visit their homepage to see the upcoming tournament schedule.
Our team is recognized by the Florida College System Activities Association.  This state agency accredits and sanctions teams such as Forensics as well as Volleyball and Soccer, among other sports and groups, within the 28-college state system.
Polk State College Speech and Debate competes under Region VIII of Phi Rho Pi.  "Phi Rho Pi, the National Junior and Community College Forensic Association and Honor Society, offers community college and junior college students the only full-service national tournament in the United States with 11 individual events, three forms of debate, and interpreters' theatre."
Delta Sigma Rho-Tau Kappa Alpha fosters and supports collegiate Forensics. In 2015, Polk State's professor and coach Christina Gesmundo was awarded DSR-TKA Coach of the Year.
For more information please contact:
Christina Gesmundo
Phone: 863.669.4950
Internal Extension: 6288
Email: cgesmundo@polk.edu