Graduating Charlie hangs up his feathers so Alex can spread his wings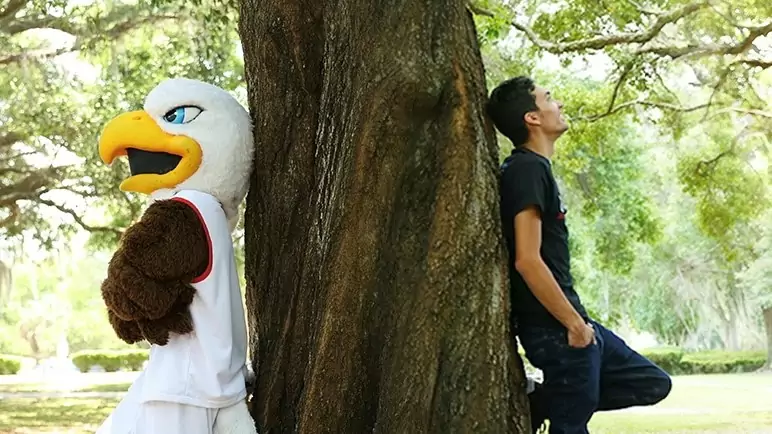 Alexander Gonzalez has idolized superheroes in comic books and video games since he was a child, as their stories of overcoming adversity and doing good for the world served as inspiration and motivation while growing up with autism, attention deficit disorder, and obsessive-compulsive disorder.
Spider-Man resonates with Gonzalez the most, as the hero and his intention to do good for others are sometimes misunderstood.
"That's where Charlie comes in. Charlie brings out the joy in people," Gonzalez said of the beloved Polk State College mascot he has brought to life for the last three years. "Like Peter Parker, I'm just a normal guy; I'm nothing special and I'm not trying to be. I'm just trying to do something good for other people."
On May 5, Gonzalez will hang up the Charlie suit in exchange for graduation regalia as he walks the stage during Polk State College's 126th Commencement Ceremony. He will receive a Bachelor of Science in Criminal Justice.
Writing his own story
"College was a far-fetched idea because I was told by 'specialists' my whole life that it would not be possible for me to finish grade school, let alone go to college," he explained. "They had already written my story before I had even gotten a chance to write it myself."
But Gonzalez has been driven to "go past the cultural stigma of how people with disabilities are viewed and treated; go past the perception that they are destined to fail," he said.

Gonzalez, the youngest of four brothers, moved with his family to Florida from Pennsylvania at 4 years old.
That same year, he spoke his first sentence.
"I entered kindergarten. I was the quiet kid. My behaviors were different," Gonzalez recalled. "When I was diagnosed as autistic, my mother didn't really understand what that was – nobody really knew what autism was.
"She did a lot of research and found resources for me and our family," he added. "She has spent most of her adult life trying to figure me out before I could even figure myself out. I'm forever grateful to her for fighting for me when people told us not to bother trying."
Through elementary school, Gonzalez took intensive speech therapy, and an individualized education plan (IEP) was developed to assist him on his educational journey.
He continued to struggle, however, and in middle school, the bullying started.
"I left middle school with the sense that nobody expected me to get far in life," Gonzalez said. "A specialist told my mother that she shouldn't be surprised if I ended up a high school dropout. They said there was no way I could graduate with my poor cognitive and comprehension skills."
But he persisted.
'I winged it'
"Being in college is like the American Dream for me," said Gonzalez, who will be the first in his family to achieve a bachelor's degree.
He chose to enroll at Polk State due to its affordability and proximity to home in 2015 after graduating from Lake Wales High School in the top 30 of his class.
He earned both his Associate in Arts and Associate in Science in Criminal Justice Technology degrees but admits to failing some classes along the way. He didn't tell his parents at the time, and he apologizes if they are reading this now. However, it was a piece of advice from his father that kept him motivated throughout the trials and tribulations of his college journey.
"I didn't know if I wanted to continue on and my dad told me, 'You have to decide for yourself what you are going to do and what you are going to be, but no matter what character you end up being, I know it will change the world.'"
Shortly thereafter, the opportunity to audition for Charlie presented itself.

"I didn't know anything about Charlie or who he was, but I heard that if you got the role there was a scholarship that went with it," he recalled. "I thought why not?'
"I winged it," he said, pun intended.
Similar to the evolution of the Spidey Suit, Gonzalez went from auditioning in the College's former mascot costume to being the first Charlie to suit up in the new-and-improved ensemble. He is also the longest-serving Charlie and leaves behind some advice for future mascots.
"Be the best Charlie you can be and, most importantly, do it for the kids," he said. "The kids always get the most joy out of it and they need someone to look up to. You may inspire the next hero and that right there alone makes it worth it."
Changing society's attitude
Joining the Student Activities and Leadership Office (SALO) and Student Government Association (SGA) provided resources and peer support for Gonzalez to excel on his path to his bachelor's degree. He has served as Vice President for the Winter Haven Campus and coordinated autism awareness events to provide the student body with opportunities to learn about people with disabilities and become better advocates for them.
As a criminal justice student, he called the field the "closest thing that I have to becoming a real-life superhero" and he is inspired to influence not only legislation but also cultural changes that support and protect people with disabilities.
Gonzalez pointed to research published by the American Journal of Public Health in 2017 that reports that people with disabilities – emotional, physical, cognitive, or sensory – have a 44% probability of being arrested by the age of 28 compared to an approximate 30% probability for individuals without disabilities.
"The system is heavily flawed. A person like me who is neurodiverse is more likely to be in prison. Plus, I'm a minority, which increases that probability," he explained. "What can we do to fix this situation?"
He paraphrased Judy Heumann, an internationally recognized disability rights activist.
"It doesn't matter how many laws or policies you pass. If you don't change society's attitude about people with disabilities, those laws and policies are irrelevant."
Gonzalez is an active member of The Florida Youth Council comprised of emerging leaders with disabilities and special health care needs. The council fosters self-advocacy and peer mentoring.
"It's something I cherish because as a person with a disability, it has helped me develop not only my voice but also compassion and advocacy for those who don't have a voice," he said. "As someone who couldn't talk until I was 4, I never thought I would be doing this – now serving as a voice for others."
Sgt. Christen Shea, Director of the Polk State Criminal Justice Program, shared how proud she is of Gonzalez.
"From the day I met Alex while teaching him in the associate degree program, I knew he was special.  Alex is one of those students who made me, a professor,  strive to be better," she said. "His thirst for knowledge and his quest to one day be a changemaker of society's criminal justice system has inspired me. I have seen his incredible resilience as he has pursued his dream of graduating with his bachelor's degree.  He never gave up and is a superhero in my eyes."
Dear Charlie
As Gonzalez prepares to walk the graduation stage, he reflects on his time at Polk State and as the spirited mascot in a letter written to his friend, Charlie.
Dear Charlie,
What a journey it has been. I don't know where to begin. Our relationship started awkwardly! I mean, you're one hairy beast! But you have a warm spirit. For the last three years we spent together, we have been [to] so many places that I never thought we would go.

First, it was performing in front of a group of students and, eventually, in front of entire arenas. It is wild to think what my life could've been if our paths never crossed. One thing is for sure; you taught me a valuable lesson. You showed me how to be myself for once. You've taught me what it is like to be a hero in someone's eyes. You've always brought out the best parts of every individual you've met. It made me think a lot about the heroes in my life and where I would be today. You may not be as charming as Thor, strong as the Hulk, or charismatic as Tony Stark. Granted, you do have a lot of heart. It's beautiful to see that many people see you as a symbol of this institution and a symbol of hope. But to me, Charlie, what I see you is a symbol of heroism.
You've given people expectancy, and even if you stumble upon your challenges and mishaps, it didn't stop you from continuing what you love. Of course, we couldn't do it without our supporting cast and crew from SGA and SALO for making this happen. Our mutual friends, Chris and Melvin, made it all possible. You've changed my life, and I will be forever grateful to you. I will miss all the high fives, hugs, selfies, and the many extraordinary people we met along the way. Thank you for giving me one last dance. Until we meet again, my friend. Good luck and farewell.
Charlie will escort Gonzalez to the graduation arena where he has participated in commencement many times underneath the mascot suit. Now he will participate as Alex; confident, knowledgeable, compassionate, and ready to spread a different pair of wings – the wings of a Polk State graduate.
"Alex is the embodiment of We Are Polk.  He loved being Charlie and he will go down as one of the best mascots the College ever had," said Melvin Thompson, Director of the Student Activities & Leadership Office. "Alex is Da Goat in an Eagle. As a student, he has overcome so many obstacles, and to see him walk across the stage not as Charlie but as Alex means the world to me and the SALO family."
"Alex is truly a remarkable and kind person. I have never seen someone take so much joy in what he does as Charlie (Mascot). Alex has made an impact not only [on] the College, but also [on] everyone in the community," said Chris Ly, SALO Coordinator who has worked closely with Gonzalez over the years.
Gonzalez dedicates his degree to his grandmother; he promised her before she passed away from COVID-19 that he would complete his bachelor's.
With the knowledge and skills gained through the Polk State Criminal Justice Program and his time as Charlie and a student leader, Gonzalez will begin his search for an internship and potentially a law enforcement academy.
"There are no limitations or obstacles – I'm excited to figure out what possibilities are out there for me," he said. "I want to keep surprising people, like the specialists who ruled me out and who never expected me to make it this far.
"Who knows, I may even surprise myself."