Want to Be a More Confident Speaker? Then Polk State's Speech and Debate Team Wants You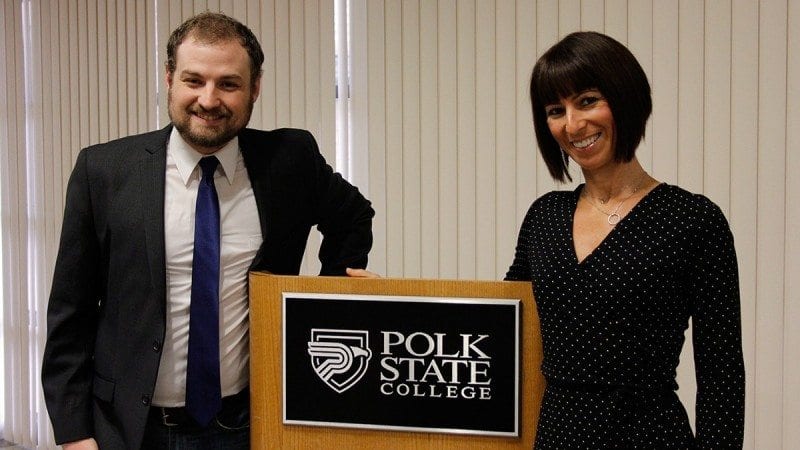 Polk State's relatively new — but thriving — Speech and Debate Team will host its first-ever tryouts Wednesday.
No experience is necessary. Students don't even have to bring their own material to read.
The only requirement: a desire to be a better speaker, in settings large and small, formal and casual.
Polk State's Speech and Debate team has been around for about a year now, not a long time, but long enough to make big strides. In March, student Jeffrey James-Potts was named the Florida College System Activities Association's Forensics Student of the Month. Just a month later, coach Christina Gesmundo, also a professor of speech communication, was named the first-ever Coach of the Year by Delta Sigma Ro-Tau Kappa Alpha, a national honorary forensic society.
Members of the team travel all over the state, competing against students from two- and four-year schools in various styles of debate.
Gesmundo gets it: the very mention of "public speaking" is enough to send most people running in the other direction. That's why members of Polk State's Speech and Debate Team ease into public speaking by taking Gesmundo's one-credit-hour SPC 2594; the course is a requirement for members of the team, but is open to all students.
During the class, students engage in confidence-building exercises, learn relaxation techniques, and research their topics. Most important, they also practice, practice, practice.
Through the class, students not only become better-prepared debaters, they also learn how to accept and move past their inevitable mistakes. Gesmundo added that students in the class are in charge of marketing the team.
"I've gained personal courage," Potts said. "I've learned how to communicate with people and feel less nervous when I'm in crowds and meeting new people. You learn how to leverage yourself and your personality so you have that added charisma."
If they're not afraid of public speaking, some students may think speech and debate skills are only useful for those who want to become lawyers or politicians.
Gesmundo's response:
"Any time you talk to someone you don't know, you're engaged in public speaking," she said.
"Speech and debate helps you to research and organize your ideas, to be concise and specific. Learning persuasive skills is going to help you in everything from asking for a raise, to negotiating the price on a property you'd like to by, to negotiating with your roommate on household duties. Being an effective and clear speaker is going to help you in training sessions you might lead, sales pitches you might make, any interaction with your colleagues."
Wednesday's tryouts will take place at 1:30 p.m. at Polk State Lakeland, LLC 2200. Students may bring readings, such as dramatic monologues, speeches, poems, or class assignments, but reading material will also be available. Tryouts are open to all Polk State students from any campus or center. For more information, contact Gesmundo at cgesmundo@polk.edu, or call 863.669.4950.