Polk State Speech and Debate Team Member Receives Novice Award in First Competition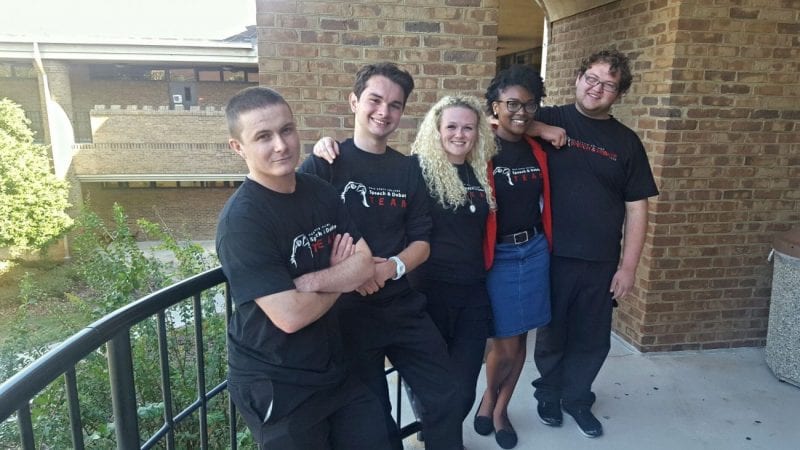 Polk State Speech and Debate Team member Hank Campbell received a Novice Award during the Knight's Joust at the University of Central Florida in late October.
"It was his first forensics event and he was a strong contender," said Speech and Debate Team Coach Christina Gesmundo.
Florida Gateway College, Miami Dade College, Southeastern University and the University of Florida were among the institutions also competing at the Knight's Joust. Polk State competed for the first time in impromptu speaking, which is the event in which Campbell claimed his award.
Campbell explained that impromptu speaking contenders are given a topic, quote, object or rhetorical question and, after two minutes of preparation, must give a five-minute speech that includes an introduction and a conclusion.
"The judges are looking at how fluid and natural you appear," Campbell said.
Campbell is currently pursuing his Associate in Arts degree and ultimately plans on earning his bachelor's degree in criminal justice and master's degree in business administration. He signed up for the Speech and Debate Team to network and gain the public speaking experience he feels will be needed in the business world.
The Knight's Joust was his first competition, but even early into his time with the team, he's convinced he made a worthwhile decision by joining.
"Before you do these events, you're like a frog in the well — you don't know how vast the sky is," he said. "By joining the Speech and Debate Team, you gain experience and learn about yourself and what is out there."
Also participating in the Knight's Joust were students David Gregorat,  Miracle Murff, Toby Pelland, and Emili Woodhouse.
Gesmundo expressed her excitement over the progress of the Speech and Debate Team, which was founded in 2014.
"The team has great chemistry, is fun to work with, and has a lot of potential. This semester, which started the beginning of the tournament season, had the members completing lots of drills, organizing notes, and compiling research. Two months into the term, they have really advanced and are doing well with all of the new information," she said.
For those interested in joining the team, Gesmundo added that tuition waivers are available for the required course, SPC 2594. Scholarships are also available.
For more information, contact Gesmundo at cgesmundo@polk.edu.
The Speech and Debate Team is one of nearly 50 student clubs and organizations offered through the College's SALO (Student Activities and Leadership Office).