Polk State Speech & Debate Team celebrates win at first-ever tournament at home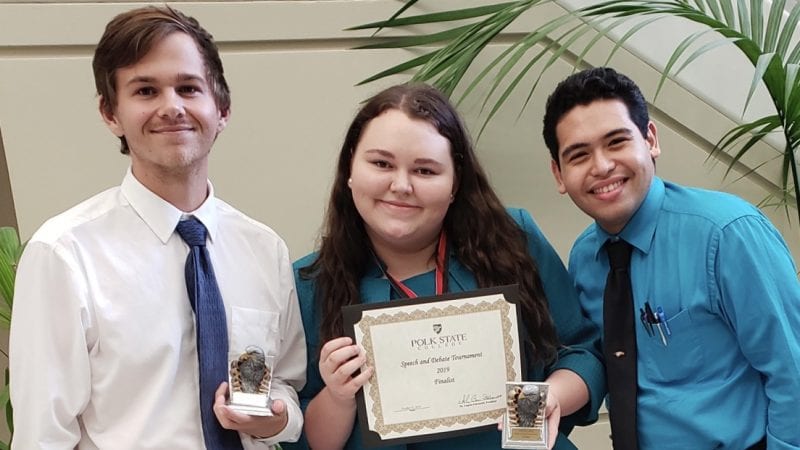 What do flatulence, Russian hackers, and the psychology of fear all have in common? They were three of many informative – and entertaining – topics at Polk State College's first-ever forensics tournament, and the latter earned the Polk State Speech and Debate Team a first-place win.
More than 125 students from 12 competing schools convened at the Polk State Lakeland Campus on October 11 and 12 to participate in a dozen categories that put their research and public speaking skills to the test in areas including parliamentary debate, persuasive speaking, and prose interpretation.
Polk State students David Castor, Angel Green, and Kemuel Troche competed in a variety of categories, with Green placing first in communication analysis, second in poetry interpretation, and fifth in impromptu speaking out of 35 competitors in the most popular category.
Professor of Speech and Director of Forensics Christina Gesmundo, Polk State Speech and Debate Team Coach, hosted the tournament to create an opportunity for novices in the college circuit. The second tournament of the season, Polk State's event was tailored for first- and second-year competitors and drew students in from across the state and as far as Georgia, from Valdosta State University, the University of Florida, Florida College, and more.
Polk State placed second in team sweepstakes in the small division.
"Polk State's Forensics Tournament was a major success," Gesmundo said. "It was much bigger than expected, it received a lot of positive feedback from competitors and coaches, and our competitors made it to finals which is always great for a home team."
She added that many of the 21 volunteer judges – which included Polk State faculty and staff – have backgrounds as former speech and debate competitors or coaches, which gave students the opportunity to receive valuable feedback as they move forward this season.
Green exuded confidence as she competed in the communication analysis category against Jessica Siles from the University of Central Florida. Debunking the viral "Momo challenge," Green presented research in response to "why are fabricated posts that cause mass hysteria continuing to be shared?"
She evaluated the psychology of fear and the importance of fact-checking in a society with an unlimited database of easily accessible information. And after flashing the audience of spectators, peers, and the judge with Momo's terrifying photo, Green added that although multiple deaths are often attributed to the challenge, not one has been confirmed.
Competitors in the after-dinner speaking had equally as serious topics but presented their points with humorous flares – the goal of this category.
With a fart button and copy of "Everyone Poops" by Taro Gomi in hand, Emily Wingard from the University of Central Florida spoke on gender identities and norms.
"The idea that women have to maintain their bodily functions for the sake of being ladylike stinks more than I do on Taco Tuesday," she said. "What is causing this 'flatul-ation' complication ruining our nation?"
Men and prevailing fears embedded in women centuries ago, Wingard continued. "There are two solutions: stop judging and fart freely."
She placed first against competitors from Tallahassee Community College, Valencia College, and the University of South Florida – St. Petersburg.
Faith MacGregor from Tallahassee Community College followed with a speech about Russian hacking.
"Today, I elect that we delve into the causes, effects, and solutions to what a former head of the CIA calls the biggest threat to American democracy," she exclaimed. "In all actuality, this is a very serious topic that's affecting our nation and we really shouldn't be joking about it."
"But to begin our joking about it," she continued.
"Your mom" jokes, references to trending YouTube celebrities, and lines from popular Netflix shows intertwined with research about foreign affairs and national and cybersecurity, poking fun at the country's elections process.
"[If you're] totally cool with foreign governments sneaking their way into our country," McGregor said in closing, "then, by all means, forget my entire speech."
The Polk State Speech and Debate Team is now preparing for the 2019 Star Invitational that will be held in November at Florida State College at Jacksonville.
Students interested in joining the team should contact Professor Gesmundo at 863.669.4950 or cgesmundo@polk.edu.
"Forensics is an academic experience that allows students to synthesize skills they are learning in their college courses such as research and it also allows them to be creative," Gesmundo explained. "It is challenging academically, personally, and emotionally, and gives students a platform that rewards them for using their voices."
The team has achieved great success, celebrating several wins at the Florida College System Activities Association's (FCSAA) 2019 Forensics State Tournament, placing second overall in the Capital City Classic Tournament in the state college division, winning a number of awards at the 2018 Star Invitational, and participating at the national level in the Phi Rho Pi Tournament. Additionally, the FCSAA named Gesmundo Coach of the Year for the second time.
In the first tournament of the 2019-2020 season, Castor received a novice award and Green took home awards in both poetry interpretation and communication analysis at the University of Central Florida.