Polk's Speech and Debate Team Shines at Recent Competitions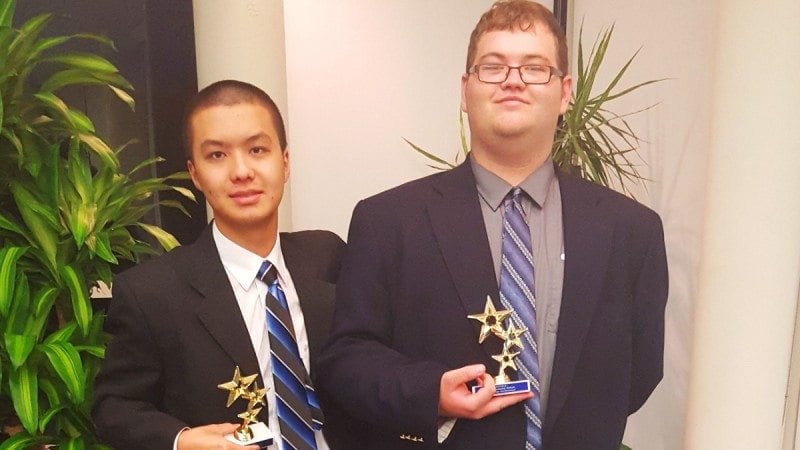 Polk State's Speech and Debate Team is celebrating a handful of recent victories.
In mid-November, the team competed at the 16th Annual Star Invitational at Florida State College at Jacksonville. There, students Jinming Chen and Toby Pelland were named the top non-advancing novices in parliamentary debate.
"This was only their second debate, first as partners, in competition against pairs that have been debating for years. It is also significant because Jinming is a Polk State Lakeland Collegiate High School student. The other competitors, some at 20 years old, have a lot more experience than him," said Professor of Speech and Director of Forensics Christina Gesmundo, who coaches the Polk State Speech and Debate Team.
Chen and Pelland are both residents of Lakeland.
Also, earlier in November, Pelland placed sixth in informative speaking at the Child of the Sun tournament at Florida Southern College in Lakeland. At the competition, his first since joining the team at the start of the fall semester, Pelland delivered a speech about internal defibrillators.
"My dad recently passed away, but an internal defibrillator kept him alive for two additional years," Pelland explained.
Gesmundo said the emotional connection Pelland had to his topic set him apart from his competition.
"Having an emotional connection is valuable both from a research and delivery standpoint, as well as helping to create a relationship between the topic and the audience. The events are judged on delivery as well as on research and content, so his personal interest definitely helps to convey his passion," Gesmundo said.
"Toby is also a speaker who easily and candidly brings his personality into his delivery."
Polk State's Speech and Debate Team has been competing for nearly two years. Members of the team take the one-credit hour course, SPC 2594 and travel all over the state, competing against students from two- and four-year schools in various styles of debate.
Gesmundo added that for students interested in joining the team, tuition waivers are available for SPC 2594. Scholarship opportunities are also available.
For more information about the team, contact Gesmundo at cgesmundo@polk.edu or 863.669.4950. The team will also host a meet and greet event at 1:30 p.m. on Monday, Dec. 7, in LLC 2211 at Polk State Lakeland. Free pizza will be served.