Chancellor's visit to Polk State marked with many highlights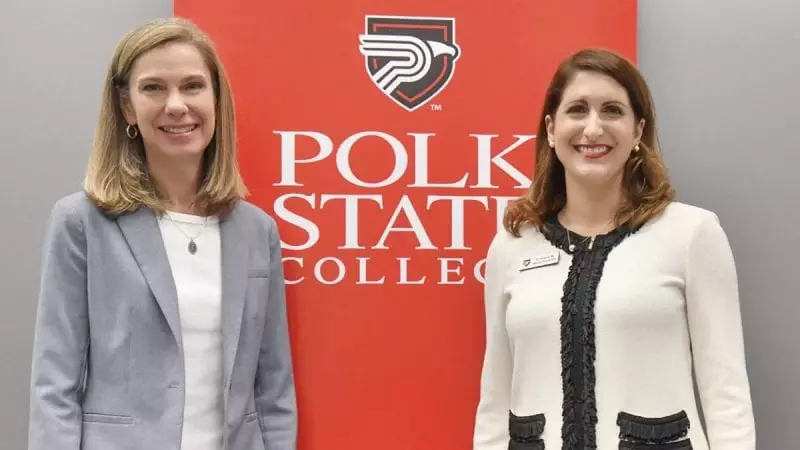 Florida College System Chancellor Kathy Hebda's visit to Polk State College was marked with many highlights, including a Florida College System Foundation check presentation, an articulation agreement with Florida Polytechnic University, and time with students, faculty, staff, and members of the District Board of Trustees.
Hebda kicked off her visit July 16 at the Polk State JD Alexander Center, where she toured the Lake Wales Campus with Senator JD Alexander, Lake Wales Mayor Gene Fultz, Polk State JD Alexander Center Director Andy Oguntola, and students Michael Cruz-Rivera, Latoria King, Leonel Navarette, Ana Mata, and Stephanie Ramirez who have benefited from scholarships funded by contributions from The Florida College System Foundation.
That morning, The Florida College System Foundation presented the Polk State College Foundation with a check representing its 2019-20 contribution of $30,540 for scholarships aimed at addressing the nursing shortage and assisting students who are the first in their families to attend college.
The location for the check presentation was appropriate as the Polk State JD Alexander Center serves many students who would not be able to access or afford higher education without the proximity of the Lake Wales Campus to their homes in southeast Polk County. Financial support including scholarships made possible by the Foundations are crucial for these students – many who are low-income and transportation disadvantaged.
"All of the services you provide… and what you do for students really matters," Hebda shared. "It's so exciting to see the faces of the students who will benefit from these scholarships because it's their hard work that will take them to the next level, benefit their families, and benefit our communities."
"Lake Wales is better because you are here," she added.
Hebda also visited the Polk State Clear Springs Advanced Technology Center in Bartow, where she toured the Engineering Technology Program and Polk State Corporate College's Advanced Manufacturing Institute and Industrial Maintenance and Machining Program. At the Polk State Center for Public Safety in Winter Haven, Hebda visited the Emergency Medical Services (EMS) Program and the Kenneth C. Thompson Institute of Public Safety (KCTIPS).
"We are grateful to Chancellor Hebda for her time and support as she experienced firsthand the quality of Polk State's programming and met the students, faculty, and staff who make the higher education and services we provide possible," Polk State President Angela Garcia Falconetti said. "We were honored to host her during a historic moment for the College as we signed a transfer-articulation agreement with Florida Polytechnic University."
Hebda participated in the signing event between Polk County's two public higher education institutions on the Lakeland Campus.
"These kinds of agreements, the leadership of these two institutions, and what this is going to do for the students in our state [are important]," Hebda said. "We have a wonderful 2+2 articulation agreement in Florida that is the envy of the nation and these specific agreements that are made based on local leadership and the hard work of both institutions are really going to change students' lives."
She then joined Falconetti, Polk State District Board of Trustees Vice Chair Teresa Martinez, and student leaders for lunch, including Alexa Aybar, Giselle Araujo, Teaundra Camp, Blessen Jacob, Whetchina Jean, Febie-Anna Joseph, Ellie Peguero, Bri Sutton, and Tranise Wheeler.
During a tour of the Lakeland Campus, Hebda had the opportunity to visit the Library and Teaching, Learning, Computing Center, Student Services, Digital Media Technology, Respiratory Care and Nursing labs, and the Education Program's Steelcase Education Active Learning Classroom, showcasing the innovative programming and interactive learning taking place at all of Polk State's campuses and centers.
"These are representative of the quality of all of our programs and services, and I am thankful to everyone who participated in Chancellor Hebda's visit to ensure she received the full Polk State experience," Falconetti said.