Polk State and Florida Poly sign historic agreement creating seamless path for students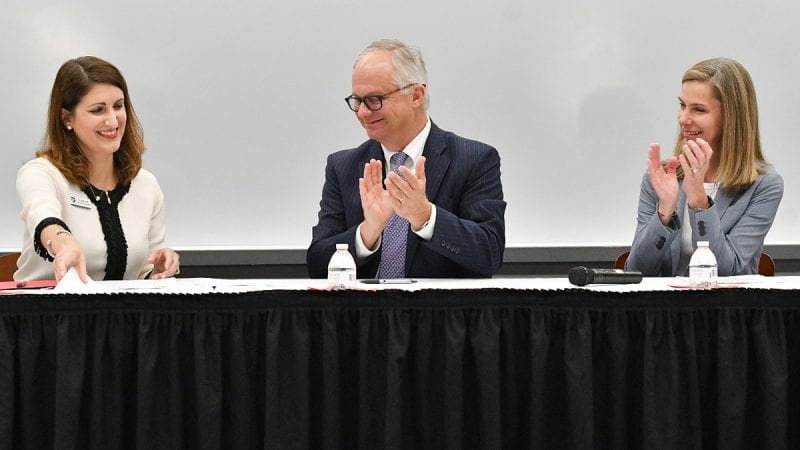 A historic agreement signed Tuesday will allow students to seamlessly transfer from Polk State College to Florida Polytechnic University – a partnership that fosters the growth of a skilled workforce to support and drive economic development in Polk County.
Polk State President Angela Garcia Falconetti and Florida Poly President Randy Avent signed the agreement into effect at the Polk State Lakeland Campus alongside Florida College System Chancellor Kathy Hebda, who expressed her support.
"These kinds of agreements, the leadership of these two institutions, and what this is going to do for the students in our state [are important]," Hebda said. "We have a wonderful 2+2 articulation agreement in Florida that is the envy of the nation and these specific agreements that are made based on local leadership and the hard work of both institutions are really going to change students' lives."
While Florida's state colleges enjoy the 2+2 articulation agreement with the State University System, which guarantees all students with Associate in Arts degrees admittance to a state university, articulation agreements with specific universities offer students benefits such as guaranteed admittance into specific programs and access to university resources.
The articulation agreement between Polk State and Florida Poly allows Associate in Arts graduates to enter Florida Poly with substantial credit toward a bachelor's degree of their choice, as well as a 2+2 pathway to the Bachelor of Science in Business Analytics program. Polk State students will also benefit from access to Florida Poly advisors in addition to their Polk State advisors to ensure they complete prerequisites and are prepared to meet all admission requirements at Florida Poly.
A snapshot of student information from spring 2019 shows that 52 Polk State Associate in Arts students have indicated interest in transferring to Florida Polytechnic University.
"This is the first of many agreements and I appreciate the work of Academic Affairs of both institutions did to get this agreement in place," Avent said. "We look forward to many more."
Falconetti echoed a similar sentiment.
"Today marks history for Florida Poly, for Polk State, and for Polk County and the State of Florida because I can assure you that we know at Polk State that the students we will produce will continue to change the way and there's no greater way to rise an entire community than to do so together," she said.
The agreement, which was in the works for a year, meets a requirement outlined in recently signed Senate Bill 190 for Florida colleges to execute at least one 2+2 articulation agreement with one or more state universities by the end of the 2019-20 academic year.
"This bill, sponsored by Senator Kelli Stargel, benefits our state colleges by fostering the opportunity to partner with our state universities to ensure seamless paths for our students from one quality program to another," Falconetti said. "We are looking forward to the quality graduates that come out of this articulation degree who will become the next highly-skilled leaders and workforce of our community."