Nursing Program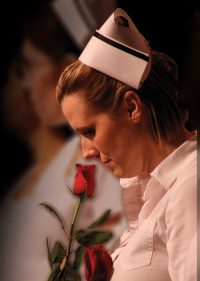 Discover countless exciting opportunities worldwide as a Registered Nurse! Nursing is a highly respected, dynamic profession, requiring continuous learning, commitment, and compassion. Registered nurses provide compassionate, comprehensive care based on scientific knowledge, advanced technology, and specialized clinical skills in a variety of settings.
Nursing Degrees
The Polk State College Department of Nursing associate degree program was established in 1965 with a purpose of participating as an active partner in meeting the healthcare needs of the community by educating and preparing entry-level professional nurses to practice in a variety of settings. Our nursing school has continuously maintained a standard of excellence with graduates consistently exceeding the Florida and National averages on the licensing exam to be a Registered Nurse (RN). A RN to BSN baccalaureate program was added in August 2011 with a purpose of providing registered nurses who have an associate degree or diploma in nursing the opportunity to advance in their educational and career goals.
Polk State's Associate in Science in Nursing program is a limited access program. Admission to the program is through a separate application process that occurs in spring (for fall admission) and fall (for spring admission). Applicants for admission to the program must first apply and be accepted to Polk State College before applying for admission to the nursing program.
Accreditation
The associate degree program and the baccalaureate program are both accredited by the Accreditation Commission for Education in Nursing (ACEN).
Accreditation Commission for Education in Nursing
3343 Peachtree Road
Atlanta, GA 30326
404-975-5000
www.acenursing.org
The AS program has been continuously accredited since the initial accreditation by the NLNAC in 1985.  The BSN program received initial accreditation from ACEN with the graduation of its first graduates in 2012.  Both programs were visited in 2017 and granted continued accreditation, with the next visit scheduled for Fall 2025.
Success Indicators
Program Completion: The average completion rate for the past three years is 74% for the Generic Option and 77% for the Transition Option of the AS program.  Only about 50% of BSN students who started the program have completed the program.  Students commonly stop-out for a few terms and the most frequently cited reason is job and family responsibilities.
NCLEX-RN Pass Rate:  Graduates of the Polk State ADN program consistently exceed the state and national averages on the NCLEX-RN.  The most recent results are shown below.  The RN to BSN students do not take any additional licensing exams.


NCLEX-RN Pass Rate
Comparisons
2016
2017
2018 3rd Quarter
Polk State College
95.74
95.57
94.44
State of Florida
72.68
73.99
70.35
National
84.56
87.12
86.48

Employment and Continued Education:  All AS graduates are employed in health care upon graduation to the best of our knowledge.   RN to BSN students are predominantly employed when they start the program and maintain that employment after graduation.  Ninety percent (90%)  of the currently enrolled BSN students are Polk State AS graduates, commonly entering the BSN program shortly after graduation.  We frequently receive communication from the BSN graduates indicating they have been accepted into Master's degree programs and are completing those programs satisfactorily.