U.S. Congressman Soto inspires students with visit to Polk State College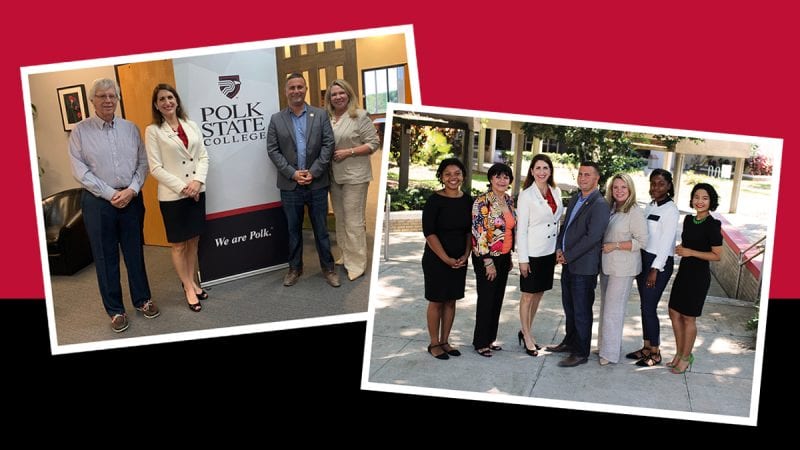 Polk State College students were eager to hear U.S. Congressman Darren Soto's advice on how they can have their voices heard and he was happy to share some inspiration with those he is passionate about giving a voice to at the national level.
Soto visited the Winter Haven Campus on May 29 and discussed with Polk State President Angela Garcia Falconetti; Polk State District Board of Trustees Chair Dan Dorrell and Vice Chair Teresa V. Martinez; and Polk County Commissioner Martha Santiago, former provost for the College, national policies, needs for growing Central Florida, and how Polk State fits into an exciting future filled with opportunities for residents and students.
"I am a strong believer in Polk State College for many reasons," Soto said. "My favorite reason is the flexibility it gives to students including those pursuing their degrees later in life or those who have come here from another country. Because of the diversity of our region, we want everyone to have equal opportunities and access to quality education, and Polk State is an important part of their journeys."
Soto, who represents Florida's 9th District which includes part of Polk County, is not only a strong advocate for the region, but also a proponent of higher education, environmental policies, and comprehensive immigration reform.
Whetchina Jean, a first-generation-in-college student who emigrated from Haiti, thanked Soto for his support of Deferred Action for Childhood Arrivals (DACA) and push to restore the Development, Relief, and Education for Alien Minors (DREAM) Act.
"I'm an immigrant who has been fortunate to establish citizenship and Florida residency, allowing me to receive in-state tuition," said Jean, who achieved a Polk State Associate in Arts (AA) degree in December 2017 through dual enrollment and is currently pursuing a Bachelor of Applied Science (BAS) in Supervision and Management with a concentration in Healthcare Administration. She serves as secretary of the Winter Haven Campus Student Government Association (SGA).
"When I was a work-study student in the Admissions Office, I saw that many students have not been afforded the opportunities I have," she added. "I want to thank you for everything you are doing to expand opportunities for all students."
Tranise Wheeler, Winter Haven Campus SGA president and Polk State AA student, and Giselle Araujo, Lakeland SGA president and Polk State Lakeland Gateway to College Collegiate High School student, asked Soto how students can get their voices heard at the state and national levels.
Soto enthusiastically recommended that students consider hosting a town hall on campus with legislators and other higher-education institutions. He also recommended interning with local legislative offices like his own.
"We are the third most populous district in the nation – we are tasked with serving a large population," Soto said. "Interning in one of our offices is a great learning experience."
Most importantly, he shared with students the power of believing in themselves.
Andres Diaz Jr., secretary of the College-wide Student Activities Board, asked how student leaders can most effectively raise awareness on campus and beyond about issues they are passionate about.
"Believe you can do official things because you do have a voice and you have administrators who support you," said Soto, pointing to 16-year-old Greta Thunberg who recently made headlines for raising awareness about climate change by carrying a sign that said "School Strike for Climate" outside the Swedish Parliament. "I don't recommend skipping school, but I recommend creativity in getting messages that you are passionate about across appropriately."
Falconetti echoed a similar sentiment.
"We are here to empower and open doors of opportunities for you, our students," she said.
Soto and Falconetti discussed opportunities for the College and Polk State students in a meeting with Polk State Board of Trustees Chair Dorrell and Vice Chair Martinez, including the possibility of federal Pell Grants for students enrolling in workforce education and certification programs, and the College's goal to become a Hispanic-Serving Institution (HSI), which would make first-generation-in-college and low-income students eligible for federal grants.
"Believe you can do official things because you do have a voice and you have administrators who support you."

U.S. Congressman
Darren Soto
Falconetti thanked Soto for his support, including his advocacy to preserve the Polk State JD Alexander Center, the College's Lake Wales Campus.
"The loss of the Lake Wales Campus would be a step backward for the community and I am a big supporter in maintaining all Polk State campuses," Soto said. "The College needs resources to grow."
"Polk State is grateful to have the support of Congressman Soto," Falconetti said. "He is a shining example for our students and we look forward to working with him to continue to expand opportunities for our College and Polk County."