Polk State's youngest and oldest graduates have more in common than you may think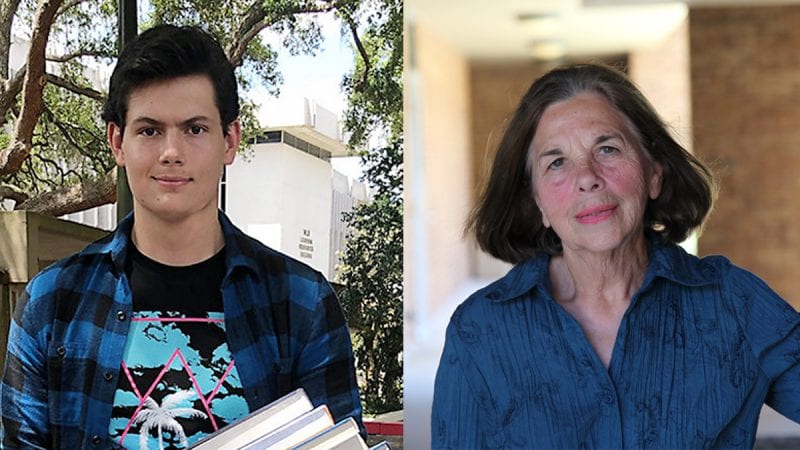 They have 55 years between them, but Polk State College's youngest and oldest spring 2019 graduates have more in common than you may think.
Miles Carson, 17, and Toni Hession, 72, will receive Bachelor of Applied Science in Supervision and Management degrees as part of Polk State's 120th class, and that's not the only similarity.
Carson and Hession both concentrated in Business Administration with goals of starting their own businesses one day. They were attracted to Polk State because of the affordability and flexibility of the BAS program, and they echo similar advice for their peers and aspiring students.
"Do it – go for it," Hession said. "You never know what life holds and you should never be satisfied with your comfort zone. Get your degree – you will not be disappointed."
"I encourage them to go for their degrees – it will only open opportunities," Carson said.
Carson is Polk State's youngest student to achieve a bachelor's degree yet.
While he skipped the fourth and fifth grades and achieved his Associate in Arts degree at 16 when he graduated from Polk State Chain of Lakes Collegiate High School, he wasn't always ahead of the game.
In second grade, he was held back while he struggled with reading, but Carson persevered.
"I didn't love school when I was younger, but I knew I had to do it so I set my sights on doing it fast," he said. "I figured out how to work smarter, not harder, and learned that you should always put your best effort forward."
Now Carson has his eyes set on the University of Florida's one-year Master of International Business program. He's interested in economics and human resources and aspires to work as a marketing director or manager of a hedge fund with the long-term goal of starting his own business.
Hession, too, plans to start her own business with the education and skills she has received at Polk State.
She always wanted to go to college, but it was financially out of reach after high school. She married, had three children, and worked a slew of jobs in areas including railroad operations, accounts payable, and sales.
In retirement, Hession moved from Alabama to Florida and started working part-time as a school nutrition assistant with Polk County Public Schools.
"I decided it was finally time to get my college degree, not only because it was something I always wanted to do, but because it would also serve as a good example for my daughters and granddaughters," said Hession, who achieved her Polk State Associate in Science in Business Administration in 2014.
She received financial assistance through a Federal Pell Grant, like 41 percent of Polk State students, and benefited from flexible course options in-person and online, which allowed her to complete degree requirements on her own terms, like 75 percent of Polk State students who attend part-time.
Motivated by her daughter, who received a Polk State Bachelor of Applied Science in Supervision and Management with a concentration in Business Information Technology, Hession said she was determined to achieve her degree as an example for her grandchildren.
"I wanted to show my grandkids that no matter what, you can do it," said Hession, whose granddaughter plans to pursue a Polk State Nursing degree.
Inspired by Pinterest, Hession aspires to monetize a blog and develop an online business.
"I may be 72, but there are things that I am just getting started on in life and I am excited for what's ahead for me," she said. "My age does not define me."
Carson's photo is courtesy of Stephanie Claytor with Spectrum Bay News 9.