Polk State to celebrate 120th commencement with Bachelor of Science in Early Childhood Education's first graduating class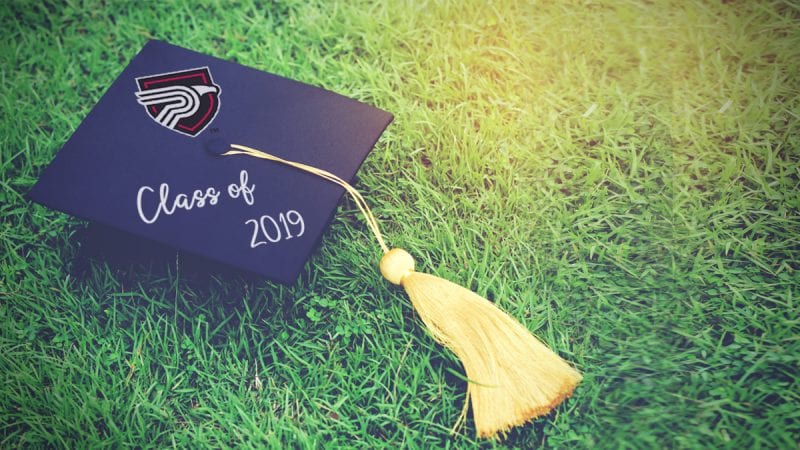 Polk State College's first Bachelor of Science in Early Childhood Education students will graduate during the College's 120th commencement May 2 with more than 650 of their Polk State peers who are expected to participate in the ceremony at the RP Funding Center in Lakeland.
The ceremony, a free ticketed event that will begin at 6:30 p.m., will feature remarks from Polk State President Angela Garcia Falconetti and the College's May 2019 Distinguished Alum, Nikki Smith, founder and owner of ASAP Prints.
"Commencement is the most gratifying time of year and our upcoming ceremony will be especially rewarding as we celebrate the first graduating class of one of our newest baccalaureate degree programs," Falconetti said. "These students will transition into careers that impact our youngest students, instilling in youth the importance of education and laying the foundation for their successful futures."
Polk State launched its Bachelor of Science in Early Childhood Education in August 2016, responding to Polk County's need for local, affordable Education degree options. The Bachelor of Science in Elementary Education launched in conjunction with the Early Childhood Education baccalaureate program, which were both developed in collaboration with Polk County Public Schools.
Both programs continue to grow and have seen great success, with the first class of Early Childhood Education baccalaureate students maintaining an overall cumulative grade-point average (GPA) of 3.97.
A total of 1,104 students qualify to walk in the May 2019 commencement ceremony. Here is a detailed look at Polk State's 120th graduating class:
89 percent of graduating students are Polk County residents.
In addition to Florida, students from California, Georgia, Hawaii, New Jersey, Texas, and China will receive Polk State degrees.
The youngest student is 17, while the oldest is 65.
219 students will receive degrees from Polk State's baccalaureate programs:

145 will receive Bachelor of Applied Science in Supervision and Management degrees.
33 will receive Bachelor of Science in Nursing degrees.
19 will receive Bachelor of Science in Criminal Justice degrees.
11 will receive Bachelor of Science in Elementary Education degrees.
6 will receive Bachelor of Science in Early Childhood Education degrees.
5 will receive Bachelor of Science in Aerospace Sciences degrees.

712 students will receive Associate in Arts degrees, which are fully transferable to any institution within the State University System.
173 students will receive Associate in Science degrees, which prepare students to go directly into the workforce in fields including Nursing, Engineering Technology, and Diagnostic Medical Sonography.
64 students will graduate Summa Cum Laude with GPAs that are 3.9 or greater, 74 will graduate Magna Cum Laude with GPAs between 3.75 and 3.89, and 161 will graduate Cum Laude with GPAs between 3.5 and 3.74.
39 students will graduate with 4.0 GPAs.
16 students will receive the College's Honors Program distinction on their diplomas. These students have completed a minimum of 18 credit hours in courses with Honors Program designation and achieved GPAs of 3.2 or greater.
The College will also honor Nikki Smith with the May 2019 Distinguished Alum Award.
Smith, a Winter Haven High School graduate who earned her Polk State Associate in Arts degree in 1991, founded ASAP Prints in her home 18 years ago. Today, her business is a full-service commercial print shop located in a 7,500-square-foot building on Havendale Boulevard. In addition to local businesses, Smith's company boasts a strong national client list including Google, Chick-Fil-A, and Integrated Supply Network.
"She illustrates just how far students can go with their Polk State degrees," Falconetti said. "The College is thrilled to celebrate the accomplishments of our Distinguished Alum, first Early Childhood Education baccalaureate class, and all of our students who have reached this incredible milestone."