Tickets now required, but free, for Polk State graduations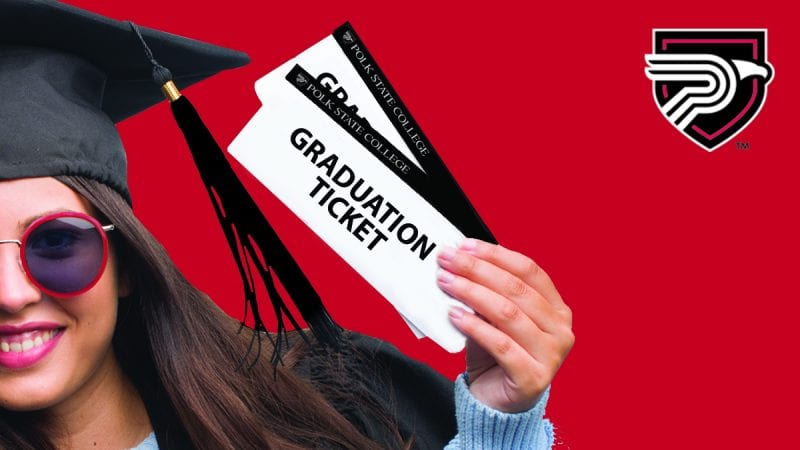 Polk State College graduation ceremonies will now be free ticketed events, beginning with the May 2 Spring 2019 Commencement.
Students who submit spring 2019 graduation applications indicating "yes" for commencement participation by April 1, the graduation application deadline, may redeem tickets for up to six guests each by April 26.
Students do not need tickets for themselves or for children 2 or younger but will need tickets for guests who require seats.
Students may submit their graduation applications online through PASSPORT under Advising. Please note that students must wait up to one week after submitting their graduation applications to redeem tickets.
Tickets may be redeemed here. Students should enter their Polk State student IDs without dashes or spaces in the patron ID section. Students will then receive an email with their barcoded tickets, which guests must present for admission into the ceremony.
After April 26, students will have the opportunity to redeem additional tickets on a first-come, first-served basis until the ceremony is determined to be at capacity. The College encourages students to only redeem the number of tickets they will need for their guests.
With the College's largest graduation ceremonies reaching more than 600 students, the addition of tickets to the College's graduation ceremonies will fulfill requirements of the RP Funding Center and fire code.
It is also important to note the RP Funding Center's policy that prohibits items including weapons, alcoholic beverages, outside food or beverages, beach balls and other inflatables, helium balloons, confetti, selfie sticks, stools or folding chairs, and more.
Those who are unable to attend graduation may view the ceremony live at polk.edu/academics/graduation.
For questions or concerns, please contact the Graduation Coordinator at graduation@polk.edu.