History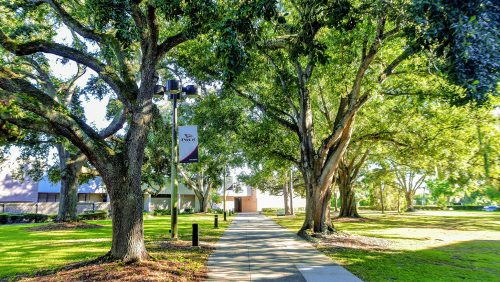 Polk State College, the first public higher education institution in Polk County, opened its doors in 1964, at a former World War II Army Air Force Base in Bartow.
During its first semester of operation, the College served nearly 1,200 students —twice the number expected — and it has continued to grow ever since.
In 1966, ground was broken for Polk State's first permanent campus, Polk State Winter Haven, located on the shores of Lake Elbert. Within a decade, the campus had expanded to include numerous buildings, accommodating a growing student body and increased program offerings.
By 1988, Polk State's footprint in the county had grown to include a second campus, Polk State Lakeland, located on a former orange grove along U.S. 98 South between Lakeland and Bartow.
In the years that followed, Polk State expanded its Lakeland campus and added the Polk State Airside Center, located in South Lakeland.
Polk State continued to grow throughout the first decade of 2000, expanding access to higher education in the southeast Polk County with the addition of the Polk State JD Alexander Center in downtown Lake Wales and the Polk State Lake Wales Arts Center on State Road 60, in 2009 and 2011 respectively.
Aside from expanding its physical presence in the county, in recent years the College has also added a suite of baccalaureate programs to its degree options. These include the Bachelor of Applied Science in Supervision and Management, the Bachelor of Science in Nursing, the Bachelor of Science in Criminal Justice, the Bachelor of Science in Aerospace Sciences, the Bachelor of Science in Early Childhood Education, and the Bachelor of Science in Elementary Education.
To reflect its new status as a baccalaureate institution, in 2009 the College changed its name to Polk State; previously it had been known as Polk Community College and, earlier in its history, Polk Junior College. Two years later, the College rebranded, adopting the Eagle as its mascot — chosen based on Polk County's large eagle population — and a red, black and white color scheme.
In 2014, the College expanded again, adding the Polk State Clear Springs Advanced Technology Center.  The 45,000-square-foot facility off State Road 60 in Bartow houses high-tech degree programs and the Polk State Corporate College, which provides workforce training.
The growth continues at Polk State. In 2016, the Polk State Center for Public Safety opened in Winter Haven. The state-of-the-art facility houses the Polk State Kenneth C. Thompson Institute for Public Safety, as well as the College's other public safety training and degree programs. The College also recently added a second location in South Lakeland, Polk State Airside Center East, to house its Aerospace Program; the original Airside location is now called Polk State Airside West and is home to the College's medical imaging programs.