Senator Stargel Visits Polk State to Discuss College's Needs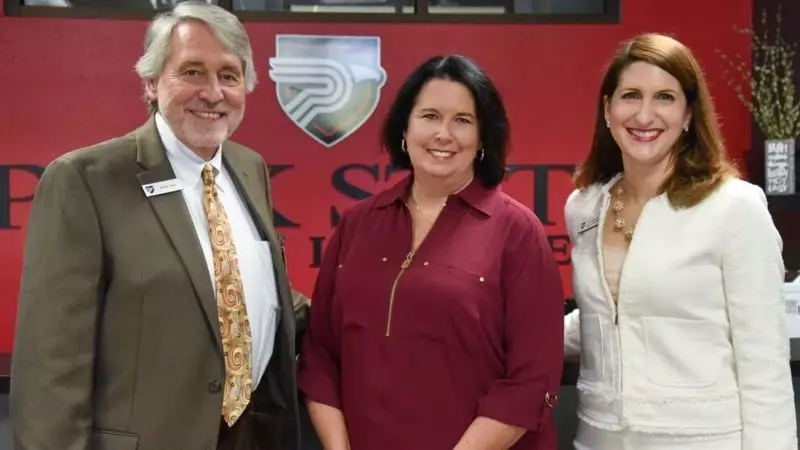 Senator Kelli Stargel visited Polk State College on Monday to meet with College leaders, strengthen collaboration, and discuss how she can best advocate for the institution.
Stargel met with President Angela Garcia Falconetti, Provost Steve Hull, program directors, and professors from the baccalaureate programs, as well as Polk State students and alumni, who shared the tremendous value the College provides to Polk County residents and the community.
Falconetti and Hull welcomed Stargel to the Lakeland campus, where they discussed the College's fiscal priorities and the success of its baccalaureate programs.
Falconetti warmly praised Stargel's advocacy on behalf of the College. Stargel cosponsored and strongly advocated for the restoration of Polk State's vetoed funding during the recent budgetary crisis and has shown a long-standing commitment to Polk State's continued success. This visit provided an opportunity for the two leaders to connect and share perspectives on how to best continue to expand higher-education opportunities in Polk County.
Falconetti and Stargel were able to discuss the various legislative priorities for Polk State during a tour of the College's baccalaureate programs in Education and Nursing. These programs were created through an earlier legislative priority championed by Stargel — the growth of local baccalaureate degrees that provide training for employment in areas of desperate need within the workforce. Polk State hopes to advocate for the following in the upcoming session:
Securing $16.2 million in Public Education Capital Outlay (PECO) funding to renovate Building Four – a 40-year-old, Winter Haven campus facility with academic classrooms, offices, and workforce training space that hosts courses required for students completing associate degree programs.
Securing $2 million in recurring operational funding to lower the student-to-academic-advisor ratio.
Maintaining the current measures and metrics currently mandated by the Florida College System so that outcomes can be consistently measured year-to-year.
Preserving the College's six locations and six baccalaureate degree programs.
During the tour, Director of Education Dr. Patricia Linder and Director of Nursing Dr. Annette Hutcherson explained to Stargel that Polk State's baccalaureate degree programs are held to the same curricular standards as other colleges and universities. Students receive the same quality education and the same prestigious degree, but at a greatly reduced cost. Additionally, Polk State's baccalaureate degree programs provide traditional and online course formats that are accommodating to students' schedules, and boast high-performing graduates who are quickly employed after graduation.
"The criteria for each program's curriculum are defined by Florida Statutes, so there is not a lot of wiggle room. When I say rigor, I mean rigor," Linder said about Polk State's two Education degree programs.
Baccalaureate Programs in Education
Polk County's need for access to local, affordable Education degree options increased in May 2012, when the University of South Florida exited the county. Today, Polk State is the only public post-secondary institution in Polk County offering state-approved teacher education preparation programs. Polk State's Bachelor of Science in Early Childhood Education and Bachelor of Science in Elementary Education degree programs are approved by the Southern Association of Colleges and Schools Commission on Colleges (SACSCOC), Florida Department of Education (FLDOE), and State Board of Education.
Polk State has built-in measurements for state-mandated standards that were developed in collaboration with Polk County Public Schools – Polk County's largest employer – to create graduates who are ready to immediately and successfully lead classrooms. Additionally, both programs integrate English for Speakers of Other Languages (ESOL); Science, Technology, Engineering, and Math (STEM); Exceptional Student Education (ESE); and Reading K-12 Endorsement competencies into the course curricula. This customized, standards-based approach is designed to provide graduates with a competitive edge in employment.
Education professors Dr. Sharon Moser and Dr. Milton Shuling gave Stargel a first-hand look at best practices in teaching within the Polk State Education Lab, a hands-on facility that allows teacher candidates to experiment with new technology and learning tools for integrating content instruction, particularly in STEM subjects. The instructors demonstrated how three individual lessons could incorporate 67 Florida teaching standards required by the FLDOE.
"Continuing my education was a dream for me, and without Polk State it wouldn't be a reality," student Toni Montoya said.
Of the nearly 50 students enrolled in both of the College's Education baccalaureate programs, 94 percent live in Polk County and 31 percent are attending part-time. Linder explained that Polk State offers day, night, and online classes to provide flexible schedules for working students, such as Toni Montoya – a bus driver for Polk County Public Schools who attends Education classes between routes.
"I started my higher education in my 40s and the schedule–the flexibility–was important to me. I needed to be able to continue to work," Montoya told Stargel. "Continuing my education was a dream for me, and without Polk State it wouldn't be a reality."
Student Christina Yacoub shared a similar appreciation for Polk State:
"I started in 2011 and then took a five-year break because…life happens," she said. "I came back and this program has been a miracle – a real blessing for me. I get goose bumps when I explain how it has changed my life."
Polk State admitted the first class of degree-seeking students to its Bachelor of Science in Early Childhood Education and its Bachelor of Science in Elementary Education degree programs in August 2016. These two cohorts will graduate in December 2018.
Bachelor of Science in Nursing Program
Stargel also heard from Hutcherson and students in the Bachelor of Science in Nursing (BSN) program, which continues to build upon the prestige and legacy of the highly successful Associate in Science in Nursing program. The BSN program is built upon the nationally recognized 2+2 model in higher education, aligning the curriculum to the rigor of national and statewide standards, and providing the most current training practices in the field.
"Local hospitals and clinics like our graduates – they are highly employable," Hutcherson said, pointing to the College's Associate in Science in Nursing program's 95.74 percent pass rate on the National Council Licensing Examination for Registered Nurses (NCLEX). This exceeds the average state and national pass rates, indicating the overall quality of Polk State's curriculum.
The College's Nursing programs are accredited by the Accreditation Commission for Education in Nursing (ACEN) – one of two U.S. Department of Education-approved accrediting agencies in the field. The accreditation standards are rigorous, Hutcherson explained, and equivalent to those required for state university baccalaureate programs, yet Polk State offers flexibility, convenience, and a cost-effective bottom line for students.
Polk State's RN-to-BSN program is designed to allow students who have earned Associate in Science in Nursing degrees to earn Bachelor of Science in Nursing degrees while working in the field. It is fully online and "designed for the working nurse," Hutcherson said.
Local nurse practitioner Brian Harte earned his Associate in Science in Nursing from Polk State in 2003, and returned in 2014 to earn his Bachelor of Science in Nursing. He then pursued a graduate degree from the University of South Florida. He said coming back to Polk State for his baccalaureate was the obvious choice.
"It's a top-notch college with top-notch pass rates," Harte told Stargel. "It may not cost as much as another program, but it is just as challenging and rewarding – I had to work for my degree."
Amy Eaton, who earned her Polk State Associate in Science in Nursing in 2014 and her Bachelor of Science in Nursing in 2016, is currently studying at Florida Southern College to become a nurse practitioner.
She came to Polk State after being out of school for 18 years.
"It was an easy transition because of the flexible options and all of the services available here," Eaton told Stargel. "It's convenient and it's affordable, but it's also high quality."
Cherylynn Juchniewicz, who earned her Polk State Associate in Science in Nursing in 2012 and her Bachelor of Science in Nursing in 2017, called the College a treasure.
"We want to have quality in our community – quality teachers and quality nurses. Polk State is educating and training those quality individuals," Senator Kelli Stargel said.
"Polk State prepared me so well that people [working with me] couldn't believe that I was going back to get my BSN," Juchniewicz said. "They thought I already had a higher degree. If Polk State had a master's program, I'd come back again."
Stargel told the students that their stories affirmed what she already knew about Polk State and its tremendous value to the community:
"That is why I am such an advocate for the College," she said.
"We want to have quality in our community – quality teachers and quality nurses," Stargel added. "Polk State is educating and training those quality individuals."