Polk State will celebrate graduation of first Education baccalaureate class at College's 119th commencement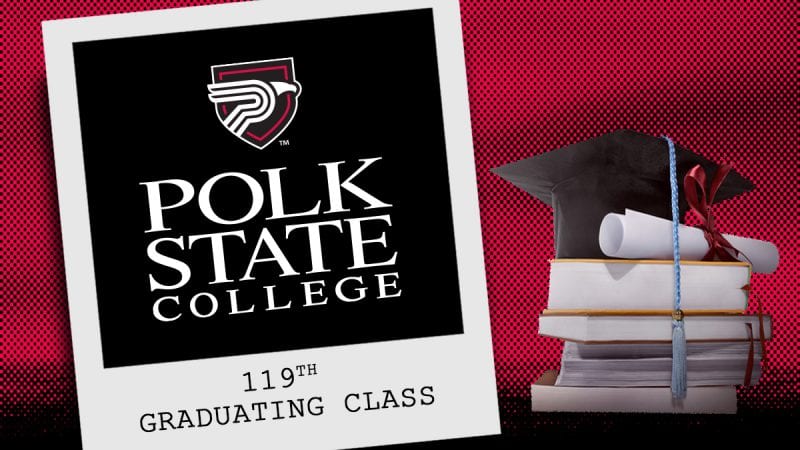 Polk State College's first Education baccalaureate class will graduate on Thursday, Dec. 13, during the College's 119th commencement ceremony, and all of the teacher candidates have accepted positions with Polk County Public Schools.
Nearly 600 students plan to walk the stage during the 6:30 p.m. ceremony at the RP Funding Center in Lakeland.
"Commencement is a celebration of all of our graduating students, and Polk State's first Education baccalaureate class is a shining example of the College's ability to educate and train students to be the next highly-skilled professionals and leaders our local employers and community need," Polk State President Angela Garcia Falconetti said.
Polk State launched its Education baccalaureate program in August 2016 in response to the community's need for local, affordable Education degree options. The program, which offers the Bachelor of Science in Elementary Education and the Bachelor of Science in Early Childhood Education, was developed in collaboration with Polk County Public Schools, putting in place built-in measurements for state-mandated standards to create graduates who are ready to immediately and successfully lead classrooms. Today, Polk State is the only public post-secondary institution in Polk County offering state-approved teacher education preparation programs.
The program continues to grow and has seen great success, with the first class maintaining an average grade-point average (GPA) of 3.94 and each student passing all certification exams for Florida Professional Educator Certificates. They will apply for their professional certificates after graduation and have already secured jobs in Polk County classrooms.
"With the College boasting a 96.93 percent job placement and continuing education rate, and with 70 percent of Polk State graduates staying in Polk County after graduation, I am confident that the Education baccalaureate program will continue to create successful leaders for our local classrooms," Falconetti said. "Polk State is committed to working with local employers to provide access to affordable, quality higher education programs that will fulfill the needs of our community."
A total of 1,158 students qualify to march in the December 2018 commencement ceremony. Here is a more detailed look at Polk State's 119th graduating class:
Eighty-four percent are Polk County residents.
In addition to Florida, students from California, Georgia, Hawaii, Massachusetts, Maryland, Minnesota, North Carolina, Oregon, Rhode Island, Tennessee, Texas, and New Zealand will receive Polk State degrees.
The youngest graduating student is 17, while the oldest is 81.
268 students will receive degrees from Polk State's baccalaureate programs:
637 students will receive Associate in Arts degrees, which are fully transferable to any institution within the State University System.
253 will receive Associate in Science degrees, which prepare students to go directly into the workforce in fields including Nursing, Engineering Technology, and Diagnostic Medical Sonography.
34 students will graduate Summa Cum Laude with GPAs that are 3.9 or greater; 67 will graduate Magna Cum Laude with GPAs between 3.75 and 3.89; and 147 will graduate Cum Laude with GPAs between 3.5 and 3.74.
15 students will graduate with 4.0 GPAs.
4 students will receive the College's Honors Program distinction on their diplomas. These students have completed a minimum of 18 credit hours in courses with Honors Program designation and achieved GPAs of 3.2 or greater.
The commencement ceremony will also honor Paul Lewis Hughes, who will receive the Polk State College Foundation's December 2018 Distinguished Alumnus Award.
Hughes received his Polk State Associate in Arts degree in 1977 and credits the opportunities at the College with changing the course of his life. He went on to receive a bachelor's degree in Theatre from St. Leo University and enjoyed a career in the arts, directing more than 400 productions and working closely with school systems throughout Florida. He built the theatre programs at Harrison School for the Arts and All Saints Academy before retiring in 2018.
Hughes will join Polk State on Dec. 13 in celebration of the College's 119th graduating class.