Freshman Pre-Advising Sessions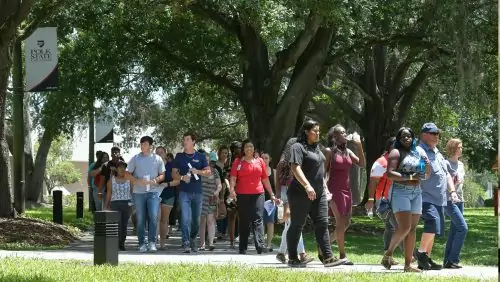 Polk State advisors provide guidance to help students choose the best and most effective means of achieving academic success and completing a degree. To ensure a successful academic pathway, after the online orientation is completed, the student must register to attend a pre-advising group session. During pre-advising, each student will receive a pre-advising syllabus and will register for the first semester of classes.
Note: Students in dual-enrollment or early admission programs do not need pre-advising.
Academic advising is a collaborative exchange between a student and an academic advisor. The intent of this collaboration is to assist students in the development of meaningful educational goals that are consistent with personal interests, values, and abilities. Advisors help students achieve academic goals, access information, and services, and make responsible decisions consistent with goals and degree requirements.
THE APPLICATION AND ONLINE ORIENTATION MUST BE COMPLETED AT LEAST THREE FULL BUSINESS DAYS PRIOR TO YOUR PRE-ADVISING SESSION
Pre-advising is offered by pathway. To find out more about pathways and view program maps, please visit https://www.polk.edu/academics/program-maps/.
Click on your pathway below to access registration for pre-advising sessions in that pathway. If you are unsure about your major/program of study, please consider attending one of our pre-advising sessions designed specifically for undecided students.