USF Advisor Provides Pathways For Polk State Students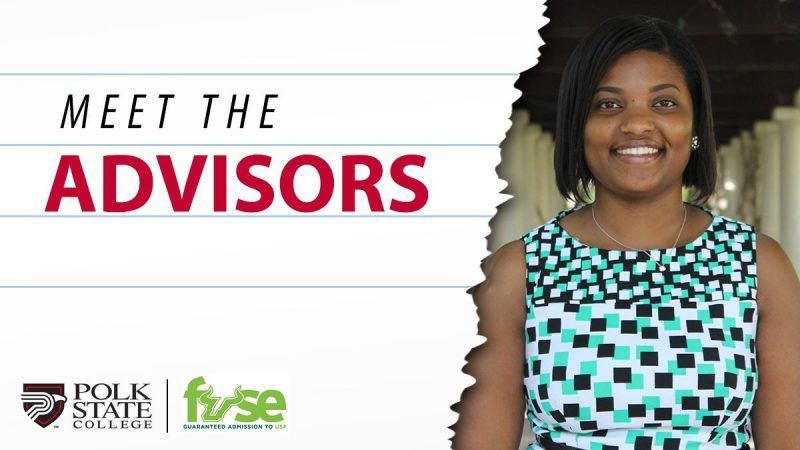 When students become a part of the Eagle family at Polk State College, they also have the opportunity to become Bulls or Knights in training.
Through the College's partnerships with University of South Florida's FUSE and University of Central Florida's Transfer Connect, students have the ability to seamlessly transition from Polk State's Associate in Arts program to bachelor's degree programs at the partner colleges.
One of the many benefits Polk State students receive through these programs is services provided by academic advisors from USF and UCF, in addition to those provided by Polk State advisors.
While all students with an Associate in Arts degree from Polk State are promised admittance to a state university under Florida's 2+2 articulation agreement, FUSE and Transfer Connect create pathways for students that guarantee acceptance into specific programs at USF and UCF.
The academic advisors from these universities work collaboratively with the advisors at Polk State to assist students in completing those pathways. They meet with students each semester to monitor their academic progress and to ensure that they are enrolling in the necessary courses to not only complete their Associate in Arts degrees, but to also meet prerequisite requirements for their prospective bachelor's programs.
Polk State News recently caught up with Shaun Harris, USF's Academic Recruiter Advisor for State & Community College Relations who advises Polk State's FUSE students. Below, Harris shares the benefits of FUSE and her passion for helping students through their higher-education journeys.
What type of support do you provide students as an academic recruiter advisor?
"I give them all of the tools they need in order to gain acceptance into their desired USF program," Harris said. "I follow them through from beginning to end."
I work with all transfer students – whether prospective or current USF students – from Pasco-Hernando State College and Polk State College. I support them in many ways, from helping them navigate our website to explaining Associate in Arts and prerequisite requirements – the whole nine yards. I give them all of the tools they need in order to gain acceptance into their desired USF program.
When students get closer to enrolling at USF, I start talking to them about the transfer admissions process, what they should include on their application, additional documents they will need to request from Polk State or their high schools, etc. I follow them through from beginning to end.
What specific services do you offer to FUSE students?
FUSE students are recommended to meet with me once a semester to make sure that they are on the right track. I rotate between Polk State's Winter Haven and Lakeland campuses each Tuesday, meeting with about 15 students a day —from those in FUSE to other Polk State students interested in USF. I provide personalized planning by creating course outlines for FUSE and transfer students and ensuring that they are registering for the appropriate courses. Depending on their selected major, they may need to complete all of their prerequisites at the College, or they can complete certain prerequisites once they transfer to USF. I work with each student on an individual basis in an effort to help them achieve their academic goals.
How do you work collaboratively with Polk State advisors to serve students?
Polk State's advisors refer students who are interested in USF and the FUSE program to me, and assist with setting up my appointments with those students. But because I am not always on Polk State's campuses, I hold mini training sessions for the College's advisors who see a lot of students interested in USF. I share with them the ins and outs of the university so that they can best serve those students.
Why did you choose a career in higher education?
I graduated from Florida State University with bachelor's and master's degrees in Social Work. I was a work-study student throughout my time in college and always enjoyed working with students, faculty, and staff. It has become my passion and it was impossible for me to leave the field of higher education to try to pursue social work. I love working with transfer and dual enrollment students – making sure that they have the support they need to meet their goals.
What do you enjoy doing outside of your job?
In my spare time, I love organizing events, including weddings, parties, and conferences. I enjoy traveling, exercising, reading, and spending time with my family and friends.
Also, I am currently enrolled in USF's Post Master's Leadership in Higher Education program and plan to one day enroll in the doctorate program, although I haven't narrowed down a field of study yet. This job has shown me that I may want to conduct research on dual enrollment students and improving services for that population.
Why would you encourage students to join the FUSE Program?
"FUSE is a great opportunity for students… putting them on a pathway to achieving their bachelor's degrees," Harris said.
FUSE is a great opportunity for students interested in Information Technology, Psychology, or Health Sciences to guarantee admission into those degree programs at USF. Along the way, they receive the necessary support and guidance they need to earn admission, putting them on a pathway to achieving their bachelor's degrees. They also become part of the Bull family by attending academic and social events, free admissions into all sport games, and meet their academic major advisor before coming over to USF.
I always tell my students, "Go Bulls!"