Polk State students, President & DBOT Vice Chair connect virtually to discuss challenges & solutions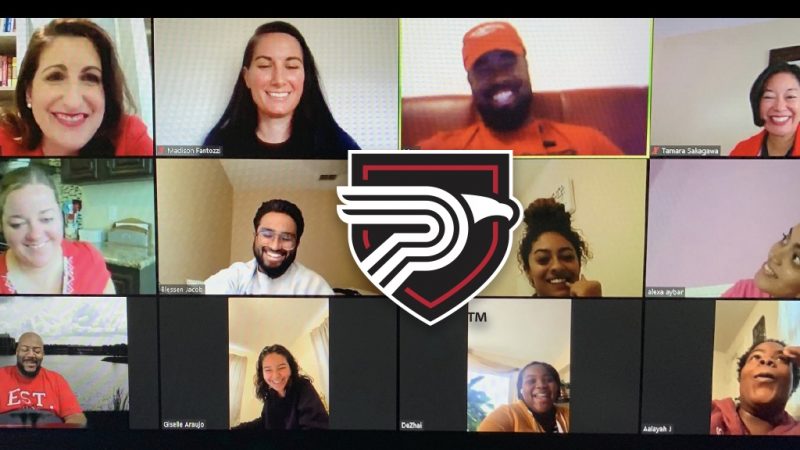 Polk State College's student leaders, President Angela Garcia Falconetti, and District Board of Trustees Vice Chair Cindy Hartley Ross connected in a Zoom web conference meeting Wednesday to discuss challenges to the online learning environment and solutions.
Important topics were sprinkled with inside jokes and words of gratitude, as Falconetti, Ross, and the students have enjoyed close and positive relationships throughout the semesters and on the College's campuses. What was evident during this week's virtual meeting is that their connections remain strong despite the coronavirus public health emergency and the need for Polk State to move classes and student services online.
"Your health, safety, and success remain my No. 1 priorities and my No. 1 reason for meeting with you today – in addition to just wanting to see your smiling faces – is to hear how you are doing," Falconetti said.
Students shared that their classes are going well and pointed to resources at Polk State that can be especially useful to students during this time, including the BayCare Student Assistance Program for free and confidential mental health counseling that is available 24/7 by phone and online, and the College's Academic Support Line that students can call for accessing technology.
"The transition has been mentally and emotionally overwhelming for students," said Aaliyah Jones, Vice President of the Lakeland Student Government Association (SGA).
"I even miss the squirrels on campus," she joked. "Some students may just need someone to talk to."
Falconetti agreed and shared information about the different counseling services available to students.
Jones and Ellie Peguero, Winter Haven SGA Student Engagement Specialist, suggested live video and webinar opportunities for students to engage with BayCare specialists. As a result of this productive exchange of ideas, the College is coordinating with BayCare to provide additional resources.
Falconetti also reminded students that professors and advisors remain ready to assist them in the remote environment. More than 400 faculty members worked diligently to transition more than 1,000 courses online, she shared, and 35 Chromebooks have been distributed to students who needed them to access their classes online.
She also updated students on the approximately $6 million allocated to Polk State under the Coronavirus Aid, Relief, and Economic Security (CARES) Act. Approximately $3 million will be distributed directly to students through emergency financial aid grants to assist with expenses related to the disruption of campus operations due to COVID-19 such as food, housing, course materials, technology, health care, and childcare. The U.S. Department of Education will be providing guidelines regarding the use of the remaining funds. A Polk State CARES Committee, including several student leaders, has formed and will detail the application process throughout the course of the next several weeks, Falconetti said.
"Students, you are our shining stars. You are the troopers through all of this. Thank you for keeping your chins up and for being Polktastic."

Cindy Hartley Ross
District Board of Trustees Vice Chair
Bri Sutton, President of the Centers Student Government Association which includes the College's centers in Lake Wales, Lakeland, and Bartow, thanked faculty and staff.
"We know that faculty and staff have been working tirelessly weeks on end, and we appreciate them," Sutton shared.
She added that while her classes were already online, it has been a challenge balancing her coursework with now being an "adjunct professor" for her young daughter.
Students shared that time management and staying motivated have been challenging.
To address the latter, student leaders launched the Student Activities and Leadership Office (SALO) Virtual Student Center with weekly themed activities to provide some motivation and fun for students in the remote environment.
"This is a self-isolating time and I thank you for engaging students through the Virtual Student Center," Falconetti said. "This helps to keep them connected to the College and to foster a sense of community."
Vice Chair Ross echoed a similar sentiment.
"I really want to thank you, students, for stepping up during this pandemic," Ross said. "I am also grateful to faculty, staff, and administration for quickly responding to this situation."
"Students, you are our shining stars. You are the troopers through all of this," she added. "Thank you for keeping your chins up and for being Polktastic."