Polk State SALO keeps students engaged through Virtual Student Center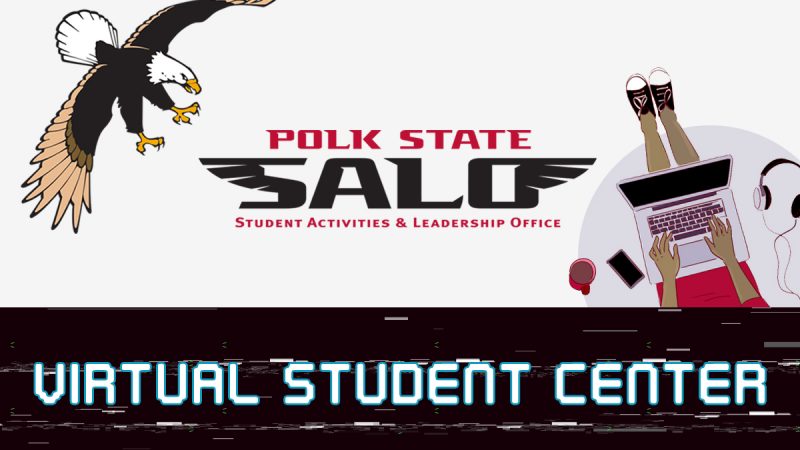 Polk State College's Student Activities and Leadership Office (SALO) has not slowed down during the College's move to the online learning environment.
Students quickly brainstormed creative ways to keep their peers connected in the online college environment. With the support of SALO Director Melvin Thompson, they launched the Virtual Student Center, which is accessible on SALO's Facebook (@polkstatesalo), Instagram (@polkstatesalolk and @pscwhsalo), and Twitter (@wearesalo) pages as well as on Canvas.
"The students have really pulled together and have demonstrated dedication, teamwork, and creativity in developing a diverse selection of virtual activities to keep students engaged in the College's new environment," Thompson said. "Whether students need to unwind from their classes, maintain social connection, or are just interested in winning some prizes, SALO has succeeded in creating a resource that will contribute to the success of students this semester."
Activities include virtual museum tours, financial literacy and resume workshops, Zoom web conference caricature drawings, "CouchChella," and an e-sports tournament with $400 in prizes.
Events will take place through the Spring 2020 Semester, culminating with tips and stress relief activities during finals week.
Whetchina Jean is Student Government Association Secretary for the Winter Haven Campus and is enrolled in the Bachelor of Applied Science in Supervision and Management Program studying Healthcare Administration. She has played a big role in launching the Virtual Student Center with her peers.
Her first thought when the College announced it was moving to the fully online environment was, "We got this!"
"I knew the transition would take a lot of effort, but I know we have a great team who is willing to work hard, and they have exceeded my expectations," Jean said. "It was important to continue SALO activities because it shows our students that we care and that we want to bring a little positivity with all that is happening."
Jean is most excited for "CouchChella," which will encourage students to show off their best dance, poetry, music – any talent – on TikTok or Facebook Live for the chance to win prizes.
"It is a fun activity for the students to be creative and they can use it to interact with us on social media," she said.
All Polk State students are invited to participate in the Virtual Student Center. Students are also encouraged to engage on social media using the hashtags #MentalHealthMondays, #TriviaTuesdays, and #WhatItDoWednesdays. Students who post pictures in their Polk State T-shirts with the hashtag #TshirtThursdays will be eligible to win Publix and Amazon gift cards.
"We understand we can't magically make everything better, but we can motivate, support, and share some positivity with our Eagles," Jean shared. "I would like our students to know that… with a little dedication and a positive mindset, we can finish this semester strong."