Polk State rocks out with inaugural class of Metallica Scholars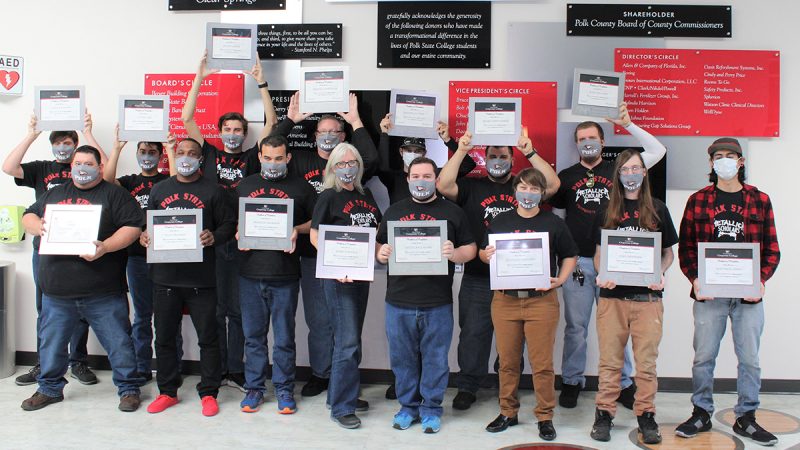 Polk State College celebrated 17 graduates from its Computer Numeric Control (CNC) Machining Program whose training was made possible – and free – by scholarships from Metallica's All Within My Hands Foundation.
The Metallica Scholars, Polk State President Angela Garcia Falconetti, Vice President of Workforce Education and Economic Development Orathai Northern, Polk State Corporate College faculty and staff, as well as members of the media gathered at the Polk State Clear Springs Advanced Technology Center in Bartow on December 9, 2020, to honor the inaugural class that has benefited from this grant opportunity and partnership with the American Association of Community Colleges.
"When I came here, everything changed," Metallica Scholar Christopher Needham shared with his peers about his personal struggles and the impact this opportunity has had on his life in just two short months. "I was able to leave all my stress at the door and know that when I come here, everything that I do is going to benefit [and] I will be so much further ahead. I will gladly recommend this program to anyone who doesn't know or isn't sure what to do with their life. This is something that you can do with your life."
The Metallica Scholars Initiative provides scholarships for unemployed or underemployed individuals to complete the eight-week CNC machining training through Polk State Corporate College as well as funds for students to take exams for six National Institute for Metalworking Skills (NIMS) certifications that qualify them for in-demand, high-wage careers.
Polk State is one of 15 schools across the nation to receive a $100,000 grant from All Within My Hands, a nonprofit organization founded by members of the band Metallica dedicated to creating sustainable communities by supporting workforce education, the fight against hunger, and critical local services.
The Metallica Scholars Initiative kicked off in August at the College, where students have successfully completed the CNC Machining Program. CNC machinists setup, operate, and make calculated adjustments to control the speed, feed rate, and tool path for cuts of different materials on machinery. They create a variety of products using CNC technology including medical instruments, airplane parts, and food packaging.
Polk State CNC Machining students even make NASA shuttle components through the College's partnership with the NASA HUNCH Program, which sends their products to space for use on the International Space Station.
Polk State's CNC Machining Program boasts a 95 percent pass rate on all NIMS certification exams as well as a 91 percent job-placement rate, illustrating the College's success in producing highly skilled talent to fulfill local workforce needs.
"Whether you are beginning a career in CNC Machining or continuing your education, your experience as a Polk State Metallica Scholar has laid a strong foundation for your future success," Falconetti shared with the graduates. "Your new, valuable skills are equally exciting for our community, local employers, and industry partners. With machinists of all types in high demand in Polk County, across the nation, and beyond, you are positioned for rewarding careers and propelling the economic development of our community forward."
Chassidy Houchin expressed during Wednesday's graduation how grateful she is to Polk State and All Within My Hands for providing the training and support to fast track her dream of opening a machine shop with her family. Houchin gained employment within one week of completing the CNC Machining track in October and is continuing her education in the Polk State Associate in Science in Engineering Technology Program. Credit hours from the CNC Machining Program can be counted toward the associate degree.
"I couldn't do this on my own. I've had great help from everybody here," she said. "It's a great opportunity and I encourage everyone to pursue their education."
Polk State is enrolling for future classes of Metallica Scholars which will begin January 11, March 8, and May 17. Individuals who are interested in the program and scholarship opportunity should contact Coordinator Jamie Rowan at jrowan@polk.edu or 863.837.5954. More information is available online at www.polk.edu/metallica.