For Polk State Metallica Scholar, machining is a family affair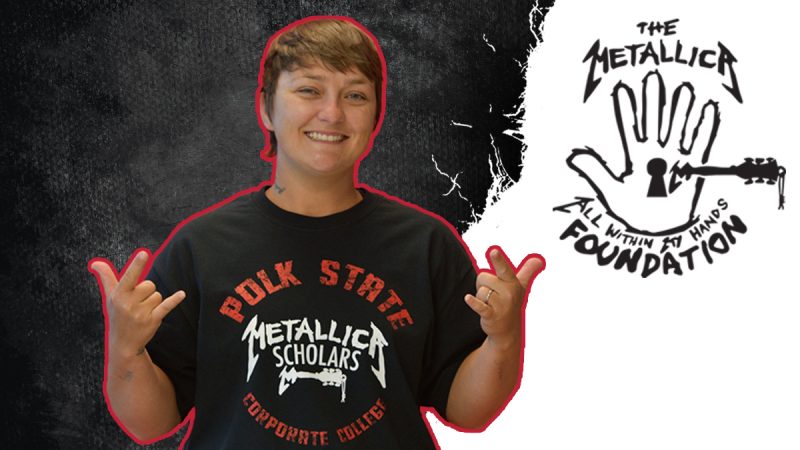 Chassidy Houchin is graduating this week with Polk State College's first group of Metallica Scholars part of the Computer Numeric Control (CNC) Machining class supported by a Metallica's All Within My Hands grant.
For Houchin, machining is a family affair, as she joins her wife and brother-in-law as alumni of Polk State's CNC Machining Program. They aspire to launch a family-owned business of machine shops.
"To receive a free, solid education in such a short period of time is a blessing," Houchin said.
Polk State is proud to be one of 15 schools across the nation to receive a $100,000 grant from All Within My Hands as part of the Metallica Scholars Initiative. The nonprofit organization was founded by members of the band Metallica and is dedicated to creating sustainable communities by supporting workforce education, the fight against hunger, and critical local services.
The initiative, in partnership with the American Association of Community Colleges, is providing direct support to Polk State's CNC Machining Program, including scholarships for unemployed and underemployed individuals to complete the eight-week training program as well as funds for students to take exams for six National Institute for Metalworking Skills (NIMS) certifications that will qualify them for in-demand, high-wage jobs.
In addition to free, fast training, students become eligible for careers with starting pay between $18 and $30 an hour. Machinists are in high demand, with more than 100 machining companies in Polk County and the need for CNC machine tool operators forecasted to increase 17 percent nationally in the next five years.
Students can also earn up to four credit hours toward the Polk State Associate in Science in Engineering Technology – a benefit for Houchin who plans to continue in the degree program while working as a CNC machinist.
The Engineering Technology Program will build on Houchin's foundation from the CNC Machining Program by providing additional training in advanced manufacturing and cutting-edge technology.
This works into her family's plan, as they will each have their own specialties to offer in creating a successful machining business, she said.
"With the three of us going into this together, we each bring our own strong points to the table," Houchin said. "My wife is the CNC Machining expert, my brother-in-law knows business and sales, and I will have my engineering degree."
Houchin, who attends training full time Monday through Friday and works nights at a pallet company, decided to jump on the opportunity to receive her CNC Machining training when she learned of the Metallica Scholars Initiative.
"I heard this was a short course that I could get done quickly and come out with valuable knowledge," she explained. "I enjoy working with my hands, being creative, and making something out of nothing. If you are like me, this is a good spot to be. It's a great opportunity and it's free – that was the icing on the cake for me."
More information about the Metallica Scholars Initiative at Polk State College is available at www.polk.edu/metallica. Individuals who are interested in this free, short-term training opportunity should contact Coordinator Jamie Rowan at jrowan@polk.edu or 863.837.5954.