Polk State College, NASA partnership to send student work to space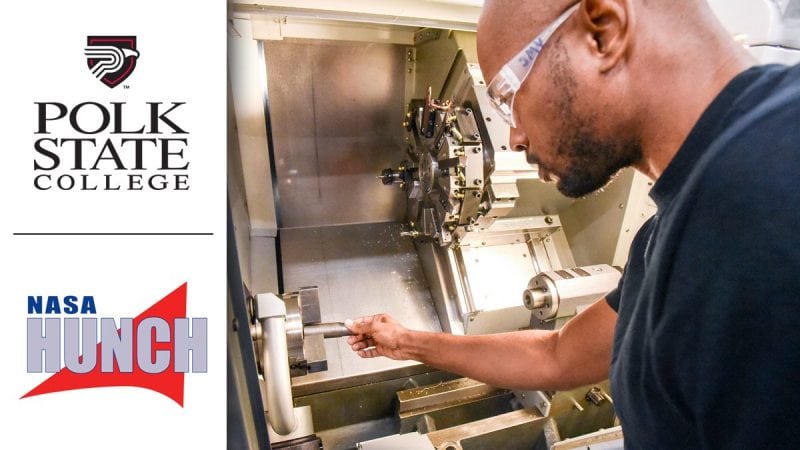 Polk State College students are fabricating hardware for NASA (National Aeronautics and Space Administration) to send to the International Space Station – a valuable experience, as well as an attractive resume addition, for those pursuing careers in machining and manufacturing.
NASA HUNCH (High Schools United with NASA to Create Hardware) and Polk State have partnered to empower and inspire students studying computer numerical control (CNC) at Polk State Corporate College by tasking them with designing and fabricating Class 1E flight hardware items with real-world value and application for NASA.
"This is a very special opportunity for Polk State students to make components that will actually fly through space – how many people can say that they've done that?" Instructor James Gibbons said. "This partnership truly raises the benchmark for our students, whose products will undergo testing by NASA to ensure they meet the highest level of standards for space flight."
Students in Polk State's CNC Machining Program are working on NASA HUNCH's largest project, fabricating stowage lockers components. Once these components are assembled into flight stowage lockers, they are packed with experiments and other supplies the astronaut crew will use in orbit on the International Space Station. To kick off the partnership, Polk State Corporate College students, faculty, and staff had the opportunity to sign a panel that will also be sent into space.
During the 16-week program, students learn about NASA's quality assurance best practices and the importance of proper safety documentation throughout the process, making them accountable for their output to ensure the highest quality production.
"NASA HUNCH provides a vital outreach tool to encourage interest in STEM disciplines by providing real-world, hands-on projects that students fabricate or develop themselves. While students are fabricating hardware, soft goods, or prototypes for NASA, they are also exploring career interests and building their self-confidence," said Lisa Passarelli, NASA HUNCH Project Manager at Kennedy Space Center.
"One of the goals of the NASA HUNCH Program is to inspire students to be our future skilled technicians, engineers, scientists, explorers, and educators through interactions with NASA's people, missions, research, and facilities," Passarelli added.
Students who successfully complete the CNC Machining Program earn six NIMS (National Institute for Metalworking Skills) certifications and up to seven credit hours toward an Associate in Science in Engineering Technology degree. Through the partnership with NASA HUNCH, students also earn a certificate of participation and the ability to add the experience to their resumes.
The College's CNC Machining Program has successfully placed 95 percent of its graduates in the industrial maintenance and machining field, and Program Coordinator Jamie Rowan says local employers continue to recruit Polk State students due to the quality of the College's graduates.
"The NASA HUNCH program will provide quality training to our students, making them even more attractive to local employers who are seeking highly-skilled talent," Rowan said. "Employers know that our students receive rigorous training and now they are producing materials that meet national standards – an invaluable experience for students as they launch careers in machining and manufacturing."
Student Vincent Cornelius enrolled in the Polk State's CNC Machining Program due to its affordability and fast-track option, and says the NASA HUNCH partnership has provided him with an opportunity he never dreamed of before enrolling at the College.
"The amount of knowledge I've received in this program and the ability to create things for NASA have been great opportunities for me," Cornelius exclaimed. "This will give me the jump start I need to be successful in a career as a machinist in our local manufacturing industry."
And the opportunities for students at Polk State Corporate College continue to grow. On the heels of the NASA HUNCH partnership, the Industrial Maintenance and Machining Institute received a $10,000 grant from the Gene Haas Foundation for student scholarships. The Foundation is committed to funding scholarships for CNC machinist training to fill the skills gap the manufacturing industry is facing nationwide.
Since 2013, Polk State Corporate College has received $7 million in workforce training grants, has trained more than 5,000 participants, and has provided on-the-job training for 2,000 new positions, filling the needs of local industries.
"It is so rewarding to work with programs like those at Polk State, where you have teams dedicated to creating an amazing experience and opportunities for students pursuing CNC machining as a career," Haas Factory Outlet Director of Education Toni Neary said. "Haas Factory Outlet Florida, Haas Automation and the Gene Haas Foundation are proud to support the program and team at Polk State with quality equipment, Haas Technical Education Center Network support, and Gene Haas Foundation funds to support student scholarships."