Meet the Officers: Lakeland SGA Leads With Diversity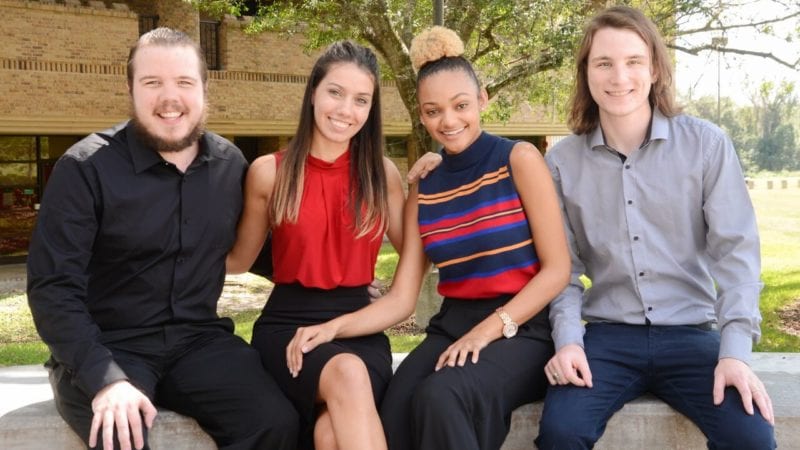 The Student Government Association (SGA) provides Polk State College students with an active voice in administrative and legislative matters concerning the student body.  The SGA serves as the liaison between students and administrators, organizes campus activities, represents students in state and national organizations, and provides advocacy on legislative issues. Officers are elected during the spring semester and serve one-year terms. Lakeland SGA meetings are open to all students Tuesdays at 3 p.m. in LAC 1243.  Connect with Lakeland SGA on Facebook @PolkStateSGA, Instagram @PolkStateSGA, and Twitter @SGA_Eagles, and via email at polkstatelakelandsga@gmail.com. 
As the Polk State Lakeland Student Government Association officers convened for their interview with Polk State News, Event Chairman Aubrey Fletcher said it would be interesting to hear each of their opinions and stories.
"Individually, we are all different," Fletcher said.
"But together, we make a difference," President Felicity Ruiz said.
They lead with diversity, each different in race, age, and stories of how they became involved in SGA and the Student Activities and Leadership Office (SALO).
"We're able to reach all different groups of students," Secretary Ciera Baldwin said. "Anyone can come to any of us if they need anything."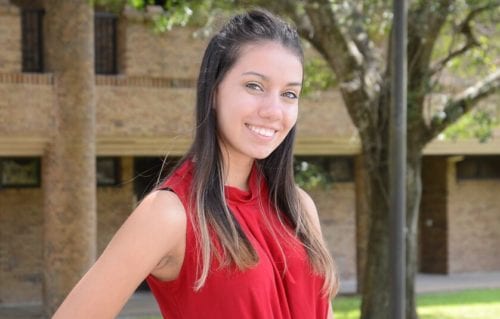 Using authority for good
Ruiz is a 17-year-old dual-enrolled senior in high school who is home schooled when she's not taking classes at Polk State.
She was born and raised in Lakeland, and her mom is a Polk State alum. She's Puerto Rican and Guatemalan.
When Ruiz began her first semester as a dual-enrolled student, she was scared.
"I thought I would go to class then go home – I was really scared to talk to anyone," Ruiz said, "but as I started exploring campus, the Student Center, and the Bookstore, I began meeting people and someone asked me to go to an SGA meeting."
SGA helped her make new friends, as well as fill her desire to help people.
"Yes, it's about leadership, but more importantly, it's about helping people and using authority for good," Ruiz said.
She is dedicated to community service and the officers have created a goal to complete 200 volunteer hours this year as a group.
Ruiz's peers describe her as ambitious, compassionate, and competitive.
She wanted to major in biomedical engineering, but now she's considering studying political science because of her involvement in SGA.
Some fun facts about Ruiz are that she has been riding horses since she was 2 and she loves Taylor Swift.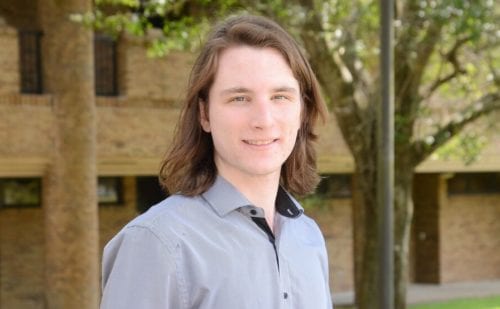 Nobody is judged
Vice President Scott Duffy is "the token white guy" who stands for those who have ever been bullied or felt like they didn't relate to anyone else.
His parents are from Ireland, but he was born and raised in Lakeland.
As a kid, he was bullied.
"I was shunned, rather than physically or verbally bullied, but it was so bad that I had to transfer high schools," Duffy said.
At Lakeland High School, he joined a community service club and played tennis, and started making friends.
"But I'll never forget the feeling of not belonging, and the feeling of change when I finally made friends," Duffy said. "I want to help others with that change and let them know that in SGA, nobody is judged – we are all here for each other."
Duffy is working toward his Associate in Arts degree and plans to transfer to a university. He wants to double major in biomedical engineering and business.
His peers describe him as knowledgeable,involved, and stalwart.
A fun fact about him is that he enjoys working on cars and has made improvements to his 2004 black GT Mustang, although pink duct tape currently holds up a window.
"That's how students can find me – look for the pink duct tape," he joked.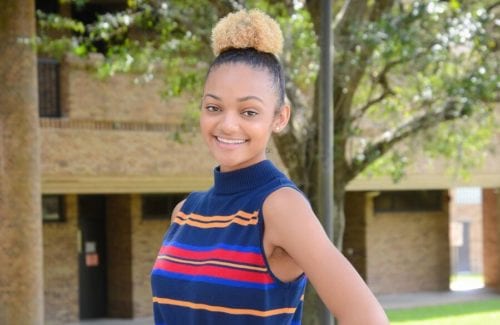 Here for a reason
Secretary Ciera Baldwin is a Polk State Lakeland Collegiate High School graduate who went to the University of Central Florida.
But things didn't work out academically or financially there, she said.
Baldwin is now working toward a bachelor's in Business Administration at Polk State and works in the Admissions Office.
"Everything fell into place with SGA because it motivated me academically and helped me financially," Baldwin said.
SGA members need to maintain a 2.5 grade-point average.
"God is my home dog and I believe I'm here for a reason," Baldwin said. "That reason is SGA."
Baldwin was involved in the Student Advisory Board when she was a high school student, but when she returned to Polk State, it had been absorbed by SGA.
In addition to being secretary, Baldwin also handles fundraising because the SGA doesn't have a treasurer. But her biggest effort is trying to get other students involved.
"We're a commuter school and people say we miss out on student life, but I don't think that's true," Baldwin said. "I want to get as many people from as many backgrounds as possible involved so that no one feels alone or left out – so that they can have fun and know that we're here for them."
Ciera's peers describe her as kind, accepting, and supportive.
Some fun facts about her are that she aspires to be a fashion model and is best known for her hair.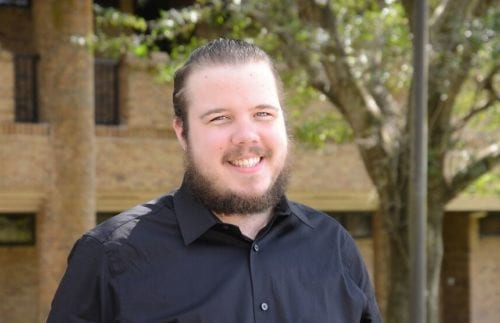 Keeping the momentum going
Event Chairman Aubrey Fletcher has a long history with Polk State.
After graduating from Lakeland High School in 2008 and living in Germany for a year as an au pair, Fletcher started his higher education journey at Polk State in 2009 as a work-study student in SALO.
"School's not my forte," Fletcher said. "I'm a people person."
He took a four-year break from school to take care of his grandfather. After returning, he received his Associate in Arts degree in 2016.
Like Baldwin, Fletcher had previously been involved in the Student Activities Board.
This year, SGA created the event chairman position after Fletcher's work event planning showed a need for the spot. He wasn't elected for the position, which will be up for election in spring 2018.
Fletcher is establishing what the position's responsibilities will be and plans to train the next person who fills the role.
"We want to create SGA members who are high performing and will keep the momentum going," Fletcher said. "We want an SGA that is at the forefront and working for the student body."
Fletcher was originally a zoology major and wanted to open a zoo for children with developmental disorders, but after being involved in SGA, he realized his talent for planning events and communicating with people.
He is working full-time toward a bachelor's degree in Public Administration while also working two jobs – one in the SALO office and another at Torrid, LLC.
Fletcher's peers describe him as helpful, supportive, and inclusive.
Some fun facts about him are that he is a fifth-generation Floridian, he's always playing devil's advocate, and he picked the pavers that are in the Lakeland student mall.
The Lakeland SGA officers agreed that one of their biggest accomplishments is that their diversity reflects and represents the diverse population of Polk State's student body.
"We want students to know that they can talk to us," Baldwin said. "Although we have titles, we are all equal."
"Our titles bring authority, not superiority," Fletcher added. "We're here to help everyone."