Polk State Lakeland Collegiate High School
How to Apply for the 2021-2022 School Year
                      Click Picture Below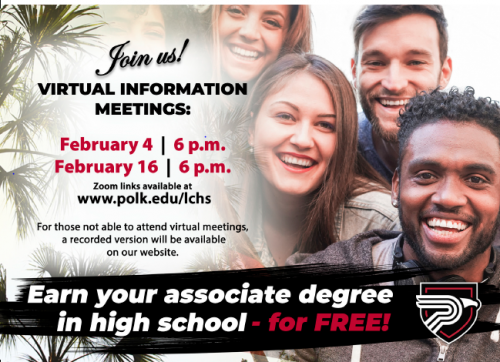 Polk State Lakeland Collegiate High School is a charter high school housed within Polk State College and is accredited by the Southern Association of Colleges and Schools. The purpose of the school is to provide academic and technical education for serious high school junior and senior students who desire to undertake college-level study. The two-year curriculum enables students to complete a high school diploma and many of the requirements for an associate degree, simultaneously, in either academic transfer or technical education options. You can reach Polk State Lakeland Collegiate High School by phone at 863.669.2322.
Polk State Collegiate High School
3425 Winter Lake Road – Station 63
Lakeland, Florida 33803
863.669.2322
Hours
School Hours: 7:30 a.m. – 2:00 p.m.
Office Hours: 7:00 a.m. – 4:00 p.m.
Mr. Rick Jeffries is the Parental Involvement Representative for Polk State Lakeland Collegiate High School. Mr. Jeffries can be reached at 863-669-2322 or rjeffries@polk.edu
School Grade for the 2015-16 School Year is = A
School Grade for the 2016-17 School Year is = A
School Grade for the 2017-18 School Years is = A
School Grade for the 2018-19 School Years is = A
School Grade for the 2019-20 School Years is = N/A