Lakeland Collegiate valedictorian, salutatorian heading to Ivy League schools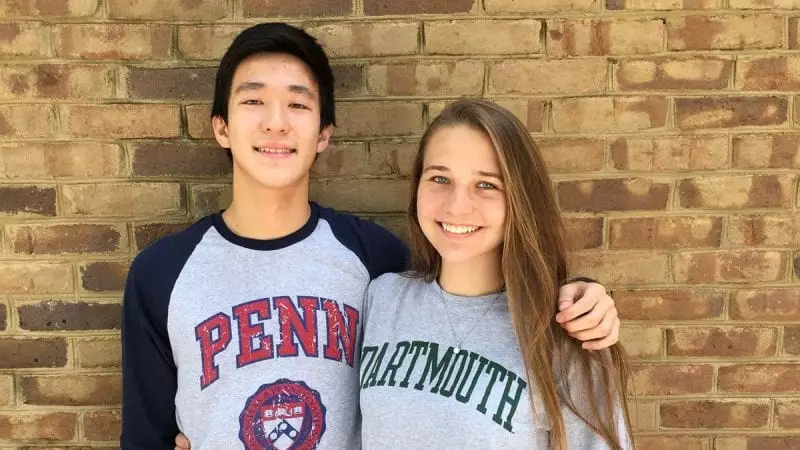 Polk State Lakeland Collegiate High School's valedictorian, Kaitlyn Kelley, and salutatorian, Harrison Chen, will be attending Ivy League schools.
Kelley has a 4.739 grade-point average (GPA) and will attend Dartmouth College. Chen has a 4.728 GPA and will attend the University of Pennsylvania. They will both graduate today with Lakeland Collegiate's 14th class, which includes a handful of students who were accepted to top universities.
Andre Hall, who was accepted to Cornell University, Stanford University, Vanderbilt University, University of Notre Dame, among other schools, will attend the University of Chicago. Rachel La Manna, who was accepted to Georgia Tech, will attend Florida State University. And Stefanie Rogers was accepted to Emory University, where she will attend in the fall.
Lakeland Collegiate's top student will share a message of being true to one's self with her peers.
"I want to deliver a speech that everyone can take and make their own," Kelley said. "A big part of my speech will also be a thank you to Lakeland Collegiate for how open and welcoming all of the professors and staff have been."
"A big part of my speech will also be a thank you to Lakeland Collegiate for how open and welcoming all of the professors and staff have been," Kelley said.
Kelley was homeschooled before high school and was encouraged to enroll at Lakeland Collegiate, "for the free college, for one, but also for the opportunity to be on a college campus, communicate with college professors, and develop my independence and decision-making skills," Kelley explained.
Polk State's three charter high schools allow students to simultaneously complete requirements for their high school diplomas while earning college credits. In many cases, students graduate with both their high school diplomas and Associate in Arts degrees. Both Kelley and Chen received Polk State Associate in Arts degrees on May 3.
"Some students are intimidated by Ivy League schools because they won't be at the top anymore — they'll be a small fish in a big pond," Kelley said.
But Kelley, who plans to major in biomedical engineering, minor in chemistry, and pursue a career in the medical field, chose to attend Dartmouth because of the college's collaborative atmosphere.
Chen, who plans to major in economics and computer science, and minor in business, said that "sometimes you just click with a school."
"When I visited the University of Pennsylvania, I could imagine myself walking the streets of Philadelphia and grabbing a cheese steak," he said. "For me, I'm also going back to an urban environment."
Chen was born and raised in Taiwan, and came to the United States with his mother, who wanted to give her son the opportunity to pursue his education and his dreams.
"My parents never got the education that they wanted. They dreamed of coming to the U.S. to study," Chen explained. "My mom brought me here when I was a sophomore in high school so that I could have the privilege that my parents never had."
He credits his motivation and success to his parents.
Kelley shared a similar sentiment. Her mom is a Polk State Nursing alum who worked two jobs while completing her degree, Kelley explained.
"She's my greatest role model and biggest supporter," she said.
"Lakeland Collegiate has provided us with the great opportunities and has allowed us to mature as individuals," Chen said. "We are really thankful for all of our professors, the staff here, and our peers who have helped us along the way."
The top students also support each other.
They're best friends and have been involved in a handful of activities together at Lakeland Collegiate including Student Government Association, Student United Way Club, National Honors Society, Science National Honors Society, and InterAct Club.
Chen also plays tennis and Kelley is a third-degree black belt in taekwondo.
Together with Stefanie Rogers, they have agreed to meet once a year in New York City to see a Broadway play.
"We've made lifelong friends here – everyone supports everyone here at Lakeland Collegiate," Kelley said.
"Lakeland Collegiate has provided us with the great opportunities and has allowed us to mature as individuals," Chen said. "We are really thankful for all of our professors, the staff here, and our peers who have helped us along the way."