Lakeland Collegiate High School Student Heads To State, International Science Fairs With Award-Winning Project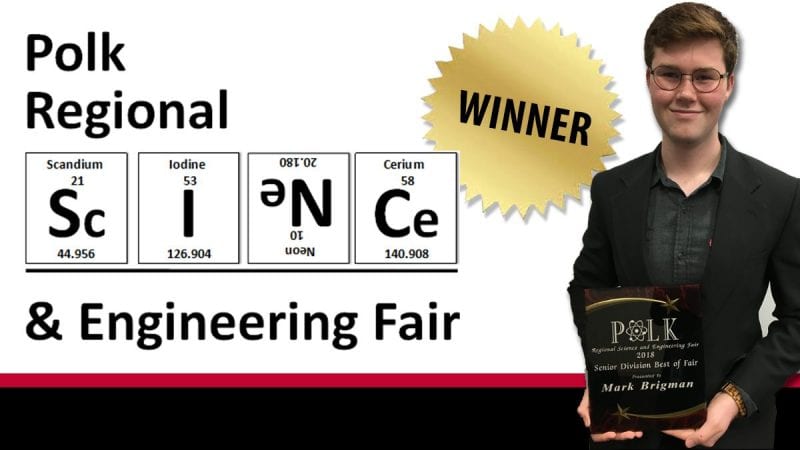 A Polk State College Lakeland Collegiate High School student won Best in Show and First Place in Chemistry at the Polk Regional Science and Engineering Fair and is heading to state and international science fairs.
In his award-winning project titled "Lipid Layer's Permeability of Amino Acids in Primordial Earth," Mark Brigman studied the ability of different molecules to form under given conditions – specifically how amino acids react to simple fatty acids.
"When I was in biology, I read about different theories regarding the origin and building blocks of life," Brigman explained. "But many of the theories are incomplete and I wanted to see firsthand how different molecules react to one another."
He spent eight months on his project and wrote an accompanying 100-page book on the subject. As a member of Lakeland Collegiate's Science Club, Brigman said he has received great support and guidance on his project.
When he presented his study at the Polk Regional Science and Engineering Fair in February among 175 projects from 22 public, private, and charter schools, Brigman took home the top prize in his category and one of two Best in Show awards.
In March, Brigman will also participate in the 63rd State Science and Engineering Fair of Florida at the RP Funding Center in Lakeland.
He's also working with one of the regional judges, a professor from Harvard University, to improve his project for the International Science and Engineering Fair. Internationals will take place in Pittsburgh in May.
Each year, about 1,800 high school students from more than 75 countries, regions, and territories have the opportunity to showcase their independent research and compete in the international fair for $4 million in prizes.
"I was very nervous at first, but now that I know internationals won't interfere with final exams, I'm feeling better about it," said Brigman, who will graduate from Lakeland Collegiate in May.
He plans to continue his education at Polk State for another year to earn his Associate in Arts degree, then transfer to the University of South Florida to study Chemistry. His ideal career is research chemist for a university.
"Enrolling in Polk State Lakeland Collegiate High School has made my plan so much easier by putting me on a path to achieving my Associate of Arts degree with a free year of college," said Brigman, who also expressed interest in the USF FUSE Transfer Program. "This school has opened up a lot of doors for me."
Brigman, whose mother was diagnosed with non-Hodgkin lymphoma when he was a child, said science became his calling at a young age because he wanted to know about his mom's illness and how she was being treated.
"My parents are very supportive and they are ecstatic about my project," Brigman said.
So is Brigman's Lakeland Collegiate family.
"We are incredibly proud of Mark's huge accomplishment," Principal Rick Jeffries said. "The success of our students is a testament to the hard work and dedication of all of our students, faculty, and staff, and we wish Mark the best of luck competing at internationals."