LEGOLAND® Florida Resort Internship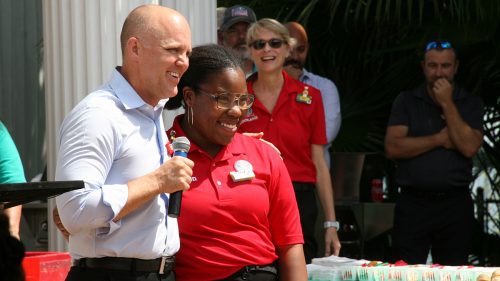 Polk State College LEGOLAND® Florida Resort Internship
Polk State College and LEGOLAND® Florida Resort have partnered to create exciting internship opportunities for students. Internships are where awesome awaits for students who are seeking opportunities to be paid, earn credit toward their degree and gain valuable work experience.
We are currently accepting applications for the internship opportunities listed below for the fall 2019 semester.
Field Experience Intern
Paid internship at LEGOLAND® Florida Resort
Earn one credit hour toward an Associate in Arts degree
Work in front-line guest services areas of the resort
Tuition reimbursement is available
Requirements:
Must have 15 hours of availability and the ability to work three days per week, including evenings, weekends, and holidays
Must be in good academic standing at the College
Must meet all LEGOLAND® Florida Resort employment criteria
Marketing Intern
Paid internship at LEGOLAND® Florida Resort
Earn up to six credit hours
Tuition reimbursement is available
Responsible for assisting and supporting the Resort's marketing team
Assist the Senior Manager of E-Commerce with updating mobile app and website
Assist the Partnership and Promotions Manager in researching potential partners
Work on special projects for the marketing team
Requirements:
Must have earned at least 12 credit hours at Polk State College and have a 2.5 GPA
Must have part-time availability from Monday to Friday 8:00 a.m. to 5:00 p.m.
Must be analytical, organized, and detail-oriented
Prefer students with an educational background or work experience in marketing, sales, or business
APPLY NOW. APPLICATIONS FOR FALL 2019 INTERNSHIPS ARE DUE BY FRIDAY, JULY 12. CLICK HERE TO APPLY.
For more information, please contact Maria Lehoczky at mlehoczky@polk.edu or 863.669.2896.