Polk State College Students Soar In the Eagle Co-Op Internship Program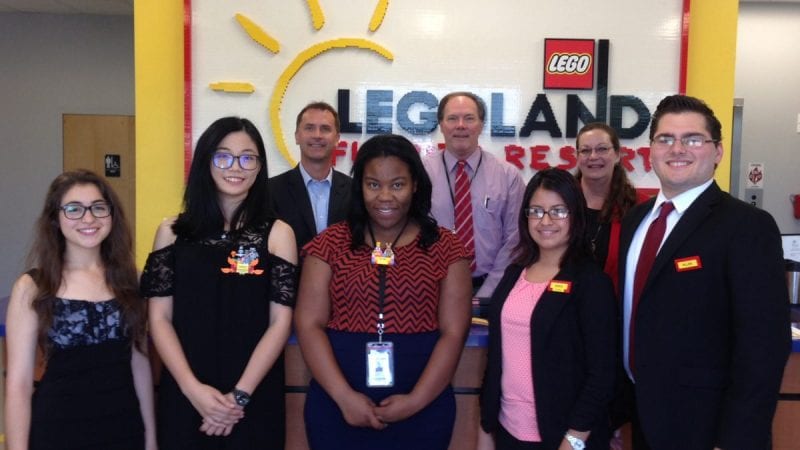 Polk State College students completed the Eagle Co-Op Internship Project with presentations to the executive team of LEGOLAND® Florida. Students participating in the program this year were:
Sara Giraldo
Siying Yu
Nubianna Boyd
Anahi Munoz Martinez
Gonzalo Gutierrez
Allan Hall
Polk State has been partnering on the Eagle Co-Op project with LEGOLAND® Florida for three years.  During this period, more than 50 students have participated in this internship opportunity. The internship, which runs in the spring and fall semester, is coupled each semester with a one credit hour elective course.  This course helps students prepare for a career— providing work-specific training and experiences.
Students interned in a variety of locations including food service, retail, attractions, guest services, and customer relations. Allan Hall, who served on the food service team, also had a chance to explore his future career path— supply chain management.
"While working in food service, I had the opportunity to visit and tour the LEGOLAND® Warehouse," Hall said. "I want to study supply chain, so it was incredible to see how efficient, thorough, and complex the process can be in a theme park. During my internship, I got to put together food orders for the day and witness where everything is organized, why certain safety processes are in place, and how each day's orders are processed and delivered throughout the park."
Anahi Munoz, who worked in the education department, was surprised by how in-depth the internship program was.
"We really got a hands-on, in-depth view of the park," she said. "We were exposed to every facet of park operations from HR to guest relations, the attractions, and retail operations. My role allowed me to train and also serve as a trainer, showing my fellow employees how to prepare for their jobs."
A significant part of the internship program is the Challenge Project. The interns presented their Challenge Projects to the Executive staff of both LEGOLAND® Florida and Polk State College.  These projects task the students with finding an area, service, or idea which could be implemented to improve LEGOLAND®'s Key Performance Indicators or KPI's.  At the end of the student presentations, Adrian Jones, General Manager of LEGOLAND® Florida, said the projects were "simply brilliant!"   During the feedback session, Erik Hendrickson, one of the senior staff at LEGOLAND® stated, "Even though the projects were all very different, I can take nuggets from each one to implement in park operations." These "nuggets" can mean more efficient operations, better customer service, increased attendance, and overall improvement of the guest experience.
"I was really excited to share my project with the team," Hall said. "I created some new imagery concepts for the menu boards at one of the smaller restaurants. These new images created a more effective marketing campaign and improved customer engagement, providing the potential for increased revenue at the smaller eatery."
This internship program is a win-win for LEGOLAND® Florida and Polk State College.  The students have the opportunity to gain valuable work experience, hone their job skills, and put into practice what they have learned in class, while LEGOLAND® benefits from having the intern's fresh perspective while they look at ways to make the park more efficient and guest-friendly.
For the students, the experience is one that they will utilize in their collegiate and future careers.
"I am studying bio-medical sciences at Polk State and want to be a pediatrician someday," says Munoz. "Through my internship, I was able to engage with children and understand how they react in a variety of settings. I think this interaction will lend itself well to my future job working with kids in the medical setting."
"The opportunity to explore the park and branch out into new career experiences is not something I will soon forget," Hall said. "I was able to speak to key leaders, one-on-one, and ask questions and study their leadership and workplace skills. It was exciting to feel engaged and entrusted with the park, and to also have the chance to share my thoughts and grow as both a student and employee.
To learn more about this program and all other Polk State College internship programs, please visit polk.edu/internship-program.