Polk State student, staff member win awards at statewide conference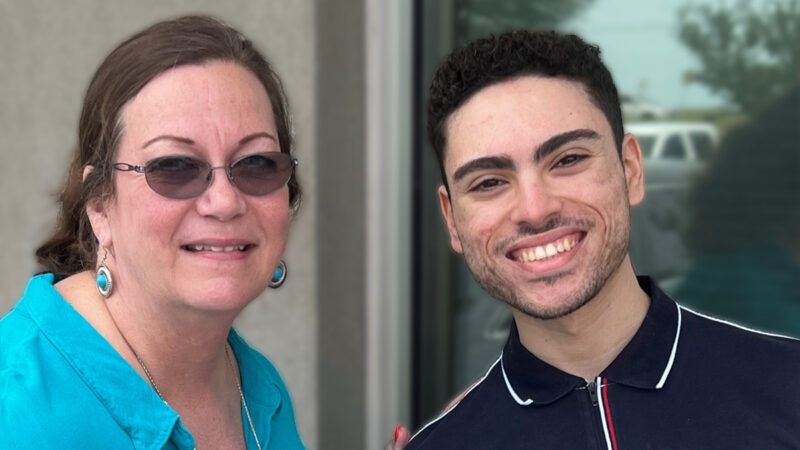 Florida Association of Colleges & Employers (FloridaACE) presents five awards each year at its annual conference. This year, Polk State College was well represented with two honorees.
Adam Tawfik, 21, was announced as the winner of the Student of the Year Award. Matina Wagner, Polk State's Coordinator for Internship & Experiential Learning, was presented with the John T. Brownlee Leadership Award.
Student of the Year
"It's a tremendous honor for me," Tawfik said. "It's one of my first big achievements in college. I was definitely ecstatic."
Tawfik received his Associate in Arts from Polk State in 2021 and is scheduled to graduate with his Bachelor in Applied Science in Supervision and Management with a concentration in Human Resources in December. Tawfik also serves as president of the Polk State Human Resources Student Club, a group of about 20 students that he helped found.
"HR for me has always been about people," he said. "I get to solve problems creatively. When people are pleased, it's super rewarding."
Tawfik currently works as human resources coordinator at Omni Orlando Resort at ChampionsGate. His tenure there began as a recreation internship. His internship then shifted to the HR department before becoming a job. It was Wagner who helped him get the internship opportunity.
"My mentor here at Polk State has been Matina Wagner," he said. "She's been instrumental in my growth and development."
Tawfik was unable to attend this year's conference in Sarasota, so it was Wagner who gave him the award – and on his 21st birthday. The Student of the Year Award recognizes an outstanding experiential education student who shined over the previous year.
"I've watched his growth since he was in high school," Wagner said of Tawfik. "It's like being a proud parent. He's going to be an absolutely tremendous professional."
Tawfik wants to continue working his way through the ranks at Omni Resort, a Four Diamond-rated resort with 15 acres of premier recreation in Champion's Gate and with 50 locations across North America. He also hopes to earn a master's degree in human resources from either Florida State University or the University of Central Florida.
Polk State's first Brownlee Award winner
As for Wagner, she becomes Polk State's first recipient of the John T. Brownlee Award. First presented in 1987, the honor recognizes an individual's contribution in the career services field to their organization and FloridaACE.
"FloridaACE is made up of directors and vice presidents from all over the state," Wagner said. "This is a tremendous group. It was incredible to be honored. I started crying."
Wagner has spent 22 years at Polk State and eight in her current position. Her philosophy, she said, is based on words once uttered by her mother: The best people at the party are the ones working in the kitchen.
"My philosophy here at the College is that I want to stay behind the scenes," she explained. "I'm here for the success of our students."
During her time at Polk State, Wagner has helped many students gain meaningful experience through internships and other opportunities. In her nomination of Wagner, Sonia Gonzalez Hernandez, Assistant Director for Strategic Communications and Marketing at Florida International University and fellow FloridaACE member, called Wagner's passion for students and internships "legendary."
"When we give students these opportunities, that ensures not only their success, but the success of the future," Wagner added. "Our students being successful is my driving force. They truly are the wave of the future."