With Push From Polk State, Alumnus Has Built His Life on Music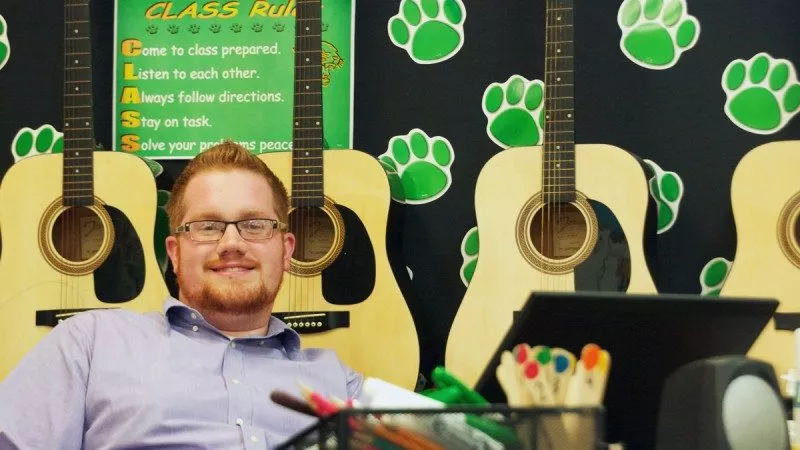 On any given day, you might find Jordan Burks leading his Auburndale Central Elementary students in a discussion on the future of music.
Or tutoring the most musically inclined of those students after school.
Or giving lessons to aspiring high-school musicians.
Or playing in local favorite, the John Rhey Band.
Or jamming with his church worship group.
It's all part of being a professional musician and music educator, Burks said, and it's exactly what his education at Polk State College prepared him to do.
"With Polk State's music program, I got great music instruction that more than prepared me to move on," said Burks, who at just 22 is already in his second year of teaching at Auburndale Central.
Burks grew up surrounded by music. His family members all play instruments. His older siblings and he participated in school bands. He even had an early connection to Polk State Music through Music Professor John Anderson, who long served as music director at Burks' church, First Baptist of Bartow.
For all that, however, Burks wasn't set on a future in the arts when he graduated from high school in 2008. A home-schooled student, Burks dual enrolled at Polk, earning a huge chunk of credits toward his Associate in Arts degree before completing his diploma, but what would come next was still uncertain.
It was Anderson who encouraged Burks to pursue a career in his passion, and his influence proved pivotal. Burks enrolled in Polk State Music, concentrating on voice and percussion, thanks to a tonsillectomy that sidelined him vocally for a year.
Through Polk State Music, Burks also met Professor Michelle Manzi, who owns and operates Manzi's Music in South Lakeland, where students of all ages take instrument and voice lessons.
"That's where I had my 'ah-ha' moment," Burks said. "(Manzi) at the time had an after-school kids chorus. One day she told me she wanted me to lead them for the week. When I could hear the sound these elementary kids could produce, and see that I could nurture and guide it and play a role in enhancing it, I fell in love."
Burks went on to Florida Southern College, where he earned a bachelor's degree in Music Education.
Burks' turn toward teaching came as no surprise to Manzi.
"I knew he had a special quality, a with-it-ness, as we say in education," Manzi said. "I felt like he would become a teacher because he's so playful and has so much energy and a good heart. He has an amazing talent and an outstanding personality."
Today, Burks spends much of his time in his bright, inviting classroom at Auburndale Central. Drums stand in a row. Guitars hang from the walls. A SMART Board, which his students use to compose with GarageBand software, is a center of activity.
He teaches kindergarten through fifth-grade, delivering a curriculum that ranges from the basics of rhythm to history's most influential composers. He relates it all to the music his students know, like Katy Perry's "Firework," a pop hit that was also the grand finale of Auburndale Central's spring concert.
"The kids were so excited and stoked about singing that song, and I thought the parents were going to go nuts," Burks said of the elaborate performance that involved black lights and poppers.
"That's why my job is so rewarding. No matter the headaches, at the end of the day, when it's all said and done, to see the excitement on the kids' faces and the ownership and pride they take in their achievements, it's all worth it."
The connection Burks forges with his students has earned him the appreciation of school administrators and parents alike.
"He's a great role model and a go-getter," said Auburndale Central Principal Badonna Dardis. "His students are always engaged and smiling. They're all happy to be there."
Added parent Carl Chasse:
"He genuinely takes an interest in helping all the children," said Chasse, who has two children who have studied under Burks, including his fourth-grade daughter, who currently takes guitar and voice lessons with him after school.
"We can see how the students progress throughout the year. (Burks) has such a great rapport with every parent, and he knows all the students. He's a valuable asset."
To the students who are most passionate about music, Burks hopes he can give back the inspiration he found at Polk State Music. Here, Anderson, Manzi and his other instructors, showed him all the potential the field holds — from songwriting, to sound engineering, to teaching, and so on.
If he wanted to make a career in music, Burks learned at Polk State, the ways to do it were limitless.
"When people really see the vast expanse of music, they fall in love with it," Burks said. "Polk State helped me recognize what was available in music. I teach, give private lessons, play in a band, play at my church. I get paid for something I want to do. I'm not making millions, but I enjoy it every day."
And for the students who won't ever build a life built on melodies and chords, Burks just wants them to take away from his classroom an appreciation for the richness music can bring to their lives — wherever their lives take them.
"Music is a relief. It's something they can turn to," he said. "I love music, and I want to share that with them."
For Burks, his future in music has never been brighter. The John Rhey Band has a big break coming up, playing on WQYK 99.5 FM from 6 to 8 a.m. on Oct. 16. He's also planning on going back to school to get a master's in composition or songwriting.
And one day, he wouldn't mind finding himself back in a Polk State classroom. Only this time around, he'd be at the head.
"I would love to work for Polk State's Music Department," he said. "It did so much to help me."
In addition to Polk State Music, Polk State Fine Arts includes Theatre and Visual Arts, all of which enjoy outstanding statewide reputations. 
Polk State College's history is rich with stories of alumni who have gone on to make impacts, whether in the classrooms and laboratories of prestigious universities, the rough and tumble of commerce, or the halls of political power. Over the years, thousands of Polk State graduates have leveraged their education and experiences at Polk to transform their own lives and the lives of others. This transformation is the essence of what it means to "be Polk." Whether in big ways or small ways, Polk State alumni embrace the challenge of living lives that matter. News@polk regularly profiles these alumni. Their story is the story of Polk. They are The Pride of Polk.