Professor Is Music Department's "Missing Piece"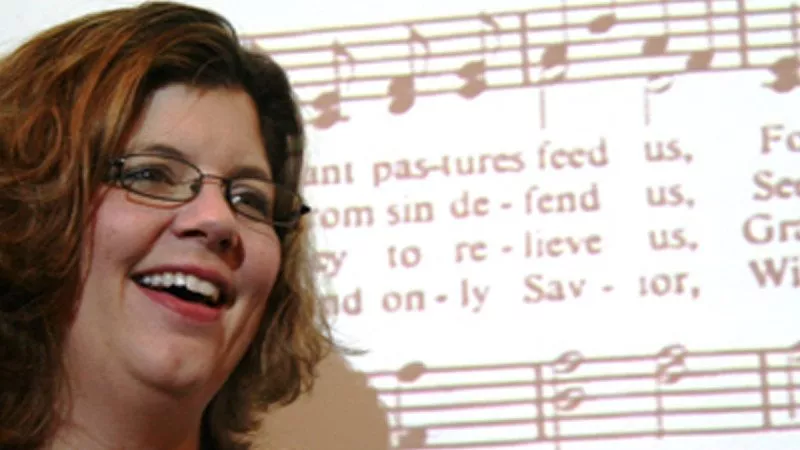 In her five-year run as an adjunct professor, Michelle Manzi resurrected the Polk State Music Department's emphasis on female vocals and established the ever-growing women's chorus, Dolce Fiamma.
So who could blame Director John Anderson for wanting to keep her.
Manzi, 40, was recently hired as a full-time professor in the Music Department, joining Anderson and fellow new addition, Director of Bands Chris Sharp. In addition to Dolce Fiamma, she teaches the Department's Music Theory classes.
"She is the consummate musician and magnificent at everything she does. She really fits into the puzzle well," Anderson said.
Part of what makes Manzi the "missing piece" for the Music Department, Anderson explained, is her personal stake in Polk County — she and her husband run a music education business in South Lakeland — and her community-college roots, giving her the background to perfectly relate to Polk State's students.
A native of Jacksonville, Manzi's experience in music began at age 8, when she first started taking piano lessons. In the fifth-grade, she had her first taste of rejection, when she was not allowed to join the school chorus and had to work in the library instead.
"I couldn't match pitch. I couldn't sing," she said.
Undaunted, Manzi kept practicing, and by the eighth-grade not only did she make the chorus, she also decided to build her life around music.
She went on to study at what is now Florida State College in Jacksonville, before earning a bachelor's degree in choral music education from Florida State University; she also has a master's in music education from FSU.
Her time at Florida State College was well spent, she said, and is in the forefront of her mind now as she contributes to the growth of music at Polk State — a program that has seen its majors quadruple in the past eight years and whose students increasingly receive university scholarships.
"(Florida State College) was a safe environment for me to grow and excel. The competition wasn't so cutthroat, it was healthy. It was a place where I could be pushed yet encouraged. Had it not been for the opportunity for a quality education at a two-year institution, I don't know if I would be here," she said.
At Polk State, she is determined to provide her students with everything she received from her first college experience and more, priming them to succeed when they move on to the next level.
"I want Polk State students to stand out. When they go to audition and enroll, I want people to know our students and I want them to be successful," she said. "So many times, the perception is 'this is just community college.' I bow up a little bit at that. This is a place where students are pushed and they are going to learn."
What students are going to learn, Manzi, Sharp and Anderson all agree, is how to make a living in music. Not everyone will play an instrument for a world-renowned symphony or land a multimillion-dollar recording contract, but there is plenty of work to be had in the field of music — be it composing, transcribing music, teaching, working as a DJ or any number of other possibilities.
Manzi — as Anderson points out — is a perfect role model of what the Music Department tries to instill in its students. She loves music, and because she works hard, she's never been a "starving artist."
Manzi spent years as a music teacher, first at South Broward High School, then at Lakeland's Southwest Middle School and McKeel Academy.
In 2006, she and her husband, Randy, also formerly a music teacher at McKeel, left their jobs and started their own business, Manzi's Music, where students of all ages take instrument and voice lessons.
"We needed to provide music education on our own terms," said Manzi.
"Going into business meant we would be able to say, 'We know how to teach music, we can create artists and we will shape these kids the best way we know how.'"
So, with three children at home to feed, the couple took perhaps the biggest leap of their lives. They rented a storefront off South Lakeland's Shepherd Road, put a small wooden sign in the ground, and prayed.
Within a matter of weeks, they knew they had made the right decision.
"We opened our doors in May 2006. By June 1, we had 15 clients. By June 15, we had 30. By June 30, we had 45," Manzi said.
Today, the business employs seven teachers and has 120 students currently enrolled.
"They've really built the better mousetrap with Manzi's Music," Anderson said.
Successful business aside, Manzi still missed the classroom, and she yearned to connect with adults who want to build their lives around music, just as she has. Polk State has been the perfect fit.
"I'm involved in adult decision-making. I'm helping to foster life-changing decisions," she said.
Three years ago, she and Anderson decided the Music Department needed another vocal ensemble, in addition to its Concert Choir, Men's Chorus and Vocal Jazz Ensemble. Around that same time, the Department was asked to assemble a group of women to perform at the Polk State College Foundation's annual Wise & Witty Women and Many Magnificent Men luncheon.
"I just pulled a group together and they loved it so much, and then we were asked to perform somewhere else and somewhere else and somewhere else," said Manzi.
The group became Dolce Fiamma — Italian for "sweet flame" — and now has 22 members and counting.
"As a program builds, obviously women is a good direction to go," said Anderson, adding that in at least 20 years the College has not had anyone specifically dedicated to women's chorus.
"Dolce Fiamma is really delightful and they are intensely serious about their music."
Claire LeGrand was one of the students in a women's quartet that eventually grew into Dolce Fiamma. LeGrand studied under Manzi at Manzi's Music before coming to Polk State, and is now a vocal performance major at the University of North Florida, aspiring to become an opera singer.
With Manzi's help, LeGrand learned how to blend her voice perfectly with her fellow singers, rather than singing over their voices. It's a skill that requires different breathing techniques and a lot of practice.
"Growing up and in high school, I didn't have anyone ever tell me that I needed to blend or that I was singing too loudly," said LeGrand. "Mrs. Manzi really worked with me, and taught me how to back away when it's my fellow vocalists' turn."
Manzi, predictably, is immensely proud of LeGrand, and she's happy to know that her former student is pursuing a career based on her passion. As Manzi can personally attest, she won't regret it.
"You have to have your job be your passion. I truly believe that whatever your passion is, that's what you're called to be," Manzi said.
Polk State Fine Arts includes its growing Music and Theater departments, both of which attract increasing numbers of students each year.