What do classes look like during the pandemic at Polk State? Digital Media explains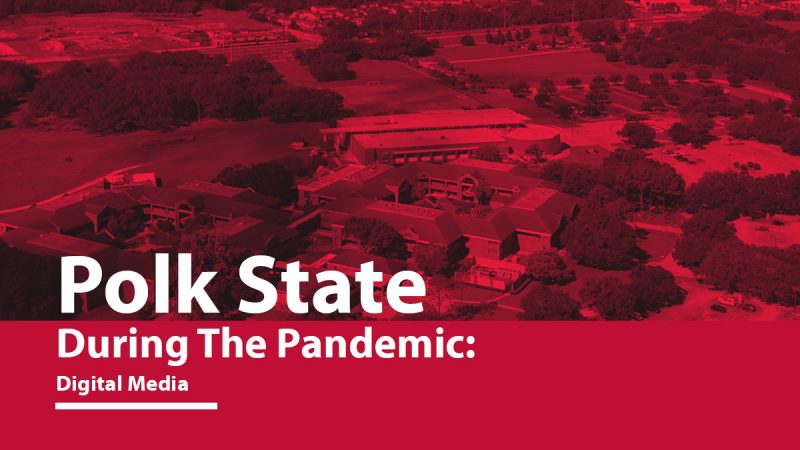 Polk State College offers a variety of hybrid classes, but what does "hybrid" really mean? Students, faculty, and staff with the College's Digital Media Technology Program share what the mix of classroom and online learning looks like specifically during the pandemic.
"We are ensuring that students have access to the same great quality education now as they did prior to the pandemic," said Dr. Gregory Johnson, Program Director and Professor of Digital Media. "We meet face-to-face in person with other students for the first four weeks to ensure everyone is familiar with the requirements of the course and where to access resources."
"Then at the fifth or sixth week, we send students home with any equipment or resources they need to continue the course online and to complete their multimedia projects," he explained. "We return to the classroom for feedback days and then students are given more time to complete their projects at home."
While working remotely, students have access to high-quality video tutorials, software, and project files to help them in mastering course content. The department's media lab is also a critical resource where creative experts provide instructional support for students in video editing, graphic design, and all things digital media. Faculty and staff strongly encourage students to visit the lab at their comfortability level to receive assistance with assignments, get personalized feedback on projects before submission, access subscription resources, borrow equipment, and engage with like-minded students in a safe and distanced environment.
Typically, a hybrid Digital Media course is about eight weeks in the classroom and eight weeks online. However, hybrid classes are flexible to the content and needs of specific courses. When registering for classes on Passport, students should check the course descriptions for specific details about class formats and expectations and contact the professor with any questions.
This flexibility has assisted faculty with adapting their classes to best serve students during the COVID-19 public health emergency.
All classes follow the Centers for Disease Control (CDC) and Prevention and Polk State Return to Campus Plan guidelines closely to help ensure the health and safety of all students, faculty, and staff. This includes the requirement of wearing masks over the nose and mouth and keeping at least six feet of social distancing from others.
"We are ensuring that students have access to the same great quality education now as they did prior to the pandemic."

Dr. Gregory Johnson
Program Director and Professor Digital Media Technology
The Digital Media Program benefits from large classroom and lab spaces retrofitted with state-of-the-art technology that is routinely cleaned between classes. Additionally, individuals in the Digital Media Program wear gloves while participating in hands-on activities, and sanitizing stations are abundant throughout the department.
"Going to college now is not too far different from what it used to be," Program Specialist Ashley Bramwell said. "The biggest difference is that we are farther apart, but all the materials and all the resources are here."
"In fact, students have even more resources because some may be working from home or doing hybrid classes," she added. "Whatever the case may be, it's really not that much different in that everything you need to succeed is here."
Polk State has transitioned many services to remote offerings and maintains a comprehensive list of resources to assist students in the online and hybrid learning environments. Additionally, the College's learning management system Canvas, where students access their courses, is a hub where they can also find academic support including tutoring, library services, assistance with technology, and more.
"The materials are here, the help is here, and the equipment is here," shared Bramwell, who was a student in the program in 2012 before becoming a specialist for the program. Her primary role in supporting student success includes setting up the classroom, creating video tutorials, and going over lessons with students. "Anything for the students – we are there for them."
Students also benefit from teaching lab assistants who strengthen the large support system students have within the Digital Media Program.
"Still enroll and still pursue your degrees, because the pandemic doesn't have to stop you," Teaching Lab Assistant Camry Brewer said. "If you are being safe and we are helping you go through your college process healthily, there's no reason to stop and wait."
Brewer is also a graduate of the program.
"The classroom experience hasn't changed that much with the pandemic. We still have equipment we can lend you, we have computers, and we have lab assistants who can help you," she said. "We are taking precautions, making sure our equipment is sanitized, and that our computers are safe to use."
Students echoed similar sentiments and their appreciation for the College's approach to offering a variety of class options that can be taken at each student's comfort level.
In Johnson's Intro to Digital Media class, students shared that they feel safe on campus and that they are enjoying the hybrid format that gives them the foundation to be successful in the course once they transition to online to complete their projects at home.
"It's a good environment. I was a little scared coming back because the pandemic is still going on, but everyone is following the rules and being safe," student Katelin Downing said.
"Just because we have a pandemic doesn't mean you can't learn new things," student Michael Garcia said. "You have to still try, even if you're stuck indoors, six feet distanced, and wearing a mask."
"Just because we have a pandemic doesn't mean you can't learn new things. You have to still try, even if you're stuck indoors, six feet distanced, and wearing a mask."

Michael Garcia
Digital Media Student
This is what has motivated Professor Johnson to design his hybrid courses to serve students most effectively while ensuring they can persevere toward their goals despite challenges presented by the public health emergency.
"The truth is, it would have been easy for me to put as many classes as possible completely online," he said. "I realized that doing that would have disenfranchised our students. For those courses that are able to be completed online, that's wonderful, but we just couldn't find a way to teach a student how to put a tripod together or balance a gimbal without physically interacting with these devices and engaging in hands-on activities."
"We want to provide the best possible education that we can give them," he added. "When you walk in here, you're going to know that I care. I am going to give you every single resource you need to be successful."