Polk State students have access to resources to support successful spring semester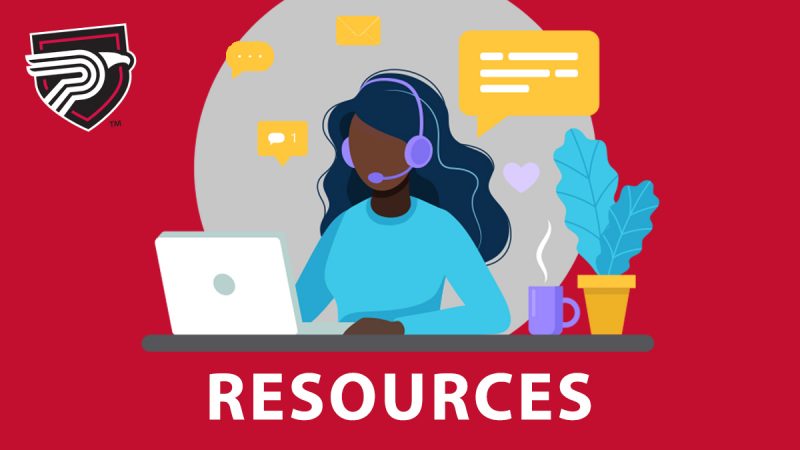 The Spring 2021 Semester at Polk State College will begin on January 6 with the majority of classes taking place in online and hybrid formats. As students prepare for their spring classes, the College reminds them of the valuable and convenient resources available to support their success.
Polk State is increasing its hybrid course offerings for the spring semester to provide additional, safe face-to-face learning opportunities. Additionally, a limited number of workforce training programs will take place in hybrid and face-to-face formats.
Polk State understands that students may face challenges in the online and hybrid environments and encourages students to review the resources below prior to the start of classes on January 6.
The College's Guidelines for Students in the Online Environment outlines the expectations and responsibilities for students utilizing distance learning tools.
Advising and registration assistance is available by emailing registrar@polk.edu, calling 863.297.1000, or using the webchat feature in the bottom right corner of the polk.edu/admission-aid page.
Financial aid assistance is available by emailing financialaid@polk.edu, calling 863.297.1004, or using the webchat feature in the bottom right corner of the polk.edu/admission-aid page.
Polk State's Academic Support Line is available by calling 863.669.2833 for students with technology needs including laptops and webcams to complete their courses.
Polk State's Canvas Orientation is available online. Canvas is the College's Learning Management System that students use to access their courses through an easy-to-use interface and mobile-friendly apps on Android and iOS. Students can receive course updates, submit assignments, communicate with professors, and more through Canvas.
The Canvas Help Menu includes links to important College resources.
Canvas support is available 24-7 by calling 1.844.880.9814.
Online library services are available at polk.edu/library, including electronic books and databases. Ask A Librarian is also available on Canvas.
Online tutoring is available via Canvas by clicking on TLCC Online from within any course. Students can join the TLCC Online course within Canvas to add quick access to their Canvas Dashboard.
Online help with writing is available from Polk State English professors in The Writing Studio. Students can also click on Writing Help from any course in Canvas for quick access.
Online test-taking is available through proctoring services provided by Honorlock, which requires students to use Google Chrome and download the Honorlock Chrome extension. Honorlock support is available 24-7 by emailing support@honorlock.com and through live chat support online at polk.com/support.
Books and course materials are available through online ordering and convenient shipping and curbside pickup options. Bookstores on the Lakeland and Winter Haven campuses are also holding special hours for in-person service, which are available here.
Office 365, including Word, Excel, and PowerPoint, is available online.
Free Wi-Fi hotspots are available in public via the City of Lakeland's SurfLakeland downtown and in select areas throughout the city; the City of Winter Haven's MyWinterHaven in the downtown parking garage and library parking lot; Haines City's PSCHainesCity at Haines City Park; and the City of Lake Wales's CityNet throughout Lake Wales.
Technical support for students having trouble with accessing my.polk.edu email accounts is available by calling 863.837.5971 or emailing jthompson@polk.edu. Students can also call the College's information desk at 863.297.1000 for assistance.
The BayCare Student Assistance Program offers immediate counseling assistance from licensed professionals. All services are available 24-7 for free and are confidential, providing support from managing classes, to managing stress. Students can call 878.5470 or access services online at BayCare's Personal Advantage.
My Brother's Keeper is a multidisciplinary service-learning project designed to help Polk State students by providing snacks and beverages, personal hygiene items, and information about and referrals to community resources. The shelves of My Brother's Keeper are stocked with the generous donations of staff, faculty, students as community members.  My Brother's Keeper can also accept monetary donations. All donations are used to stock the shelves with items for students. More information is available by emailing SALO@polk.edu.
The Polk State Pantry provides free provide food to students in need – from snacks and microwavable lunches between classes to canned goods and nonperishable items they can take home to stock their own pantries. The pantry also offers free personal hygiene items. Hours and times may vary. Students should email kderonda@polk.edu for more information.
United Way's 2-1-1 is a comprehensive source of human and social services information. Specialists are available 24-7 to connect individuals with services in Polk, Hardee, and Highlands counties online, by phone at 888.370.7188, by texting your zip code to 898-211, or by emailing uw211help@gmail.com.
Polk County Unites, a partnership between the Polk County Board of County Commissioners and United Way of Central Florida, is providing economic relief to Polk County residents who have been furloughed, laid off, or a decrease in pay due to COVID-19. Possible clients could be eligible for direct assistance for rent, mortgage, childcare, adult care, and food. Individuals can receive more information by calling 2-1-1 or texting their zip codes to 898-211.
The College encourages students to access services remotely as much as possible; however, select services including registration, advising, and financial aid are available in person in the Winter Haven Administration (WAD) Building and the Lakeland Technology Building (LTB).
Students should note that the College remains in Phase II of its Return to Campus Plan and requires cloth face coverings and social distancing on its campuses. Additionally, all students, employees, and visitors should self-screen daily and stay home if they are ill or experiencing any COVID-19 symptoms.
Students should also note that the College will be closed for winter break beginning 5 p.m. Tuesday, December 15. Assistance will admission and registration will be available by emailing registrar@polk.edu. The College will reopen Monday, January 4.
Students should continue to monitor their Polk State emails, www.polk.edu, and the College's social media for important information and updates.